Toyota Overview
Toyota is a Japanese automobile manufacturer. The company has its presence throughout the world with current operations in more than 170 countries. The company employs more than 360,000 personnel in its facilities worldwide (Carlier, 2021). It earned a revenue of $245 billion in 2021 and more than 90% of its revenue is generated through automotive sales. The highest selling vehicles of Toyota include Toyota Corolla with more than 1 million sales annually. Other models include RAV-4 which occupied the third position in overall vehicle sales in 2020 (Ashraf, 2022).
This Toyota SWOT analysis article would analyze the internal strengths and weaknesses of Toyota along with highlighting the opportunities that it can capitalize on and the threats that it faces because of the external environment. In case you wish to learn about conducting a SWOT analysis in detail, you should definitely go through our meticulous Swot Analysis guide.
Table of Contents
A delineated SWOT analysis of Toyota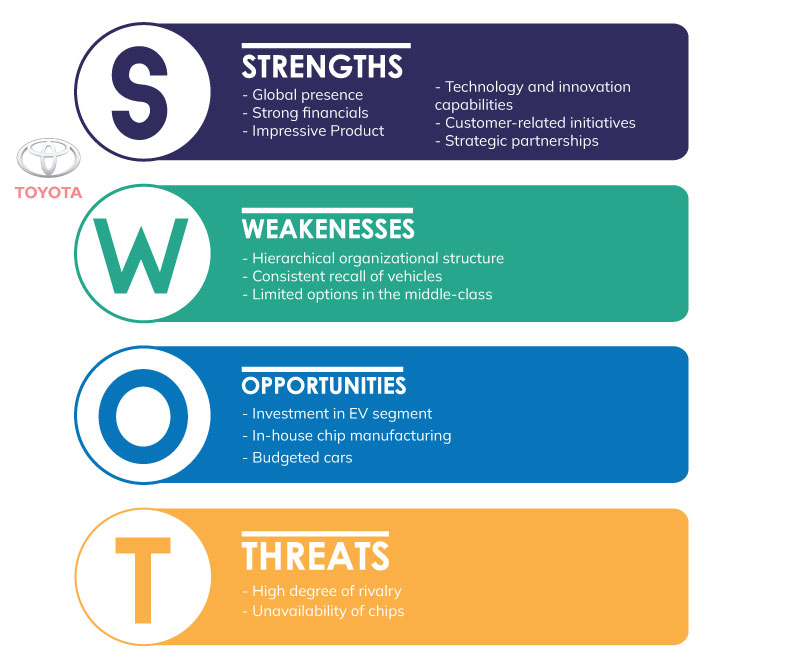 Toyota's Strengths
Global presence- Toyota sells its cars in more than 170 countries and sells more than 9 million vehicles every year. The strong foothold over the market can provide it with a competitive edge.
Strong financials- Toyota group generated $245 billion in revenue in 2021. It has a free cash flow of 10, 40,783 yen and it has an excellent debt to equity ratio of 1.007, meaning that the company is not much in debt. The financial power can benefit a company while overcoming market threats and exploring new opportunities.
Impressive Product range- Toyota has a full range of vehicles including hatchbacks, sedans, SUVs, and pick-up trucks. Its most popular hatchback is Corolla with more than 1.1 million units sold worldwide in 2021 while Camry is most sold in the Sedan category with more than 300,000 units sold annually and RAV-4 is the most sold SUV with more than 1.1 million units sold annually and it occupies more than 3% market share in the pick-up segment. Toyota also owns a luxury vehicle brand named Lexus.
Technology and innovation capabilities- Toyota is innovating with its products and has recently launched two new models of Lexus and Mirai that are equipped with autonomous driver technology wherein the car would automatically be able to maintain a safe distance from the vehicles ahead by detecting the traffic through sensors that would help in the reduction of accidents (Reuters, 2021).
Customer-related initiatives- Toyota engages in continuous improvement of its vehicles by implementing Kaizen and PDCA business processes. Further, the company has an excellent after-sales service wherein it has implemented the 3S model that relates to Seikaku, Shinsetsu, and Shinrai which in simple terms means accuracy, care, and trust (Toyota, 2019).
Strategic partnerships- Effective and beneficial partnerships with other brands have helped Toyota broaden its customer base in emerging markets. For instance, the strategic partnership of the company with Maruti Suzuki to jointly develop successful cars for the Indian market has proved highly beneficial to the company. Such partnerships will help Toyota in greater market penetration across developing countries like India.
Toyota's Weaknesses
Strategic partnerships- Toyota has a hierarchical structure and decision making is fully centralized wherein the top bosses are responsible for decision making and the employees are just required to follow the order. This can lead to less employee engagement levels which would affect their motivation and work performance.
Consistent recall of vehicles- Toyota has recalled a large number of vehicles over the years. Recently, it announced 227,000 recalls of its 2019 model Camry and 41,544 Venza Hybrid models (Toyota, 2021). The frequent recalls can hamper the trust of the customers and this can have a direct impact on the sales of the vehicles.
Limited options in the middle-class segment- In emerging markets like India, Toyota offers limited options in budget-friendly cars including light utility vehicle and hatchbacks. This proves to be a major inability of the company to capture markets in developing countries through effective change management.
Toyota's Opportunities
Investment in EV segment- Toyota can enhance its investment in the EV segment, especially in emerging markets like India where the government is offering financial assistance on a large scale and the market is expected to grow by a huge margin of 94.4% from 2021-2030.
In-house chip manufacturing- Toyota can utilize its expertise in engineering and start production of the semiconductor chips. This would enable the company to have more control over the quality and the company would be able to overcome the supply chain barriers to some extent.
Budgeted cars- Toyota can launch more budget-friendly options with more fuel efficiency, especially in the market of India where 72% of people prefer low-priced cars (Gupta, 2020).
Toyota's Threats
High degree of rivalry- The top competitors of Toyota include Hyundai, Volkswagen, and General Motors along with many others. General Motors occupies a 15.5% market share in the US and its global revenue increased by 3.7% in 2021 to $127 billion. Hyundai occupies a 5.4% market share globally in the automobile segment while it is gaining dominance in the Indian market with its share being 12.70% (Cain, 2022). Furthermore, Tesla has the ability to provide stiff competition to Toyota if it decides to expand its electric vehicle segment worldwide as it is the global leader with a 14% market share (ET, 2022).
Unavailability of chips- The disruption in production and supply of chips, an important component in the manufacturing of vehicles because of the shortage in raw material due to the Russia-Ukraine war can pose a threat to its protection level.
To encapsulate, Toyota has the advantage of being present worldwide in more than 170 countries. Because of its high presence, it is able to sell more vehicles, it sold around 9 million vehicles in 2021. Further, Toyota has effectively maintained its debt and its debt to equity ratio is 1.007 which is considered to be excellent. Toyota needs to build its cars with more efficiency to avoid recalling the vehicles on a frequent basis and it is an expert in high-end models but it can capture more market if it launches more affordable and fuel-efficient options. The company faces threats in the form of a shortage of ships globally and even the competitiveness in the market is also high with General Motors occupying a 15% market share in the US and the expansion of the EV segment can be a hurdle as the company would have to compete with Tesla, that is already a dominant market player with 14% market share in the EV segment. Besides, to understand how external factors can affect the company, you can go through our well-crafted Toyota PESTLE Analysis.
Recommended Readings
SWOT Analysis of General Motors
References
Ashraf, Y. (2022). The world's best-selling cars. Retrieved 11 April 2022, from https://www.autoexpress.co.uk/best-cars-vans/33872/worlds-best-selling-cars
CAIN, T. (2022). HYUNDAI SALES FIGURES – US MARKET. www.goodcarbadcar.net. Retrieved 11 April 2022, from https://www.goodcarbadcar.net/hyundai-us-sales-figures/
Daniels, P. (2022). Car Market Share Dec 2021 – Maruti, Tata, Hyundai, Mahindra, Honda, Kia Copyright (C) 'RUSH LANE' Read more at. https://www.rushlane.com/car-market-share-dec-2021-maruti-tata-hyundai-12422089.html
www.rushlane.com Retrieved 11 April 2022, from https://www.rushlane.com/car-market-share-dec-2021-maruti-tata-hyundai-12422089.html#:~:text=Hyundai%20Motor%20India%20at%20No,percent%20held%20in%20December%202020
Hyatt, K. (2022). Toyota recalls 41K 2021 Venza Hybrids over short-circuiting rear turn signals. Retrieved 11 April 2022, from https://www.cnet.com/roadshow/news/toyota-venza-hybrid-recall-2021-rear-turn-signals/#:~:text=Toyota%20is%20recalling%2041%2C544%20Venza,and%2C%20consequently%2C%20hazard%20lights.
Reuters. (2021). Toyota unveils new models in advanced driver-assist technology push. Retrieved 11 April 2022, from https://www.reuters.com/article/us-toyota-autonomous-idUSKBN2BV0F1
Toyota. (2019). Annual Report 2019. www.annualreports.com. Retrieved 11 April 2022, from https://www.annualreports.com/HostedData/AnnualReports/PDF/NYSE_TM_2019.pdf.