BMW Overview
There seems to be a great relationship between Germany and luxury automotive brands. Bayerische Motoren Werke AG or better known as BMW is a globally renowned luxury automotive brand headquartered in Munich, Germany. If we talk about automotive brands, BMW has its own unique legacy and story of enormous success.
Today, BMW is the 300th most valued brand in the world with a market capitalization of $58.3 billion. It is one of the most loved and trusted brands among luxury car buyers all across the globe.
To further understand the internal and external factors that influence the success and advancement prospects of the company, this article puts forth a well-crafted BMW SWOT Analysis. In case you wish to learn about conducting a SWOT analysis in detail, you should definitely go through our meticulous Swot Analysis guide. So, let us get started.
Table of Contents
An explicit SWOT analysis of BMW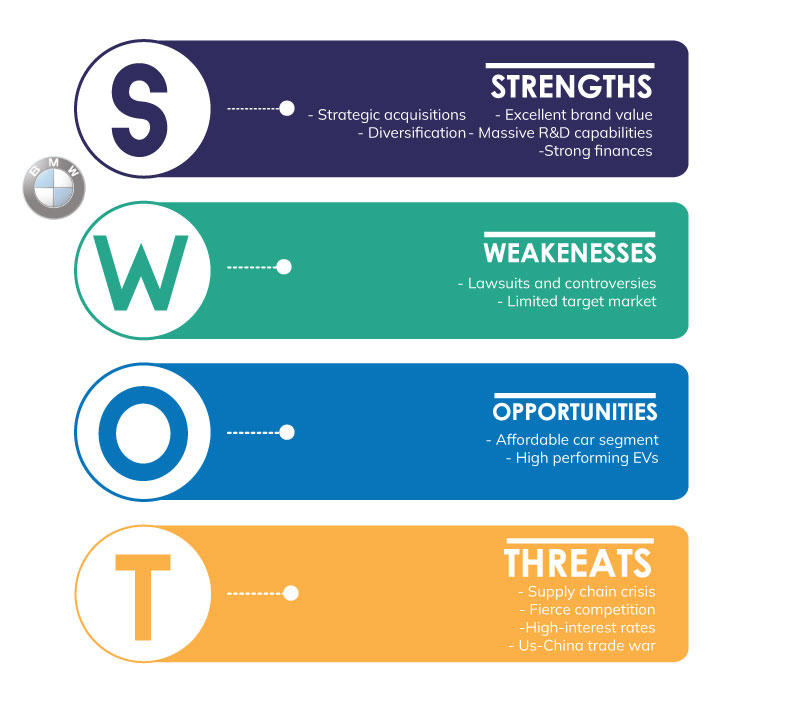 BMW Strengths
Excellent brand value- BMW is valued at $41 billion and the valuation has more than tripled from $12 billion in 2000. The brand is ranked 13th on the planet and it is ranked 54th on the list of Fortune Global 500 Brands.

Investments in R&D- BMW spends heavily on research and development. It has plans to spend 30 billion euros from 2022-2025 on researching new technologies and developing new products (BMW, 2022). As a result of high expenditure on R&D, it has been able to develop various innovative technologies that include automatic car parking wherein the laser scanners scan the surrounding areas and the car is able to park itself automatically without the need for a driver. Further, the BMW vehicles are equipped with an intelligent personal assistant that assists the drivers while navigating and for other tasks like communicating any warning signals. Another innovative technology is the brake energy regeneration wherein the kinetic energy is released to the battery as soon as the driver takes his foot off the accelerator. With this process, the amount of power that reaches the battery is reduced, thus ultimately enhancing fuel efficiency.

Strong financials- BMW's gross profit before tax in 2021 witnessed a huge growth of 207% and the company earned 16,060 million euros (BMW, 2021). Further, the company's cash-free flow increased from $7,101,000 million in 2020 to 9,284,000 in 2021. The huge increase in the cash flow would provide the company with enough equity to tackle the external environmental threats.

Diversified brand and product portfolio- BMW has an extensive range of products that include the BMW I and W series, Mini Cooper, Rolls Royce, and electric vehicles. Further, BMW also deals in pick-up trucks and commercial heavy trucks.

Strategic Acquisitions- BMW has made strategic acquisitions that include buying Rolls Royce to enhance its product offering. Further, it has recently acquired Alpine, an automotive brand that expertizes in manufacturing engines and designing interiors, and has been involved in manufacturing cars for BMW for the last 57 years. This acquisition would provide BMW with production expertise and help eliminate competition from the market (Dubey, 2022)
BMW Weaknesses
Lawsuits and controversies- BMW is currently involved in a lawsuit in the US wherein it has been accused of faulty designing of cup holders in its vehicles (HT Auto, 2021). The company has also been involved in a controversy with Greenpeace wherein the former has alleged that BMW's cars emit more than the required carbon emissions and the agency has also filed a lawsuit in this regard. BMW needs to ensure sustainability in its operations to prevent reputational harm.

Limited target market- BMW's cheapest vehicle 2 series starts from $35,300 which is too expensive for a middle-class consumer in most countries (Levin, 2020). This limits its target market and hence the company is not able to earn exponential profit or capture more market unlike Toyota, Honda, etc. BMW can learn from Toyota as it is one of the top performers in the budget as well as the luxury segment. Its budgeted car, Toyota Corolla starts from $20,000 almost half the price of BMW while Toyota also caters to premium customers through Prius and Lexus, a globally renowned luxury car brand.
Opportunities for BMW
Affordable car segment- BMW can launch more affordable vehicles for emerging markets like India, Brazil, and South Africa where the income of people is not too high.

High-performing EVs- BMW can exploit the EV market on a large scale by launching high-performing EVs. This would enable the company to be the market leader among competitors like Audi, Lexus, and so on.
Threats for BMW
Strong competition- BMW faces stiff competition from several popular automobile brands such as Audi, Mercedes Benz, Porsche, Lexus etc. BMW registered 8.4% sales growth in global markets in 2021 and sold 2,521, 525 vehicles worldwide (BMW, 2022). Audi, its biggest competitor sold 1,680,512 vehicles worldwide in 2021 and the sales doubled in 2021 in India, the merging market for the automobile sector (Chaliawala & Thakkar, 2021). Porsche is another luxury preferred car brand worldwide and its sales amounted to 3,000,000 vehicles in 2021 (Porsche, 2021).

Supply chain crisis- BMW is experiencing production issues because of a shortage of semiconductor chips worldwide due to COVID and unavailability of neon supplies from Ukraine due to the ongoing war between Russia and Ukraine and it had to shut down its plant last week in Oxford, UK.

Increase in interest rates- The Bank of England raised the interest rate by 15 basis points while the interest rates were increased in the US as well by 0.25% and more hikes are expected in the future to curtail inflation. The increase in interest rates would increase the borrowing cost for the customers, hence which can have an impact on BMW's sales.

US-China trade war- BMW has 378 suppliers from whom it sources various raw materials for manufacturing the vehicles (Yilei &Yang, 2020). The US government has raised the import tariffs from 10% to 25% and because of that, the company had to suffer a decline in revenue of 300 million euros (ET Auto, 2019). It is notable that although BMW is a German Brand, the majority of its manufacturing is done in the US and hence, the US-China trade rift can lead to disruptions.
BMW has a strong financial position which is evident from the fact that the cash flow of the company witnessed a huge rise in the two-year period from 2019-to 2021. BMW has an excellent reputation in the market and its valuation has increased by more than 300% in the last 20 years. BMW needs to bring more efficiency in the finishing of its vehicles and the major problem with the company is that its target market is very limited. It can enhance its market by offering more affordable vehicles. The unavailability of chips because of production issues can cause a threat to the production levels and the changing interest rates in several parts of the world can lower the sales as the burrowing cost of the buyers would rise. Also, you can read the PESTLE Analysis of BMW to determine how the macroenvironment factors influence the company or the automotive industry
Recommended Readings
References
BMW. (2021). BMW GROUP REPORT 2021. www.bmwgroup.com. Retrieved 29 March 2022, from https://www.bmwgroup.com/content/dam/grpw/websites/bmwgroup_com/ir/downloads/en/2022/bericht/BMW-Group-Report-2021-en.pdf.
BMW. (2020). Innovation leadership: BMW Group plans over 30 billion euros on future-oriented technologies up to 2025. www.press.bmwgroup.com. Retrieved 29 March 2022, from https://www.press.bmwgroup.com/global/article/detail/T0306823EN/innovation-leadership:-bmw-group-plans-over-30-billion-euros-on-future-oriented-technologies-up-to-2025?language=en
Dubey, V. (2022). BMW acquires Alpina brand after working together for 57 years. www.businesstoday.in/. Retrieved 29 March 2022, from https://www.businesstoday.in/latest/corporate/story/bmw-acquires-alpina-brand-after-working-together-for-57-years-325623-2022-03-11.
ET Auto. (2019). BMW, Mercedes-Benz ensnared again in U.S.-China trade war. auto.economictimes.indiatimes.co. Retrieved 29 March 2022, from https://auto.economictimes.indiatimes.com/news/industry/bmw-mercedes-benz-ensnared-again-in-u-s-china-trade-war/70838256.
HT Auto. (2021). BMW faces lawsuit worth $ 5million for flaw in design of cupholders. auto.hindustantimes.com/. Retrieved 29 March 2022, from https://auto.hindustantimes.com/auto/news/bmw-faces-lawsuit-worth-5-million-for-flaw-in-design-of-cupholders-41639917537990.html.
Kieran. (2022). The impact of the global semiconductor shortage. //www.thebci.org. Retrieved 29 March 2022, from https://www.thebci.org/news/the-impact-of-the-global-semiconductor-shortage.html. Kieran. (2022). The impact of the global semiconductor shortage. //www.thebci.org. Retrieved 29 March 2022, from https://www.thebci.org/news/the-impact-of-the-global-semiconductor-shortage.html.
Levin, T. (2020). The cheapest luxury cars you can buy from BMW, Porsche, Mercedes, and other high-end brands. www.businessinsider.in. Retrieved 29 March 2022, from https://www.businessinsider.in/thelife/news/the-cheapest-luxury-cars-you-can-buy-from-bmw-porsche-mercedes-and-other-high-end-brands/slidelist/75762398.cms