Ford Overview
Ford is a globally renowned US-based automobile manufacturer dealing in a variety of automotive segments including hatchbacks, sedans, SUVs, pick-up trucks, EVs, etc. The company has a significant presence around the world with operations in more than 125 countries. The company has strong financials and it generated revenue worth $17.9 billion in 2021. Besides, speaking of its human capital, it has an employee base of around 182,000 workers.
This article would focus on the strengths and weaknesses of Ford along with highlighting the opportunities that it can exploit in the market and the threats that can harm its operations. Having said that, a diligent SWOT analysis of Ford is presented in this article.In case you wish to learn about conducting a SWOT analysis in detail, you should definitely go through our meticulous Swot Analysis guide. So, let's get started without further ado.
Table of Contents
A pragmatic and persuasive SWOT Analysis of Ford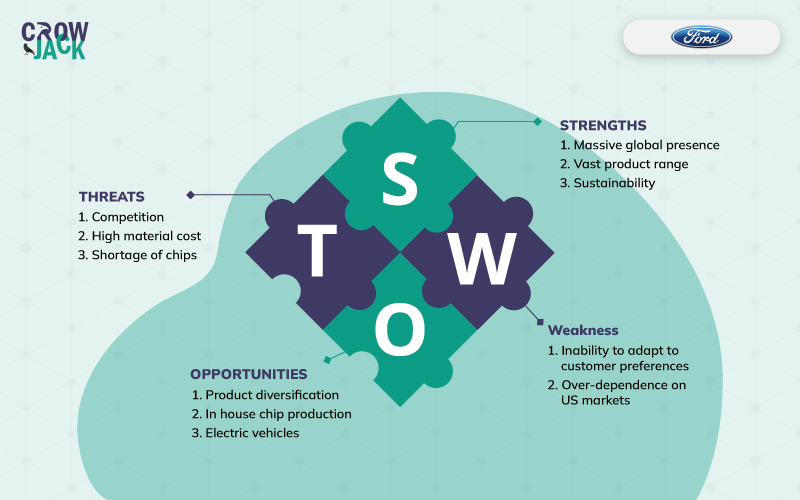 Ford's Strengths
Massive global presence- Ford conducts its operations in more than 125 countries around the world. The company sold more than 3.9 million vehicles in 2021 (Carlier, 2022). The company controls the 12% vehicle market in the US.
Vast product range- Ford has a range of products that include hatchbacks, sedans, SUVs, crossovers, electric vehicles, pick-up trucks, vans, sports vehicles, etc. The huge range of products provides it with an opportunity to cater to the vast customer segments (Ford, 2022).
High R&D capabilities- Ford spent around $7.6 billion in 2021. Ford has launched various new technologies to enhance the customer experience including a driver-assist system wherein the cars and powered with automatic high beams, heated steering wheel, rain-sensing windshield wipers, and a cross-traffic alert system. Further, to ease the parking issues, the company has launched a parallel parking assistance system, and to avoid accidents the cars are fitted with collision avoidance and pedestrian detection system (Ford, 2022). Impressive R&D capabilities can enable the company to work on new innovations for better change management to adjust to the evolving business environment.
Sustainability- As per Ford's sustainability report, it has initiated various steps to protect the environment. These include achieving net carbon neutrality by 2050 and the company plans to use 100% electricity in all its manufacturing facilities by 2035. Ford has also been recognized for its water management efforts wherein it has saved around 10 billion gallons of water to date. It is investing in developing water-efficient manufacturing processes that work without the use of drinkable water.
Ford's weaknesses
Inability to adapt to customer preferences- Ford has failed in India which is one of the major markets for automotive companies. The reason for its failure relates to not being able to understand the consumer dynamics and wrong product positioning. Despite being in India for more than 25 years, it was just able to capture a 2% market share.
Over-dependence on US markets- 48% of the total vehicle sales of Ford comes from the US market. It sold 3.9 million vehicles worldwide in 2021 while 1.9 million were sold only in the US. This can have great consequences for the company as if the US market collapses, then the company would also face a major setback.
Ford's Opportunities
Product diversification- Ford can enhance its product offering and launch new products like air taxis and ambulances. This can be a great opportunity as the market is flourishing on a great scale and is currently worth $817 million which is expected to grow manifolds to $1.5 trillion by 2040.
In-house chip production- Ford can utilize its expertise in engineering and start production of the semiconductor chips. This would enable the company to have more control over the quality and the company would be able to overcome the supply chain barriers to some extent.
High-performing electric vehicles- The EV market is still at a growing stage and Ford can be a leader in the market by launching more efficient and high-performing EVs. It can do so by embedding cars with tech-oriented batteries that can charge in a few seconds.
Ford's threats
Competition- Ford faces intense competition from various companies that include General Motors, Toyota, and many others. General Motors generated sales worth more than $13 billion in 2021 and it is the largest auto company in the US with more than 15% market share. Toyota earned more than $245 billion in revenues in 2021 and is aggressively expanding its market share; it sold 10% more cars in the US in 2021 compared to 2020 (Colias & Rogers, 2022).
High material cost- The prices of steel have increased by four times in the recent months and also the increase in tariffs by the US for import of steel from China from 10% to 25% can impact the financials of the company.
Shortage of chips- The shortage in production of chips due to the COVID-19 pandemic and further because of disruption in the supply of neon from Ukraine as a result of the Russia-Ukraine war can impact the production level of the company. As per Reuters, in 2021, automotive companies had to suffer collective losses worth USD 210 billion in revenue due to the inadequacy of semiconductor chips. A further extension of the shortage can lead to further loss of revenue and production for Ford.
To encapsulate, Ford has an enormous range of vehicles to suit everyone's needs and it innovates a lot with its models. The ability to innovate would enable the company to be ahead in the market but it needs to expand its reach as over 48% of the sales are generated in the US market alone. Further, it needs to find solutions to the ongoing chip shortage because of COVID as it can harm its production levels for which it can start the in-house production. It has strong rivals as well in the form of General Motors and Toyota which are well placed in the US market. General Motors controls 15% of the passenger car market in the US while Toyota is increasing its footprints and its sales in 2021 were 10% higher compared to 2020.
Also, you can read the PESTLE Analysis of Ford to determine how the macroenvironment factors influence the company or the automotive industry.
Recommended Readings
SWOT Analysis of General Motors
References
Automotive World. (2020). Ford again receives global corporate sustainability honors for leadership in climate change, water management. www.automotiveworld.com. Retrieved 4 April 2022, from https://www.automotiveworld.com/news-releases/ford-again-receives-global-corporate-sustainability-honors-for-leadership-in-climate-change-water-management/.
Reuters. (2022). Ford posts 7% fall in 2021 U.S. auto sales. www.reuters.com. Retrieved 4 April 2022, from https://www.reuters.com/markets/us/ford-motor-posts-68-fall-2021-us-auto-sales-2022-01-05.
Szczesny, J. (2021). Carmakers Face New Pressure Due to Rising Steel Prices. www.thedetroitbureau.com. Retrieved 4 April 2022, from https://www.thedetroitbureau.com/2021/05/carmakers-face-new-pressure-due-to-rising-steel-prices/
The Economic Times. (2021). What went wrong with Ford in India and who will benefit from its exit? Read more at https://auto.economictimes.indiatimes.com/news/passenger-vehicle/cars/what-went-wrong-with-ford-in-india-and-who-will-benefit-from-its-exit/86120886.
Auto.economictimes.indiatimes.com. Retrieved 4 April 2022, from https://auto.economictimes.indiatimes.com/news/passenger-vehicle/cars/what-went-wrong-with-ford-in-india-and-who-will-benefit-from-its-exit/86120886