Starbucks Overview
Starbucks is a highly popular coffee house brand with around 33,000 retail stores all across the globe. Starbucks has a strong global presence and caters to a large market of instant coffee consumers globally. In fact, Starbucks is the largest coffeehouse business in the world with its own coffee farm and a retail network much stronger than its competitors.
This article looks into the strengths and weaknesses of Starbucks. Besides, it also sheds light on the opportunities and threats in the external environment of the industry. In case you wish to learn about conducting a SWOT analysis in detail, you should definitely go through our meticulous Swot Analysis guide.
Table of Contents
An astute SWOT Analysis of Starbucks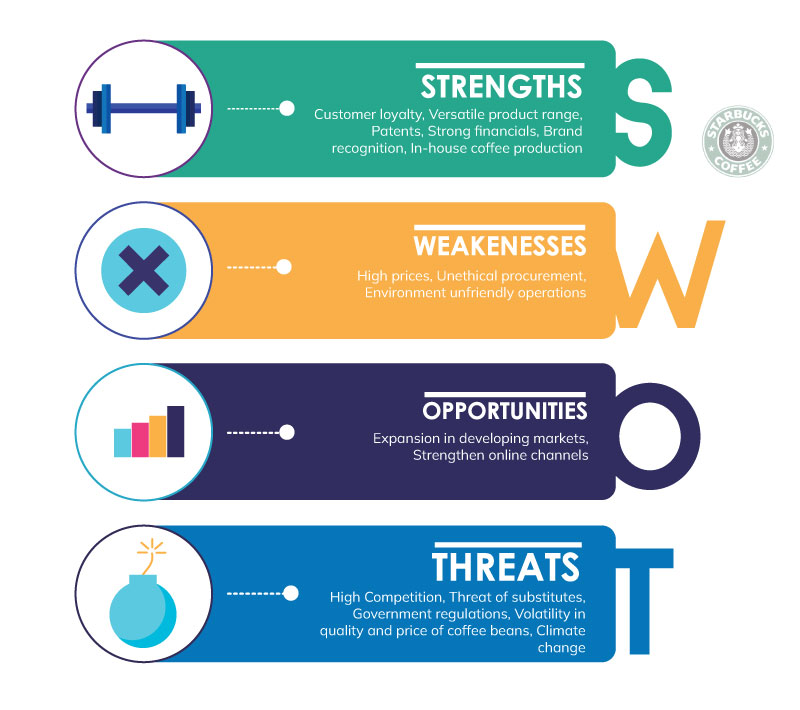 Starbucks' Strengths
Customer loyalty- Starbucks has a high number of customers that are loyal to the brand, around 21% of the customers visit its stores once every 3 days. Further, there has been an increase of 48% for the members joining its loyalty club wherein the customers are awarded two stars for every dollar they spend and the members who collect 25 stars can redeem it for a free drink and food.
Versatile product range- Starbucks offers a wide range of products to customers starting from hot and cold beverages to sandwiches and other eatables. Starbucks often improvises with its menu and looks to introduce new menu items as per the choices and preferences of the local customers.
Patents- Starbucks has various patents that include a method for foaming a beverage, a beverage dispensing system, a method and apparatus for injecting a gas into a beverage along with many other patents.
Strong financials- The revenue of Starbucks in Q4 of 2021 increased by 31% to $8.1 billion. The sales in the US went up by 22% and there was a significant increase in earnings per share from $0.79 to $3.54. The free cash flows doubled in the last 1-year from $5 billion to $10 billion (Starbucks, 2021).
Brand recognition- Starbucks is a highly popular brand with massive brand recognition even in the emerging markets of the world. This can be attributed to effective strategic planning and aggressive marketing by the brand.
In-house coffee production- Starbucks owns its own coffee farm which is known as Hacienda Alsacia located in Costa Rica. This not only gives the company a great sense of self sufficiency in terms of its coffee supplies but also offers a unique proposition to the customers. To explain, customers are enticed by the fact that the company grows its own coffee and ensures the production of the best coffee beans.
Starbucks' Weaknesses
High prices- The coffee served by Starbucks is 38% more expensive than its competitors (Rapier, 2018). The high prices can force the customers to shift to other alternatives.
Unethical procurement- Starbucks has a weak supplier code and the suppliers involved in supplying coffee beans to Starbucks have been accused of deploying child labor on their farms (Doward, 2020). This can have an impact on the image of Starbucks as well.
Environment unfriendly operations- Starbucks uses around 8000 paper cups in its stores per minute and more than 1.6 million trees are cut for this. This leads to high pollution and deforestation. So, the company should try to use more sustainable options.
Starbucks' Opportunities
Expansion in developing markets- Starbucks can aggressively invest more in emerging economies like India where it has just 250 stores. Moreover, the coffee market in India is expected to rise by 3%, and by 2025, 54% of customers' spending on coffee would be in the home segment (bars and restaurants) from under 15% now.
Strengthen online channels- The online sales for Starbucks constitute 26% of the total sales (Soper, 2021). The company can enhance its online sales to be more sustainable in the changing environmental conditions wherein the customers are avoiding going to restaurants because of the risk of transmission of the virus.
Starbucks' Threats
High Competition- Starbucks faces intense competition from various companies that include McDonald's, Dunkin Donuts, Tim Hortons, and many others. McDonald's occupies an 18% market share in the US in retail coffee while Dunkin is also a distant competitor with more than 11,000 stores and more than $1.5 billion of annual sales.
Threat of substitutes- Most of the sales at Starbucks are generated by in-store sales. The shift in consumer behavior related to less expenditure on outside-the-home food and beverages because of the risk of the virus has resulted in the loss of business. Further, most of the products sold by Starbucks contain high amounts of caffeine and allergens and the rising awareness about the ill effects of caffeine among the customers can result in a reduction in sales (Starbucks, 2021). Besides, the offerings by Starbucks have a high degree of substitution. The Porter Fives Forces Model can be applied to effectively analyze the threat of substitutes in an industry.
Government regulations- The company operates in various countries and as a result, has to deal with various regulations. The frequent change in laws, regulations, rules, reporting obligations, and related compliance obligations could result in an increase in cost (Starbucks, 2021).
Volatility in quality and price of coffee beans- Most of the beans used in the coffee are Arabica beans and the prices of Arabica coffee beans have recently risen by around 5% to $2235 a pound. This would have an impact on the company's final prices, thereby leading to a reduction in sales Perez &Hunter, 2021).
Climate change- The world is experiencing a significant shift in climate change. The temperatures are going consistently up with a reduction in rainfall which is not appropriate for coffee production. This can result in less production, thereby leading to disruption in the operations of Starbucks.
To conclude, Starbucks has been able to retain positive financial growth despite the disruptions because of COVID and the company has high loyalty among its customers. Starbucks uses a lot of plastic in its operations for which it needs to find any other alternative and the company must ensure that the prices do not rise exorbitantly which can ultimately impact its sales. Moreover, the issue of climate change throughout the world can be disadvantageous for the company as the production of coffee beans would decrease which could be disastrous for the company. Also, you can read the PESTLE Analysis of Starbucks to determine how the macroenvironment factors influence the company or the automotive industry.
Recommended Readings
SWOT Analysis of Mexican Grill
SWOT Analysis of Dunkin Donuts
References
Perez, M., & Hunte, A. (2020). Coffee prices hit highest in seven years on global supply threats Read more at: https://economictimes.indiatimes.com/small-biz/trade/exports/insights/coffee-prices-hit-highest-in-seven-years-on-global-supply-threats/articleshow/87708390.cms?utm_source=contentofinterest&utm_medium=text&utm_campaign=cppst.
Retrieved 13 April 2022, from https://economictimes.indiatimes.com/small-biz/trade/exports/insights/coffee-prices-hit-highest-in-seven-years-on-global-supply-threats/articleshow/87708390.cms?from=mdr
Ramnath, J. (2020). How the Indian coffee industry is poised for revival. Retrieved 13 April 2022, from https://www.financialexpress.com/brandwagon/how-the-indian-coffee-industry-is-poised-for-revival/2074332/
Rapier, G. (2018). Starbucks gets away with expensive coffee in the morning — but it's losing out to cheaper competition in the afternoons. Retrieved 13 April 2022, from http://markets.businessinsider.com/news/stocks/starbucks-stock-price-expensive-coffee-in-morning-losing-to-cheaper-competition-afternoons-2018-6-1027320203
SOPER, T. (2021). More than a quarter of all Starbucks orders in the U.S. are now paid for with a smartphone. Retrieved 13 April 2022, from https://www.geekwire.com/2021/quarter-starbucks-orders-u-s-now-paid-smartphone/