McDonald's Overview
McDonald's is a brand that needs no introduction given its massive global presence and ample popularity across all age groups. Indeed, McDonald's is a beloved brand in the QSR industry and its great affordability attracts a massive number of consumers. With a market capitalization of USD 186 billion, McDonald's is among the hundred most valuable companies in the world by market capitalization.
To probe how external factors can affect the company and enforce various dimensions of change management, this article presents a detailed SWOT Analysis of McDonald's. In case you wish to learn about conducting a SWOT analysis in detail, you should definitely go through our meticulous Swot Analysis guide. So, let us get started without much delay.
Table of Contents
A precisely conducted SWOT Analysis of McDonald's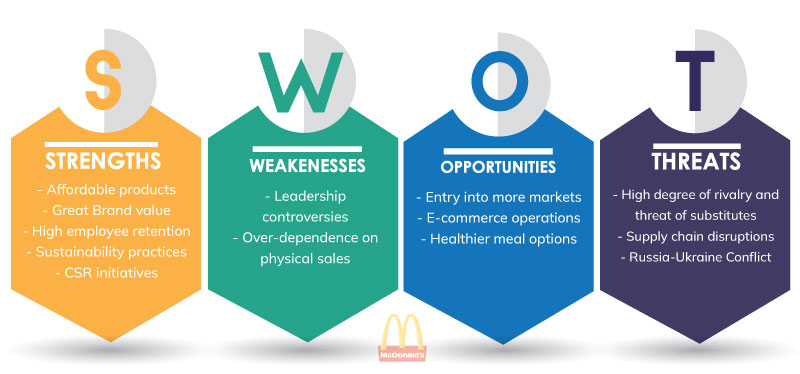 McDonald's's strengths
Affordable products- The products at McDonald's start as low as $1 for a sausage biscuit, McMuffin, and many other varieties are also available for between $2 and $3. This cost leadership approach of the company has helped it acquire and retain customers with the greatest efficiency.
Great Brand value- McDonald's is valued high at $129.32. Further, it has many sources of income that include rent from its franchises, royalties, and profits from the sale of the products.
High employee retention- McDonald's employee retention rate is high and the company has certain policies for employee satisfaction that include paid leaves, free-of-cost medical and other insurance, and flexible work arrangements along with 50% exclusive discounts on the orders (McDonald's, 2022).
Sustainability practices- McDonald's invests a lot in sustainable practices. It aims to replace all of its plastic packaging with environmentally friendly options by 2025 (Carrig, 2018).
CSR initiatives- McDonald's is also focused on the needs of the society and donated free meals during the pandemic, in addition, it has a Ronald's McDonald's House at many locations wherein the caretakers of the patients admitted in the nearby hospitals can stay for free.
Weaknesses of McDonald's
Leadership controversies- McDonald's leadership has recently been in news for the wrong reasons wherein the CEO was fired because of violating the company's norms wherein he indulged in an affair with the company's employee. The organizational structure of the company may need some tweaking to address the issue.
Over-dependence on physical sales- Though McDonald's has invested a lot in its digital platforms and runs a loyalty program for app users, still it has not been able to achieve the desired results and only 20% of sales are generated through the digital platforms.
Opportunities for McDonald's
Entry into more markets- McDonald's can enter into new markets including Cambodia, Ghana, etc. Its competitors like KFC, and Domino's Pizza have a significant presence. The Cambodian fast food market a great potential as it is expected to grow in double digits at a CAGR of 13.57% till 2026 from the current value of $1711.41 million. In Ghana, the restaurant sector is the topmost growing sector increasing at an annual rate of 20% and 37% of people in the age group of 40-59 consume fast food on a daily basis. Hence, the company needs to undertake some aggressive change management processes to plan its expansion into more markets.
E-commerce operations- Most of the sales at McDonald's are through offline channels and only 20% of revenues are generated from online sales (Cheng, 2021). McDonald's should aggressively invest in its delivery services. It can implement several techniques to enhance digital sales wherein the customer can order for take-away through the app and pay through the app itself. Further, the drive-thru can be made more digitized and the customer can be given the option of paying through the app (Pham, 2021).
Healthier meal options- Most of the items on the menu like sausage, cheese, and beef contain high calories and people are shifting towards healthier eating patterns. McDonald's should introduce healthier items in its menu to sustain itself in the long term.
Threats for McDonald's
High degree of rivalry and threat of substitutes- McDonald's faces intense completion from many players like Wendy's, Burger King, and many others. Wendy's has a total of 6800 outlets that generated revenue of $1.8 billion in 2021. Burger King has a network of more than 16000 restaurants and has a strong digital presence as well, its 50% of sales in the international markets were through digital platforms. These brands can pose a threat to McDonald's market share. Also, the threat of substitutes is very high in the QSR industry.
Supply chain disruptions- The global supply chain is facing a slowdown because of the unavailability of raw materials due to production issues. Moreover, the transportation from the ports is taking a huge time because of congestion as a result of delivery backlogs.
Russia-Ukraine conflict- The ongoing Russia-Ukraine war has impacted the revenue on a large scale. The company has to shut down its 847 stores in Russia and 108 in Ukraine. The revenue from these two nations comprises 8% of total sales (Marotti, 2022).
To recapitulate, it can be concluded that McDonald's stands a good chance of winning over the competitors because of its range of affordable products, high brand value in the QSR segment, and the company's various initiatives toward the environment. But the company has had several issues with the top leadership and it should take care of this as this can put a negative impression on the inventors. In addition, McDonald's must strive to shift towards more health-conscious items to cater to the changing taste among the customers, and its delivery business is also limited in scale the company should focus on expanding the delivery business by implying innovative tactics. Also, you can read the PESTLE Analysis of McDonald's to determine how the macroenvironment factors influence the company or the automotive industry.
Recommended Readings
SWOT Analysis of Mexican Grill
SWOT Analysis of Dunkin Donuts
References
Adetunji, J. (2021). Ghanaians are eating more fast food: the who and the why. Retrieved 11 April 2022, from https://theconversation.com/ghanaians-are-eating-more-fast-food-the-who-and-the-why-153810
Bellany, D. (2019). McDonald's C.E.O. Fired Over a Relationship That's Becoming Taboo. Retrieved 11 April 2022, from https://www.nytimes.com/2019/11/04/business/mcdonalds-ceo-fired.html
Marotti., A. (2022). MCDONALD'S NEW THREAT IN RUSSIA? LOSS OF REPUTATION. Retrieved 11 April 2022, from https://adage.com/article/marketing-news-strategy/ukraine-invasion-mcdonalds-faces-trademark-loss-russia/2405411
Pham, M. (2021). Burger King sharpens focus on digital for sustainable growth'. Retrieved 11 April 2022, from https://www.marketingweek.com/burger-king-sharpens-focus-on-digital