Dunkin Donuts' Overview
Dunkin Donuts is a US-based Quick Service Restaurant chain that sells different varieties of coffee donuts, bagels, croissants, muffins, sandwiches, and many other dishes. The company was founded in 1950 and has a network of more than 11300 restaurants in 36 countries including the US, Canada, India, Japan, the UK, Russia, New Zealand, etc. (Dunkin Donuts, 2021). Dunkin Donuts is owned by Inspire, a company that also owns other popular food brands such as Arby's, Baskin Robbins, Buffalo Wild Wings, Rusty Taco, and SONIC among others. Dunkin Donuts earned a revenue of $972.1 million in 2020.
This article would effectively highlight the strengths, weaknesses, and available opportunities for Dunkin Donuts along with the factors that can pose a threat to its operations. An elaborate SWOT Analysis of the company will delve deep into the internal capabilities of the company. Moreover, if you want to learn more about the SWOT Analysis Model, you can go through our extensive guide on SWOT Analysis. For now, let us get started with the SWOT Analysis of Dunkin Donuts.
A Substantial SWOT analysis of Dunkin Donuts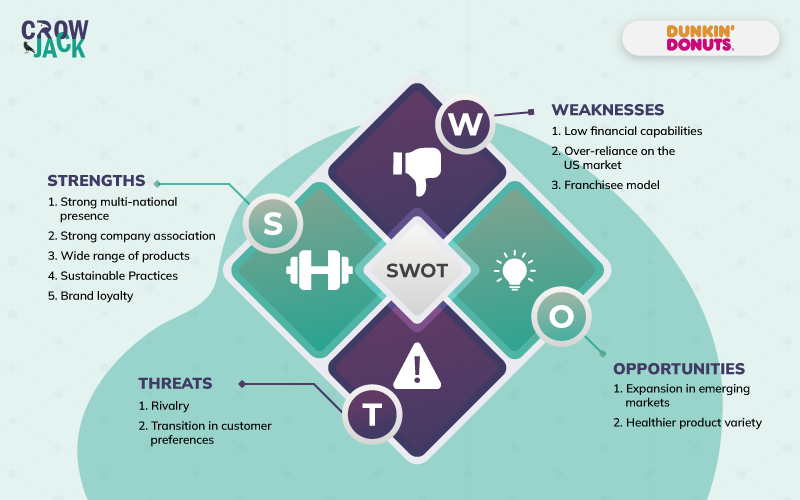 Dunkin Donuts' strengths
Dunkin Donuts' weaknesses
Dunkin Donuts' opportunities
Dunkin Donuts' threats
To encapsulate, Dunkin Donuts has a large number of quick-service restaurants, 11000 in total. It has a competitive edge because of its huge brand loyalty and has remained one of the top preferred brands in the out-of-home coffee category for the last 12 years. The company is involved in various sustainable practices like offering the coffee in the cups made of recycled plastic and it is also concerned about the coffee farmers. This can be advantageous as it can lead to an enhanced brand image in the community. But the company has a tremendous amount of debt compared to the available equity. This can be a barrier to long-term sustainability. Dunkin Donuts is present in limited countries and it should enhance in the emerging markets that can increase the chances of profitability. Also, Dunkin Donuts needs to reduce the use of beef and pork in its dishes and rather focus more on plant-based meat as the customer taste is shifting more toward the vegan diet. Besides, you can also read our Dunkin Donuts PESTLE Analysis to understand how external factors in the macro environment influence the food and beverages industry and hence, Dunkin Donuts.
Recommended Readings
SWOT Analysis of Mexican Grill
References
Afrah, A. (2021). Coffee habits: What type Bangladesh people consume and why?. Retrieved 11 April 2022, from https://thefinancialexpress.com.bd/views/views/coffee-habits-what-type-bangladesh-people-consume-and-why-1626495212
Hossain, S. (2021). Per capita income rise in Bangladesh benefits few rich: experts. Retrieved 11 April 2022, from https://www.newagebd.net/article/145661/per-capita-income-rise-in-bangladesh-benefits-few-rich-experts