Coca-Cola Overview
Coca-Cola certainly happens to be one of the most popular global brands that definitely needs no introduction. With a market capitalization of more than USD 274 billion, Coca-Cola also happens to be one of the most valuable companies in the world. People of all ages and tastes are associated with the brand as its enormous range of products has a lot to offer to everyone. In its industrial segment, Coca-Cola is certainly a leader and has the prowess to dictate terms in the industries. However, in order to sustain its competitive advantage, the company needs to undertake strategic analysis at regular intervals.
Having said that, this article offers an insightful SWOT Analysis of the company delving deep into its strengths and weaknesses. To elucidate, SWOT Analysis is an effective tool for analyzing both the internal and external environment of the business.
The analysis would also involve predicting the threats from the external forces and the strategies that the company can formulate to eliminate those threats. In case you wish to learn more about conducting an effective SWOT Analysis, you can go through our delineated SWOT Analysis guide. For now, let us get started with the SWOT Analysis of Coca-Cola.
An immersive SWOT Analysis of Coca-Cola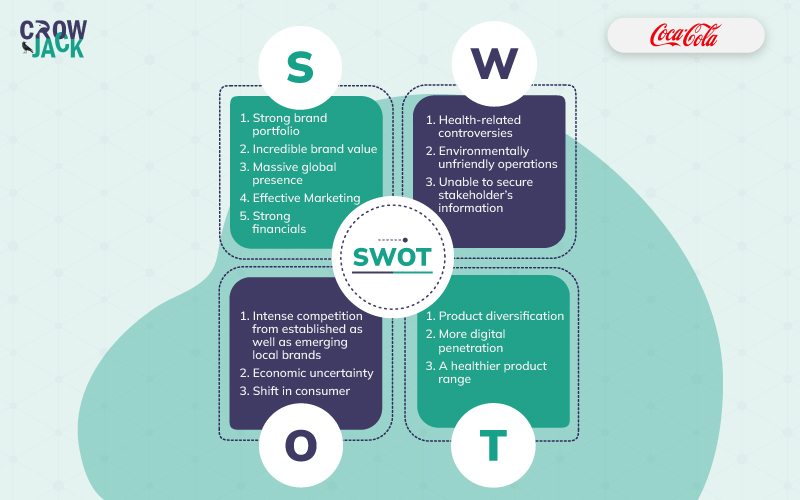 Strengths of Coca-Cola
Strong brand portfolio- Coca-Cola has a strong portfolio comprising of soft drinks, mineral water, juice, coffee, energy drinks, etc. Its product range includes Coca-Cola, Coke Zero, Monster, Costa Coffee, Sprite, Fanta, Dr. Pepper, Oasis, etc.

Incredible brand value- According to Statista, Coca-Cola is valued highly at over $33.2 billion and it is considered the world's most valuable and strongest soft drink brand.

Massive global presence- Coca-Cola has its presence all over the world except in two countries, Cuba and North Korea. The huge presence in the market can provide it with a competitive advantage. The company has a good understanding of cultural dimensions and this helps the brand to acquire a large market share even in new markets.

Effective Marketing- Coca-Cola spends more than $4 billion on advertising throughout the world. The company advertises on several platforms like TV, print media, and social media. Further, the company sponsors many renowned events like American Idol, Olympic Games, NBA, etc.

Strong financials- Coca-Cola's revenues in 2021 grew by 17% to $38.7 billion. Furthermore, there was an increase of 26% in earnings per share and the free cash flow increased by $2.8 billion to $12.6 billion (Coca-cola, 2021).
Weaknesses of Coca-Cola
Health-related controversies- The drinks sold by Coca-Cola contain higher amounts of sugar and caffeine which can be harmful to the health. Further, Coke has been accused of marketing sugary drinks as healthy drinks to children whereas high consumption of sugar leads to obesity and type 2 diabetes.

Environmentally unfriendly operations- Coca-Cola has been alleged to conduct operations in an unsustainable manner many times. Recently, it had to close its plant in India as it was accused of contaminating the groundwater and not treating the sewage in an effective manner.

Unable to secure stakeholder's information- Coca-Cola has failed on many occasions to protect the personal information of people associated with it. A couple of years back, data of around 8000 employees was compromised when the employee who exit the company got access to those details (Graham, 2018). Further, recently a Russian cyber group has claimed to get access to the 161GB of personal data stored in the company's servers. These types of incidents can make stakeholders lose trust in the company.
Opportunities for Coca-Cola
Product diversification- Coca-Cola is already a market leader in the carbonated drink segment and it has the power of strong financials as well. The company can take advantage of this and venture into the alcoholic drink segment by launching a canned variety of different cocktails.

More digital penetration- Most of the sales for the company occur through offline channels like retail stores, vending machines, etc. The company should aggressively venture into the e-commerce segment as this would provide it with the opportunity to align with the changing customer preference of shopping more through online mode.

A healthier product range- Given the changing preferences of consumers and the increasing inclination towards healthy beverages and food items, the company can acquire a greater number of customers and also retain its customer base by introducing an appealing range of healthy products. For this, the company will need to set SMART goals and track them effectively.
To conclude, Coca-Cola is a worldwide hit brand and has a number of food and beverage products under its portfolio suiting everyone's needs. The company has a strong offline presence but does not sell much through online mode and it should advance in online networks. Further, the F&B industry is witnessing the strong entry of different players in different regions. These emerging companies can act as a major threat to Coca-Cola. Besides, if you wish to analyze how the external business environment will impact the company in the future, you can go through our detailed PESTLE Analysis of Coca-Cola.
Threats for Coca-Cola
Intense competition from established as well as emerging local brands- Coca-cola has an intense competitive rivalry with PepsiCo. Coca-Cola controls the majority of the US carbonated soft drink market with 44.9% market share while Pepsi is the second most aggressive player in the US market with 25.9% market share (Ridder, 2022). Popular brands by Pepsi include Mountain Dew, 7UP, Lay's, Quaker, and many others. Coca-Cola also faces competition from the emerging local players like Paper boat in India which deals in famous local flavors such as thandai, Serbet-e-khaas, rose tamarind · panakam, chilli guava, anar, aamras.etc.

Economic uncertainty- Most of the sales by the company are generated through convenience stores.The rise in cases of COVID can lead to lockdown which can result in the closure of businesses. This would impact the sales of the company.

Shift in consumer presence- There has been a tremendous shift in the customer preference toward healthy products. 57% of people have become more conscious about their immunity and more than 51% have started consuming food that enhances their metabolic health (Poinski, 2020).
Besides, you can understand the influence of external factors on the company in a more comprehensive way through our meticulous PESTLE Analysis of Coca Cola.
Recommended Readings
SWOT Analysis of Dunkin Donuts
SWOT Analysis of Mexican Grill
References
Graham, A. (2018). Coca-Cola data breach affects thousands of employees. www.itgovernance.co.uk. Retrieved 16 May 2022, from https://www.itgovernance.co.uk/blog/coca-cola-data-breach-affects-thousands-of-employees.
Poinski, M. (2020). Consumer trends shifting toward health and wellness, ADM finds. www.fooddive.com. Retrieved 16 May 2022, from https://www.fooddive.com/news/consumer-trends-shifting-toward-health-and-wellness-adm-finds/584388/.
Ridder,, M. (2022). Leading U.S. CSD companies 2020, based on volume share. /www.statista.com. Retrieved 16 May 2022, from https://www.statista.com/statistics/225504/leading-carbonated-soft-drink-companies-in-the-us/.
Valinsky, J. (2019). Coke targeted teens by saying sugary drinks are healthy. edition.cnn.com. Retrieved 16 May 2022, from https://edition.cnn.com/2019/12/19/business/coca-cola-teens-advertisement-trnd/index.html.
Zee Business. (2016). Coca Cola suspends India plant operations over pollution issue. /www.zeebiz.com/. Retrieved 16 May 2022, from https://www.zeebiz.com/companies/news-coca-cola-suspends-india-plant-operations-over-pollution-issue-5186.