Chipotle Mexican Grill Overview
Chipotle Mexican Grill is a restaurant chain offering Mexican food and its specialties include burritos and tacos. It is headquartered in the US and has 2950 restaurants serving the markets of the US and Canada along with the UK, France, and Germany. Chipotle Mexican Grill has 100,000 employees and it earned a revenue of $7.5 billion which increased by 26.1% compared to 2020. The company was recognized in the 2021 lists for Forbes' America's Best Employers and Fortune's Most Admired Companies (Chipotle, 2021).
The SWOT analysis would highlight the strengths and weaknesses of Chipotle Mexican Grill along with the opportunities available for the company and the threats that can restrict its growth.
Therefore, this article will present an effectively and meticulously conducted SWOT analysis of one of the key players in the fast-food chain industry, Chipotle Mexican Grill. In case you wish to learn about conducting a SWOT analysis in detail, you should definitely go through our meticulous Swot Analysis guide.
Exhaustive and Concise SWOT analysis of Chipotle Mexican Grill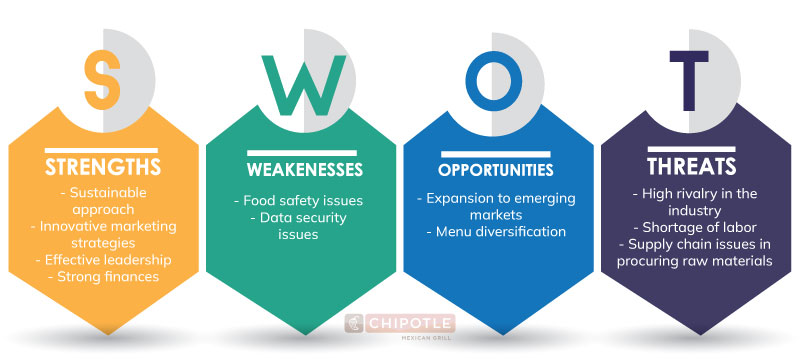 Chipotle Mexican Grill's Strengths
Strong financials- As per the annual report, Chipotle Mexican Grill's revenue in 2021 increased significantly by 26% to $7.5 billion. The operating margin more than doubled in 2021 from 4.8% to 10.7%. There was an increase of about 137% in the earnings per share which increased from $10.73 to $25.42 (Chipotle, 2021).
Sustainability- Chipotle Mexican Grill has invested a lot in sustainability. The company supports local farmers and purchased around 31 million pounds of local produce in 2020 while it is involved in animal welfare as well and purchases pork and beef that are certified by Global Animal Partnership. Chipotle Mexican Grill organizes fundraising campaigns and donated over $5 million in 2020 to various community organizations. The company also donated over 455,000 meals to needy people and it offers a debt-free degree program for the employees in order to assist them in enhancing their career opportunities (Chipotle, 2020).
Impressive Marketing strategy- Chipotle uses various marketing techniques that have led to an increase in its business over the years. Last year, the company promoted its free burrito bowls during the American bowling contest wherein it offered free burrito bowls to first-time customers using the company's app and it tripled its delivery business (Adams, 2019). The company has tied up with Venmo to launch a loyalty program wherein the customers receive 10 points for each dollar spent on the digital platform and they can redeem these points to get a free item upon earning 1250 points (Rogers, 2019). This has led to a 480% increase in app downloads. Menu innovation- Chipotle consistently innovates with its menu and launches new items every year. Recently, it introduced smoked brisket, cilantro-lime Cauliflower rice, and quesadillas and it is also experimenting with a plant-based meal named chorizo in many markets (Lalley, 2021).
Effective Leadership- Chipotle is headed by Brian Niccol, its CEO. He has worked with various successful corporations including Proctor and Gamble as a brand manager and in the executive position for Yum Foods, the franchisee responsible for operating Domino's, KFC, Taco Bell, and Baskin Robbins in many countries. He was also awarded the Restaurant Leader of the Year in 2020 (Romeo, 2020). Brian has transformed the company by introducing several initiatives that include Chipotlanes wherein the customers can order in advance and pick up through drive-thru lanes. This has led to a significant increase in the digital business of the company and its sales of the company have surpassed $2 billion (Kelso, 2022).
Chipotle Mexican Grill's Weaknesses
Food safety issues- More than 1100 customers have fallen sick after eating at Chipotle's restaurants due to adulteration and employees not following relevant hygiene standards. This has also resulted in a loss of $25 million for the company in the form of fines (Desk, 2020). The company should ensure formulate procedures to ensure all the employees adhere to the food safety laws.
Unable to secure data- There have been multiple instances of a data breach in Chipotle Mexican Grill wherein the hackers stole credit cards and other personal information of the customers (Lukic, 2020). This can lead to a loss of trust among the customers.
Chipotle Mexican Grill's opportunities
Expansion into more markets- Most of the company's restaurants are located in the US and Canada. It should explore more markets like Norway, Finland, and other European and Asian countries where people have a high liking for Mexican food.
Menu diversification- Mexican Grill Eats is currently famous for its burritos, tacos, and other Mexican stuff. It can enhance its menu and include fusion dishes along with a regional variety of Asia, Caribbean, and Africa to increase its target market.
Chipotle Mexican Grill's threats
A high degree of rivalry- Chipotle Mexican Grill faces intense competition from various companies that include Qdoba Mexican Eats, Moe's Southwest Grill, Baja Fresh Mexican Grill, and Rubio's Coastal Grill among others. QDOBA Mexican Eats has 766 restaurants and generates sales of around $901,000 a year. Moe's Southwest Grill has 682 locations in the US and generated sales of $561,000 in FY2020. It has many other brands in its portfolio as well including Auntie Anne's, Carvel, Cinnabon, Jamba, McAlister's Deli, Schlotzsky's, and Seattle's Best Coffee.
Shortage of labor and raw materials- Chipotle Mexican Grill is facing labor shortages and because of this, it is having problems running the operations smoothly. The shortage of labor has led to company closing their restaurants early and it had to increase the employee wages by around $2 an hour to retain them. Also, due to COVID, there is a disruption in the supply of raw materials and the company has to spend extra on freight charges (Kaplan, 2021).
To conclude, Chipotle Mexican Grill has the advantage of increasing revenues and earnings per share which can lead to an increase in confidence among investors. The company can gain in terms of developing new technologies from the experience of its top leadership. The company needs to focus more on enhancing food safety as it has been involved in violations of norms. The company can explore the opportunity to venture into other countries like Norway where the preference for Mexican food is high and can expand its menu which would enable it to target a larger customer base. But, the shortage of raw materials and labor can pose a threat to the operations of the company. Also, you can read the PESTLE Analysis of Chipotle Mexican Grill to determine how the macroenvironment factors influence the company or the automotive industry.
Recommended Readings
SWOT analysis of Dunkin-Donuts
References
Adams, P. (2019). How Chipotle saved its brand by embracing a centralized digital marketing strategy. www.marketingdive.com. Retrieved 4 April 2022, from https://www.marketingdive.com/news/how-chipotle-saved-its-brand-by-embracing-a-centralized-digital-marketing-s/563655/
Kaplan, T. (2021). Chipotle facing 'challenging labor environment,' prompts 'big action': CFO. www.foxbusiness.com. Retrieved 4 April 2022, from https://www.foxbusiness.com/business-leaders/chipotle-facing-challenging-labor-environment-prompts-big-action-cfo
Kelsso, A. (2022). How Chipotle Plans To Remain A Digital Leader As Other Chains Play Catch Up. ://www.forbes.com. Retrieved 4 April 2022, from https://www.forbes.com/sites/aliciakelso/2022/03/01/how-chipotle-plans-to-remain-a-digital-leader-as-other-chains-play-catch-up/?sh=6dd382fa73a2
Lalley, H. (2021). CHIPOTLE PICKS UP ITS MENU INNOVATION PACE WITH A NEW CHICKEN RECIPE. /www.restaurantbusinessonline.com. Retrieved 4 April 2022, from https://www.restaurantbusinessonline.com/food/chipotle-picks-its-menu-innovation-pace-new-chicken-recipe.
MEISENZAHL, M. (2021). Chipotle customers are reporting ingredient shortages as the chain says it is facing high beef and shipping costs. /www.businessinsider.i. Retrieved 4 April 2022, from https://www.businessinsider.in/retail/news/chipotle-customers-are-reporting-ingredient-shortages-as-the-chain-says-it-is-facing-high-beef-and-shipping-costs/articleshow/84624365.cms.
Rogers, K. (2019). Chipotle teams with Venmo as it takes its rewards program national. /www.cnbc.com. Retrieved 4 April 2022, from https://www.cnbc.com/2019/03/12/chipotle-teams-with-venmo-as-it-takes-its-rewards-program-national.html.