PepsiCo Overview
PepsiCo is a US-based food and beverage company headquartered in New York, US. PepsiCo is a globally accredited brand offering an extensive range of food and beverage products for all ages and consumers with versatile preferences. With a market capitalization of more than 230 billion, PepsiCo is among the world's most successful food and beverage companies and competes directly with Coca-Cola which happens to be the industry leader in this segment.
This article presents a delineated SWOT analysis of PepsiCo shedding light on its internal strengths and weaknesses that directly impact the future growth of the company. Besides, the analysis also looks into the opportunities and threats for the company that prevail in the external business environment. Moreover, if you wish to acquire more knowledge about the SWOT analysis model, you can go through our exclusive SWOT Analysis guide.
As for now, let us get started with the PESTLE Analysis of PepsiCo
An astutely conducted SWOT analysis of PepsiCo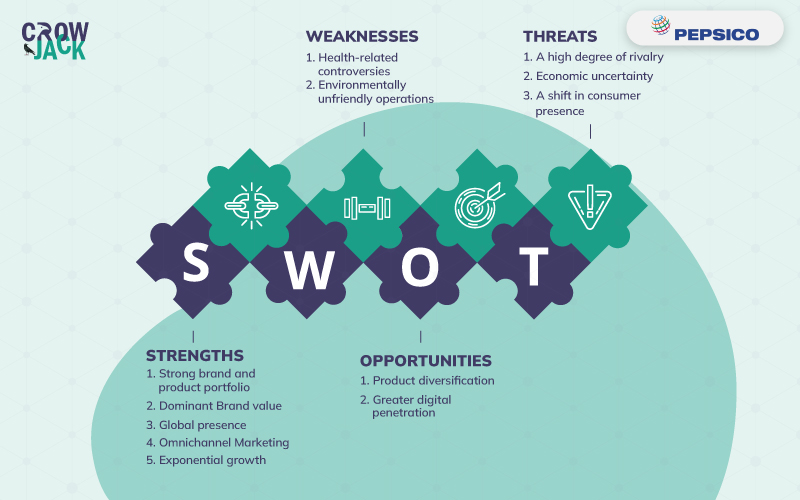 Strengths of PepsiCo
Strong brand and product portfolio- PepsiCo has a strong product portfolio comprising soft drinks, mineral water, juice, coffee, energy drinks etc. Its brand range includes Pepsi, Mirinda, Mountain Dew, 7UP, Lay's, Quaker, Doritos, Gatorade, Tropicana, Lipton, Tostitos, etc.

Dominant Brand value- PepsiCo is valued highly at $18 billion (Ridder, 2022). It is considered the world's second most valuable non-alcoholic soft drink brand.

Global presence- PepsiCo is extensively present all over the world including the regions of Asia, Europe, Latin America, Africa, the Middle East, the US & Canada along with other global territories. The huge presence makes it one of the most visible brands that provide it with a competitive advantage over other emerging brands. The brand is present in almost all leading economies of the world.

Omnichannel Marketing- PepsiCo spends more than $4 billion on advertising throughout the world. The company advertises on several platforms like TV, print media, and social media. Further, the company sponsors many renowned events like American Idol, Olympic Games, NBA, etc. Alongside, the company advertises aggressively on electronic media, print media, and social media as well.

Exponential growth- According to the annual report of PepsiCo, the company's revenues in 2021 grew by 13% to $79,474 million from $70,372 in 2020. The beverages and convenient food both contributed equally with the share of beverages being 45% and that of convenient foods being 55%.
Furthermore, there was an increase of 7% in earnings per share and the free cash flow increased by $6428 million billion to $7157 million. The return for the shareholders also increased as the number of dividends paid in 2021 was higher by 6% compared to 2020 (PepsiCo, 2021).
Weaknesses of PepsiCo
Health-related controversies- The drinks sold by PepsiCo contain higher amounts of sugar and caffeine which can be harmful to the health. Further, the company has been accused of deceiving children by marketing the sugary drinks as healthy drinks

Environmentally unfriendly operations- PepsiCo has been alleged to conduct operations in an unsustainable manner many times. It has been ranked among the top 3 brands that pollute the environment using plastic for three continuous years (McVeigh, 2020). Further, it has also been accused of destroying the rainforests for sourcing the high volume of palm oil. The ethical issues pertaining to the company can affect brand reputation.
Opportunities for PepsiCo
Product diversification- PepsiCo can explore a new market of selling ready-to-drink cocktails in a can. The market is still emerging and is just valued at $782 million for now but is expected to witness strong growth of more than 13% from 2022-2030. This would also enable the company to target another customer segment. Also, the company can introduce more options in healthy foods and beverages to retain or acquire health-conscious customers.

Greater digital penetration- PepsiCo has recently launched two digital platforms that include Snacks.com and PantryShop.com. The company can use these platforms to enhance its online presence which would enable Pepsi to operate without disruptions even if any lockdown persists in the future due to COVID.
Threats for PepsiCo
A high degree of rivalry- Coca-Cola is the major competitor of PepsiCo. Coca-Cola controls the majority of the US carbonated soft drink market with 44.9% market share while Pepsi is the second most aggressive player in the US market with 25.9% market share (Ridder, 2022). Popular brands by Coca-Cola include Powerade, Coke Zero, Costa Coffee, Fanta, Minute Maid and many others. PepsiCo also faces competition from the emerging local players like Paper boat in India which deals in drinks in famous local flavors such as thandai, Serbet-e khaas, rose tamarind · panakam, and chili guava, anar, aamras etc.

Economic uncertainty- Most of the sales by the company are generated through convenience stores. The rise in cases of COVID can lead to lockdown which can result in the closure of businesses. This would impact the sales of the company.

A shift in consumer presence- There has been a tremendous shift in the customer preference toward healthy products. 57% of people have become more conscious about their immunity and more than 51% have started consuming food that enhances their metabolic health (Poinski, 2020).
To conclude, PepsiCo stands firmly in the market because of its huge product variety and also the financial back up. However, Pepsi is alleged of unsustainable operations and the company needs to initiate actions in this regard. The strong competition from rivals like Coca-Cola and the increasing popularity of the local brands can be a challenging aspect for the company along with the change in customer preference towards healthy food items as most of the Pepsico's products contain high amounts of sugar and sodium. In case you wish to analyze the company as per the external environment, you can go through our intelligibly conducted PESTLE Analysis of PepsiCo.
Recommended Readings
References
Paper Boat. (2022). about drinks. www.paperboatdrinks.com. Retrieved 11 May 2022, from https://www.paperboatdrinks.com/drinks/neer%20more.
Poinski, M. (2020). Consumer trends shifting toward health and wellness, ADM finds. www.fooddive.com. Retrieved 11 May 2022, from https://www.fooddive.com/news/consumer-trends-shifting-toward-health-and-wellness-adm-finds/584388/.
Ridder, M. (2022). Leading U.S. CSD companies 2020, based on volume share. /www.statista.com. Retrieved 11 May 2022, from https://www.statista.com/statistics/225504/leading-carbonated-soft-drink-companies-in-the-us/.