Samsung Overview
Samsung is a globally renowned and appreciated electronics manufacturer headquartered in Suwon-Si, South Korea. With a staggering market capitalization of USD 388.7 billion, Samsung is the 17th most valuable company in the world. The company offers a wide spectrum of smartphones and products to suit different customer needs. Over the years, Samsung has consolidated its global presence and has emerged as one of the leaders in the global consumer electronics market.
The SWOT analysis would shed light on the strengths and weaknesses of Samsung along with the opportunities available in the market that it can grab. The analysis would also contain a description of the threats that can be a challenge for the company to expand or sustain in the market. In case you wish to learn about conducting a SWOT analysis in detail, you should definitely go through our meticulous Swot Analysis guide.
Table of Contents
Extensive and Insightful SWOT Analysis of Samsung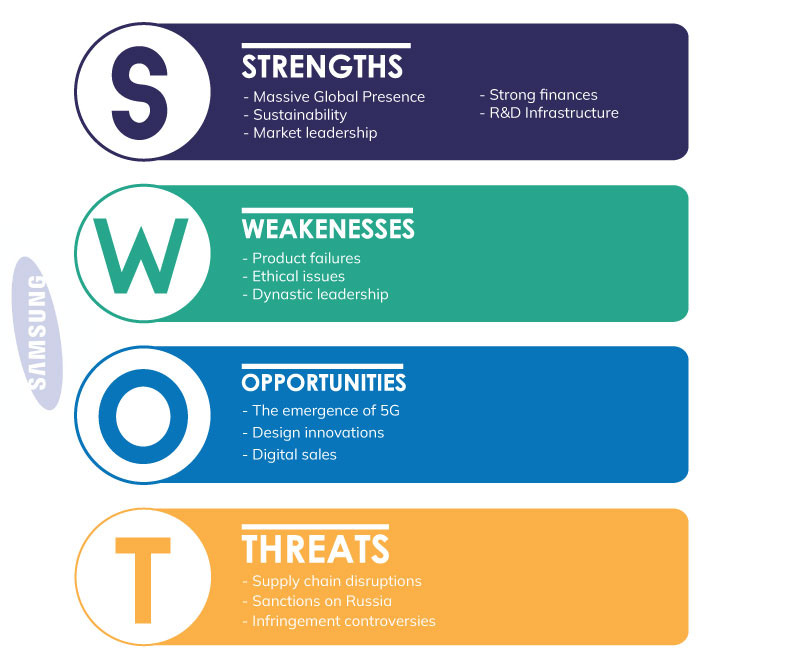 Samsung's Strengths
Global presence- Samsung has operations in more than 74 countries and sold more than 272 million units of smartphones in 2021
Vast Product range- Samsung deals in a wide variety of products that include TVs, refrigerators, washing machines, ACs, network systems, mobile apps, etc. (Samsung, 2020).
Impressive financial performance- Samsung has abundant financial resources. It generated a revenue of $232 billion in 2021, an increase of 18% on yearly basis. Its free cash flow increased to $ 34,115,412 in 2021 from $25,681,845 in 2020. Such a huge cash flow can be beneficial to the company while dealing with any threat and it would be easily able to tap into the market opportunities.
Leadership position in the smartphone market- Samsung is the global leader in the smartphone segment with a 32% market share, ahead of Apple by 4% (Moshfegh, 2020).
Sustainable practices- More than 90% of the energy used in the workplaces is produced through renewable sources. The company is promoting recycling on a large scale wherein the covers of the monitors are being manufactured from recycled materials and it has plans to reduce the greenhouse gas emissions by 25000 tons for which it would plant 3.8 million pine trees over the next two years and has initiated manufacturing of energy-efficient products. Its two dishwashers have been included in the Energy Star's 2021 Most Efficient Dishwashers list, satisfying the criteria of annual energy use of fewer than 240 kWh per year and water consumption of fewer than 3.2 gallons per cycle for standard-sized models. The trays in the fridges are made from eco-conscious pulp instead of plastic, thereby leading to a reduction of 84 tons of carbon
R&D capabilities- Samsung's spending on R&D is increasing over the years, it has increased from KRW 18,662,029 in 2018 to KRW 21,229,200 in 2020. It has R&D facilities in many countries such as the US, China, India, Bangladesh, Israel, and Russia along with many others. Various successful research projects of the company include a lifestyle TV that can rotate 360 degrees, QLED 8K TV.
Samsung's Weaknesses
Dynasty leadership- Dynasty leadership is one of the core weaknesses of the company as the company ignores meritocracy and chooses top leaders from the same family hence, leading to a potential loss of efficiency and merit.
Ethical issues- Samsung has been unable to protect against employee exploitation in its supply chain wherein its suppliers have been accused of employing child labor multiple times in China, Vietnam, and Korea. This can pose a poor image among the customers, so the company must adopt strict mechanisms to keep a vigil on its suppliers.
Faulty products- Product failure has been a constant issue with Samsung with a considerable number of its phones exploding and posing a risk to users. There have been several instances when the battery of the popular Note series exploded. These product failures have dented the trust that Samsung has among the consumers of smartphones and electronics.
Samsung's Opportunities
Increase in the online business- Digital sales contribute to just 15% of the total sales. The company should increase its online presence by offering exclusive discounts for the products purchased through online platforms and it can launch a loyalty program specifically dedicated to digital customers.
Offering a replacement for Chinese brands- Samsung can enhance its market share by presenting itself as a suitable alternative for Chinese companies. It is notable that countries like India, the US, and so on are restricting Chinese companies. This is where Samsung has a great opportunity to offer a replacement for low-cost Chinese smartphone brands Redmi, Xiaomi, Oppo, Vivo, and so on.
The emergence of 5G- With most countries already working on 5G testing, Samsung has a great opportunity to further acquire more customers globally with high-performance 5G devices.
Design innovations- In recent years, Samsung has not shown much innovation in terms of the design of its smartphones with its product range having high resemblance. Samsung can further bring in more design innovations like its Galaxy Fold and Flip editions to attract more customers.
Samsung's Threats
Competitors- Samsung faces intense competition from many companies like Apple, Sony, Xiamoi, Intel, LG, etc. Apple is a tough competitor as it has control over 28% global smartphone market and LG can be a threat in both the smartphone and TV segments as it holds a strong 16.5% share in the TB segment and sold a record 13.2 million phones in the last quarter.
Supply chain disruptions- The supply chain issues relating to the unavailability of the semiconductor chips because of COVID and reduction in production in Ukraine because of the ongoing war can cause disruptions in the production cycle. The supply chain crisis could further worsen in the face of the Russia-Ukraine conflict.
Infringement disputes- Samsung has been involved in patent infringement controversies that have threatened its reputation and can also lead the company to more disputes and lawsuits in the future. In fact, Apple had recently sued Samsung for patent infringement. More controversies like this can make the brand infamous.
Losses in the Russian market- Samsung's market share in Russia can be under threat given the present state of international affairs. Samsung's share in the Russian smartphone and consumer electronics market is around 25 percent. Now that Russia is facing global sanctions for invading Ukraine, Russia could potentially be headed to a financial crisis and the company's revenue from Russia might come under threat.
To recapitulate, Samsung is strongly placed in the market with a 32% market share in the smartphone segment and $ 34,115,412 in cash flows. The company is also focused on research and development and has been able to produce many innovative products. But there have been many instances when the safety of mobile phones was in question and the company should focus on fixing the issues at the earliest. Moreover, the company should focus equally on all markets as current sales occur mostly in the US and the company can gain if it increases its digital business the boycott of Chinese companies by many companies can be a perfect opportunity for Samsung to fill that gap. The current shortage of semiconductor chips in the market can cause problems for Samsung in terms of production issues. Also, you can read the PESTLE Analysis of Samsung to determine how the macroenvironment factors influence the company or the automotive industry.
Recommended Readings
SWOT Analysis of Hewlett Packard
References
BBC. (2017). Samsung confirms battery faults as cause of Note 7 fires. www.bbc.com. Retrieved 4 April 2022, from https://www.bbc.com/news/business-38714461
Samsung. (2021). Sustainable Practices: Samsung's Eco-Conscious Efforts Towards a Better Tomorrow. news.samsung.com. Retrieved 4 April 2022, from https://news.samsung.com/global/sustainable-practices-samsungs-eco-friendly-efforts-towards-a-better-tomorrow
Samsung. (2021). CONSOLIDATED STATEMENTS OF CASH FLOWS. images.samsung.com/. Retrieved 4 April 2022, from https://images.samsung.com/is/content/samsung/assets/global/ir/docs/2021_con_quarter04_cf.pdf