Microsoft Overview
It is an undeniable fact that Microsoft is one of the leading corporations in the world and in one way or the other, we all rely on Microsoft's services. With a market capitalization worth more than USD 1.9 trillion, Microsoft is among the three most valuable companies in the world. Besides, Microsoft has massive human resource capabilities with more than 180,000 full-time employees serving the organization.
Surely, a well-crafted analysis of one of the world's most successful companies will fascinate a lot of people. Having said that, this article presents an elaborate SWOT analysis of Microsoft analyzing its internal capabilities and external opportunities. Besides, if you want to learn about SWOT analysis in detail, you can go through our comprehensive guide on SWOT analysis.
Table of Contents
A fastidious SWOT analysis of Microsoft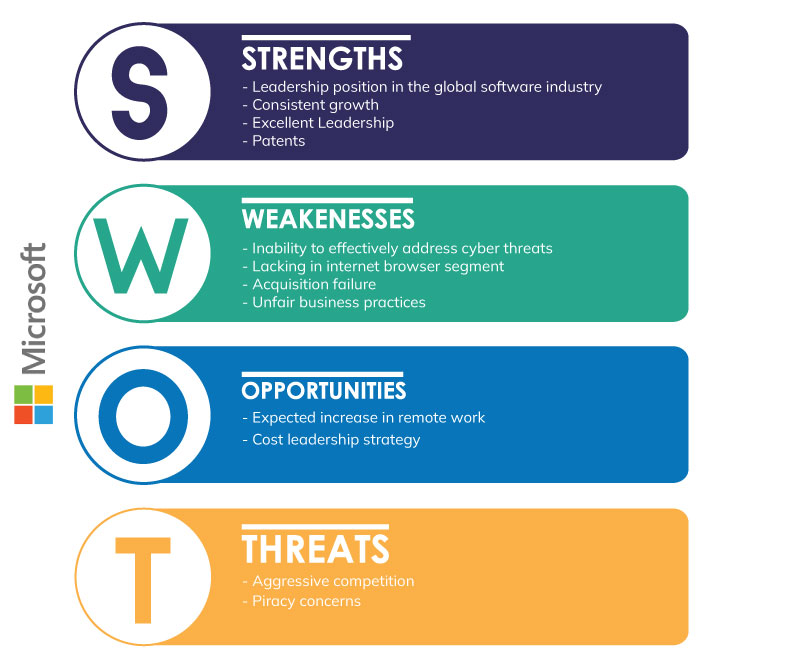 Microsoft's Strengths
Leadership position in the global software industry- Microsoft is the biggest player in the software industry. In the US alone, it has dominance over 85% market for supplying and designing software for various offices of the US government (Heather, 2021).

Microsoft is also the market leader in the operating system category with 76.7% of laptops and phones sold in the market having Windows and the margin is huge compared to the competitors wherein Apple has around 7.7% market share and Google the least among three with 5.3% market share (Hruska, 2021). It also has the advantage of operating on a global basis and has a presence in close to 190 countries.

Consistent growth- As per the annual report, Microsoft is registering positive growth, and that too continuously. The company generated huge revenue of $168 billion in 2021 which was an increase of 18% compared to 2020. The operating income also grew by a significant margin in 2021, it grew by 32% to reach $70 billion. Even, the security business of the company crossed the mark of $10 billion for the first time.

Excellent Leadership- Microsoft was founded by a great entrepreneur named Bill Gates. Bill gates have been very active in the tech sector and were the first person to launch an operating system for the computers called Windows and is currently running one of the world's largest philanthropic organization along with his wife Melinda Gates.

Both of them have created Bill and Melinda Gates Foundation and have contributed over $50 billion to charity over their career. The projects that the duo has invested in include healthcare projects to fight HIV, Malaria, diarrhea, and tuberculosis along with many infrastructure projects like building libraries, enhancing agricultural development, and strengthening financial services across the world (Tomlinson, 2018).

Patents- The reason for Microsoft's leadership in its industry is the continuous focus on technology and innovation and to secure its technology, the company has around 90,000 patents, a few of them being applied and pending approval. The list of patents includes Cloud-based service policy reroute, Live meeting object in a calendar view, Intelligent meeting classifier, Speculative information flow tracking, and many others. It also profits from the licensing of patents and earns around $4billion a year (Nichols, 2018).
R&D Capabilities- Microsoft currently spends close to $15 billion a year on research and development. Since its inception, the company has launched various innovative products that have helped businesses on a large scale, for example, the launch of MS Office has made it easy for the professionals to formulate reports on MS Word and the meetings can be abruptly held as explaining about the various business aspects can be done via PowerPoint through various designs, tables, and graphs. Impressive R&D capabilities can enable effective change management within the organization to exploit new opportunities.
Further, the company came up with an operating system for the computing devices named Windows that has enabled the digitization of many personal and professional tasks.
Microsoft's weaknesses
Inability to effectively address cyber threats- Microsoft has faced the problem of cybercrimes many times and recently the hackers were able to successfully steal the code for Bing and Cortana (Partis, 2022). Further, the online meet software called Microsoft Teams is also not safe from attacks and many corporate users have been defrauded by phishing attacks sent in mailboxes.

These types of incidents can cause the customers to lose their trust in the products and services, therefore Microsoft should try to develop top-notch technologies to mitigate the risks of the cyberattacks to the customers.

Lacking in internet browser segment- As per Statista, Microsoft has been unsuccessful with the performance of the internet browser and the Microsoft Edge browser just has a market share of 5.92% in the US trailing Google Chrome and Apple safari by a huge margin wherein Chrome has 48.74% market share while Safari has 36.74% market share.
Acquisition failure- Microsoft is not considered to be a great corporation as far as the acquisition is concerned and has failed on many occasions. It acquired aQuantive, a digital marketing and advertising services company for $6.2 billion, and just after years of acquiring it, the deal was written off. Another talked about the acquisition was that of Nokia for a whopping $7.5 billion to gain entry into the phone manufacturing business which turned out to be a disaster as Nokia went bankrupt because of failure to adapt to the latest technologies (Sonak, 2016).

Unfair business practices- Microsoft was once charged with antitrust violations when the company created a monopoly in the market offering the browser free of cost. Further, the employees in the company have accused seniors of sexual harassment and various other forms of discrimination (Novet, 2019).

However, the positive aspect that can help the company turn around its image is that the current CEO, Satya Nadella has actively acknowledged this thing and is working to change the working environment.
Microsoft's Opportunities
Expected increase in remote work- It is estimated that the companies throughout the world would permanently shift to a hybrid working model. In India, one of the largest consumer markets, it is estimated that 95% of businesses would continue the work from home concept for more years and as per World Economic Forum, 20% workforce worldwide is expected to complete their working hours from home itself.

These stats mean that the digital devices would be put more into use and hence the requirement for different software would rise which presents a significant opportunity for Microsoft.

Cost leadership strategy- The current products offered by Microsoft are not affordable for most of the customers and hence the company loses out on its customer base and further much of the revenue is lost to the pirated products. This can be eliminated if the company adopts a cost leadership strategy and it can launch a range of affordable products.
Microsoft's threats
Aggressive competition- Microsoft faces huge competition from many players in various segments, for example, Sony's Play Station is much popular console among gaming enthusiasts and gives a tough fight to Microsoft's Xbox. Further, the company's internet browser is facing the heat and is trailing the competitor's software such as Google Chrome and Apple Safari by a huge margin. Likewise, the company has stiff competition for many other products as well.
Piracy concerns- Microsoft is suffering a huge loss because of the availability of pirated and cheaper versions of the windows and software offered by it and as a result, the company is engaged in a legal battle with many parties. The availability of cheaper versions means the company stands out to lose on the subscriptions and revenue which can be countered by lowering the license fees of its software.
To encapsulate, Microsoft has a great financial backing and has a large number of patents. It also spends a lot on research and development. Despite being a leader in the software industry, Microsoft has been unable to develop a full-proof solution to prevent cybercrime and its internet browser is almost a failure in the market.
Further, the company loses out on business as a result of cheap pirated products available in the market and it can overcome that by offering affordable products to the customers itself. Besides, if you want to evaluate the influence of external business factors on the company, you can go through our meticulously conducted PESTLE Analysis of Microsoft.
Recommended Readings
SWOT Analysis of Hewlett-Packard
References
Brown, M. (2020). Fact check: Bill Gates has given over $50 billion to charitable causes over his career. Retrieved 19 April 2022, from https://www.usatoday.com/story/news/factcheck/2020/06/11/fact-check-bill-gates-has-given-over-50-billion-charitable-causes/3169864001/
GREENFIELD, H. (2021). New Study Shows Microsoft Holds 85% Market Share in U.S. Public Sector Productivity Software. Retrieved 19 April 2022, from https://www.ccianet.org/2021/09/new-study-shows-microsoft-holds-85-market-share-in-u-s-public-sector-productivity-software/
Nichols, S. (2018). Microsoft open-sources its patent portfolio. Retrieved 19 April 2022, from https://www.zdnet.com/article/microsoft-open-sources-its-entire-patent-portfolio/
Partis, D. (2022). Microsoft confirms cyber attack, source code stolen. Retrieved 19 April 2022, from https://www.gamesindustry.biz/articles/2022-03-23-microsoft-confirms-cyber-attack-source-code-stolen
Sonak, D. (2016). The Top 4 Microsoft Acquisitions That Failed. Retrieved 19 April 2022, from http://www.appocalypse.co/technology/the-top-4-microsoft-acquisitions-that-failed/
Tomlinson, Z. (2018). 5 of Bill Gates' Most Impactful and Life-Changing Philanthropic Projects. Retrieved 19 April 2022, from https://interestingengineering.com/5-of-bill-gates-most-impactful-and-life-changing-philanthropic-projects