Apple Overview
With a market capitalization of USD 2.8 trillion, Apple is the most valuable company in the world. Apple is renowned globally for its premium offerings in consumer electronics and online services. In fact, Apple's story of enormous success is quite an inspiration in itself for other companies. Apple has always responded well to every challenge and has made the most of its opportunities. First Steve Jobs and then Tim Cook have led Apple to great heights of success with their extraordinary leadership styles.
This article puts forth a meticulous SWOT analysis of Apple taking into account the key external and internal factors. So, let us get started without further ado.
Table of Contents
A delineated SWOT analysis of Apple with attention to detail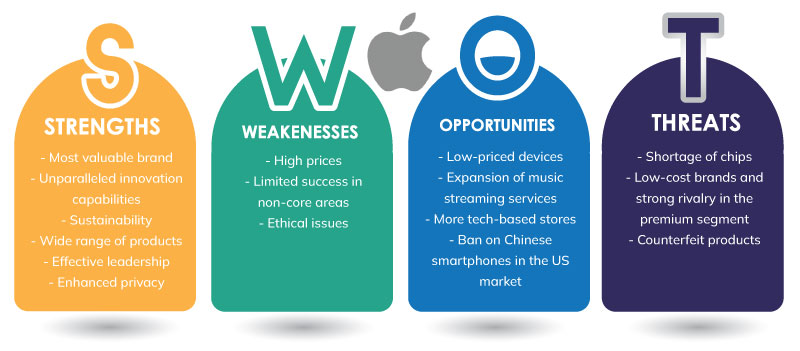 Apple's Strengths
Most valuable brand- Apple is the most valuable brand with a market capitalization of almost $3 trillion (Hussein, 2022). The valuation of the company is continuously rising with the market cap surging from $2 trillion to $3 trillion in just 17 months.
Unparalleled innovation capabilities- Apple spends exorbitant amounts on research and development and in 2021 it spent $21.91 billion. Apple has launched various innovative technologies, for example, Apple Homekit which is a smart home solution wherein the security cameras are fitted with a device and the users can get the notification on the phone when someone arrives at the door> It also has an additional feature wherein the device can also speak the name of the person. Further, the company's smartwatch is embedded with a feature wherein if the user starts washing hands, the watch would automatically detect the action and would start a 20 second timer to encourage the person to go on for 20 seconds.
Sustainability- According to the sustainability report, Apple has set up a goal to be carbon neutral across all its operations by 2030. Further, the company has plans to shift its 100% production by using recycled materials, and the present products like MacBook Air, Mac mini, and the latest IPad are made from 100% recycled aluminum. Apple also works for social equality wherein it has set up a $100 million fund to promote the business owned by the people from the black community. Further, the company is also investing in renewable energy and it has started with the initiative of installing solar projects in the communities of Thailand, the Philippines, and South Africa the company also has plans to shift to 100% renewable energy in its facilities by 2030.
Wide range of products- Apple has a wide variety of products that include popular IPhones, Mac, IPad, and smartwatches. Apart from these, the company also deals in AirPods and a security device called Air Tag which can be used to track the devices through Bluetooth. Apple also has music streaming services named Apple Music and a media streaming service named Apple TV.
Effective leadership- Tim Cook, the CEO of the company has added incredible value to the success of the company ever since he took over. In fact, under the visionary leadership of Tim Cook, the company's revenue has seen a three-fold increase as per CNBC. Moreover, from 646.2 billion USD in 2012, the market capitalization of Apple has increased to 2674.6 USD in 2022. This success can be largely attributed to Tim Cook's unique and unparalleled leadership virtues.
Enhanced privacy- Apple devices offer optimized privacy features to customers which is one of the core strengths of the company. In contemporary times of rising concerns about privacy, the optimized privacy features of Apple attract a lot of customers and also encourage android users to switch to iOS.
Apple's weaknesses
High prices- Apple only caters to a limited market that is fond of premium products. This limits the target market of the company.
Limited success in non-core areas- Apple has not been successful in the non-core areas like media streaming services. Apple TV has just a 3% market share in the media streaming services.
Ethical issues- The company has been accused of various illegal practices like tracking customers through iPhones and that too without the user's consent (Hamilton, 2020). Further, the company has been found to be involved in anti-competitive practices by illegally blocking the apps from its app store.
Apple's opportunities
Low-priced devices- Most of Apple's products are launched at high prices, approximately close to $1000. The company can launch more affordable products like it did when it launched iPhone SE which is currently priced at $429. Further, other devices like MacBook also cost more than $1000 and the company can gain more share in the laptop category by launching an affordable laptop.
Expansion of music streaming services- Apple Music has just a 15% share in the music streaming service despite being a tech giant. The company can enhance its share by offering free plans for a limited time frame and the company can also tie up with other companies to provide its streaming service on their platforms.
More tech-based stores- Apple has a few tech-enabled stores name Genius bar. It can increase the store count wherein it can deploy artificial intelligence for the overall functioning of its stores. This would benefit both the company and the customers. The company would be able to save on the high labor cost and there would be an enhancement in the customer experience and the company would be able to serve the customers in a better way.
Ban on Chinese smartphones in the US market- The Us administration has banned many popular Chinese companies like Huawei and ZTE. Huawei had almost 20% market share in the US smartphone segment prior to the ban and Apple has an opportunity to cater to this market and increase its profitability with greater market penetration.
Apple's threats
Shortage of chips- The main component while manufacturing an electronic device is semiconductor chips. Presently, there is a shortage of chips in the market primarily due to COVID and also the current ongoing war between Russia-Ukraine can further create more problems as Russia is the major producer of neon supplies that are required to produce semiconductor chips.
Low-cost brands and strong rivalry in the premium segment- Apple faces a lot of threats from the low-cost brands that are gaining popularity nowadays like Oppo, Vivo, Oneplus, and many others whose phones are embedded with almost the same technology as of Apple but the price is relatively low. OnePlus also has a partnership with T-Mobile in the US because of which it has been able to aggressively make its presence felt in the US. Further, Oppo is planning to launch a smartphone named 'Find X5" in the premium segment to directly challenge Apple. Moreover, Apple faces stiff competition in the premium smartphone from Samsung, for example, Samsung's unique folding phone named Galaxy Fold (Edwards, 2019). Alongside, Samsung is competing with Apple in the Galaxy segment as well wherein it has launched the S10 featuring 6 cameras. You can also read Samsung SWOT analysis to analyze the competitive strengths of Samsung.
Counterfeit products- Apple faces a serious threat from the copied products available in the market. In one instance, the US customs agents confiscated fake Apple products worth $1.3 trillion and there has been a case when a customer got injured after the fake charger she bought exploded. These types of incidents could lead to a negative image of the company, so Apple must formulate effective policies to mitigate the risk of counterfeit products.
To encapsulate, Apple is the world's most valuable company and has a huge market capitalization of around $3 trillion. The company is known for its premium products and high quality. Apple is also contributing to the positive change in the environment and the society through various initiatives and its leadership in the form of Tim Cook has no match and after the induction of Tim Cook, the company has grown manifolds. But, the high prices of the products limits the affordability of many customers, hence limiting the customer base of the company and also the availability of counterfeit products can cause reputational harm as those products are much inferior in quality. However, if you want to analyze the company with respect to external factors exclusively, you should definitely read our PESTLE Analysis of Apple.
Recommended Readings
SWOT Analysis of Hewlett Packard
References
EDWARDS, J. (2019). Goldman Sachs is right: Samsung's folding phone may be a genuine threat to Apple's iPhone. www.businessinsider.in. Retrieved 8 April 2022, from https://www.businessinsider.in/tech/goldman-sachs-is-right-samsungs-folding-phone-may-be-a-genuine-threat-to-apples-iphone/articleshow/68167434.cms#:~:text=The%20threat%20to%20Apple%20is,as%20far%20as%20we%20know
HAMILTON, I. (2020). Apple illegally tracks iPhone users to target them with ads, EU privacy activism group claims in lawsuit. www.businessinsider.in. Retrieved 8 April 2022, from https://www.businessinsider.in/tech/news/apple-illegally-tracks-iphone-users-to-target-them-with-ads-eu-privacy-activism-group-claims-in-lawsuit/articleshow/79247699.cms.
Neely, A. (2022). Apple Music is the second most used music streaming service globally, Spotify remains in top spot. appleinsider.com. Retrieved 8 April 2022, from https://appleinsider.com/articles/22/01/20/apple-music-is-the-second-most-used-music-streaming-service-globally-spotify-remains-in-top-spot.
Pathak, R. (2021). How Apple uses AI and Big Data. www.analyticssteps.com. Retrieved 8 April 2022, from https://appleinsider.com/articles/22/01/20/apple-music-is-the-second-most-used-music-streaming-service-globally-spotify-remains-in-top-spot.
Tucker, J. (2021). Counterfeit Apple products a growing problem. www.wpsdlocal6.com. Retrieved 8 April 2022, from https://www.wpsdlocal6.com/news/counterfeit-apple-products-a-growing-problem/article_7d15e9be-eb69-11eb-af3f-d3936db04029.html.
Vega, N. (2022). Apple's new iPhone SE is nearly $250 cheaper than the original iPhone when adjusted for inflation. www.cnbc.com. Retrieved 8 April 2022, from https://www.cnbc.com/2022/03/08/apples-429-iphone-se-is-one-of-its-cheapest-phones-ever.html.