Hewlett-Packard Overview
Hewlett-Packard, better known as HP is a leading global hardware and business solutions brand headquartered in California, United States. The key revenue streams of the company include personal computers, enterprise systems, enterprise software, printing solutions, servers, and networking solutions.
This article delves deep into the identification of the company's strengths, weaknesses, opportunities, and threats using the SWOT Analysis model. The purpose is to evaluate the current competitive position of HP in a rampantly changing business environment. Based on this meticulous SWOT analysis, the company can initiate strategic plans to enhance its internal capabilities and control external determinants in a more efficient manner. In case you wish to learn about conducting a SWOT analysis in detail, you should definitely go through our meticulous Swot Analysis guide. So, let's get started.
Table of Contents
Hewlett-Packard SWOT Analysis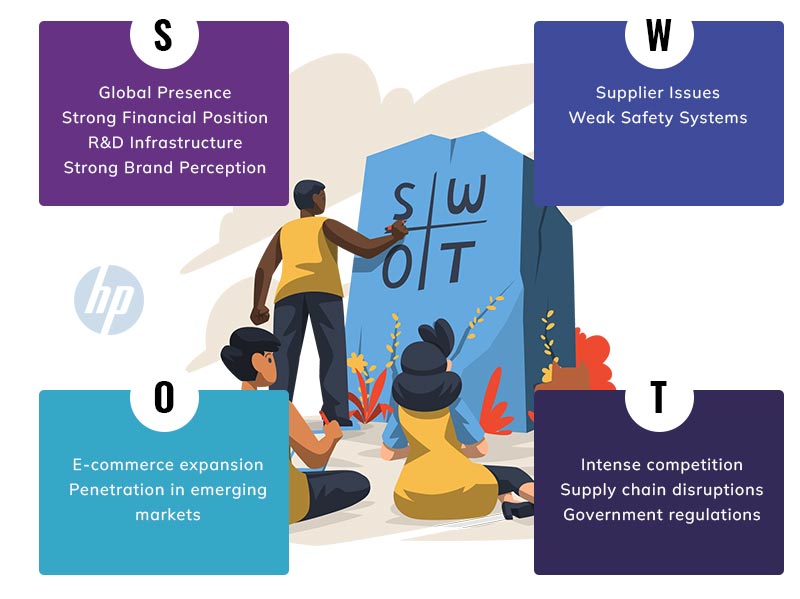 Strengths of Hewlett-Packard
Global presence - HPE has a strong global presence with 117 offices in 59 countries.
Strong financials - HPE has strong financials and its net revenue in 2021 was $27.78 billion, an increase of almost $1billion over 2020 (Alsop, 2021). The company's free cash flow has witnessed a significant increase over the two-year period from $11.4 billion in 2019to $33 million in 2021. The rise in cash flows can provide it with the advantage of negating the threats with ease and it can also tap into the opportunities (Yahoo Finance, 2022).
Brand value - HP has a strong brand image among the consumers. It is ranked at 106th position in Fortune list of top 500 companies (Fortune, 2022). Further, it has high customer loyalty at 83% and is ranked 88th among the global tech brands.
Diversified portfolio- HP's product portfolio comprises laptops, desktops, printers, ink & toners, monitors, accessories such as bags, headphones, calculators, smartwatches, etc. (Wilson, 2018).
Patents- HP has more than 13000 issued and pending patents including a patent for its audio and image sensors, small vector image generation, encryption of key shares to different devices for rendering, recoated carriage, object deductions for virtual reality among others, thereby providing it with a competitive advantage over other companies (HP, 2021)
Research and Development- The company invests a great amount on researching for new technologies, It spent $2 billion in 2021 and it focuses on developing high-quality next-generation computers, storage systems, artificial intelligence, and networking systems and solutions (HP, 2021).
Weaknesses of Hewlett-Packard
Single source suppliers- HP procures most of its components from single suppliers because of quality, price, and other factors and the disruption in the supplier's business can impact HP's output on a large scale (HP, 2021). Further, switching to other suppliers may not be easy as the replacement suppliers may be unable to meet the high requirement of the components.
Inefficient safety systems- HP does not have a secured system in place for protecting the customer data and its data has been breached on multiple occasions. This can lead to a decrease in trust among the customers (Arghire, 2021).
Opportunities for Hewlett-Packard
Investments in online channels- The company can invest more into the e-commerce platforms as the consumer purchasing pattern is shifting due to COVID.
Expansion into emerging markets- HP can exploit the opportunity of manufacturing its products in emerging economies such as India, where the government is offering incentives of up to 4% on the net incremental sales under the Production Linked Incentives (PLI).
Threats for Hewlett-Packard
Competitors- HP faces stiff completion from various companies including Lenovo, Dell, ASUS, Acer, and IBM among others that can pose a threat to its market share.
Supply chain interruptions- The unavailability of microprocessor chips because of supply chain disruptions due to COVID and also because of the ongoing war between Russia and Ukraine can limit the production capacity of HP.
Material government regulations- The company has to deal with various federal, state as well as local laws for conducting its operations, and the frequent change in laws related to pollution, product safety among others can result in an increase in expenditures to adhere to laws and cause uncertainties, thereby hampering the smooth flow of the business (HP, 2021).
Also, you can read the PESTLE Analysis of Hewlett-Packard to determine how the macroenvironment factors influence the company or the automotive industry.
Recommended Readings
References
Alsop, T. (2021). HPE: net revenue 2011-2021. www.statista.com/. Retrieved 11 March 2022, from https://www.statista.com/statistics/518394/hewlett-packard-enterprise-net-revenue/.
Yahoo Finance. (2022). Cash Flow. /finance.yahoo.com. Retrieved 11 March 2022, from https://finance.yahoo.com/quote/HPE/cash-flow/.
Hewlett Packard. (2021). HEWLETT PACKARD ENTERPRISE COMPANY. www.annualreports.com. Retrieved 11 March 2022, from https://www.annualreports.com/HostedData/AnnualReports/PDF/NYSE_HPE_2021.pdf
FORTUNE. (2022). Fortune 500. fortune.com. Retrieved 11 March 2022, from https://fortune.com/company/hewlett-packard-enterprise/fortune500/.
Arghire, I. (2021). HPE Says Customer Data Compromised in Aruba Data Breach. www.securityweek.com. Retrieved 11 March 2022, from https://www.securityweek.com/hpe-says-customer-data-compromised-aruba-data-breach.
mised-aruba-data-breach.