Oracle Overview
Oracle is the 50th most valuable company in the world in terms of market capitalization with a market cap of USD 211.98 billion. Oracle is a globally renowned and accredited company offering high-end and highly efficient cloud solutions, software solutions, database services, analytics, management systems, and so on to some of the most successful businesses in the world.
This article delves deep into the strengths and weaknesses of Oracle as it presents an elucidated SWOT analysis of the company. SWOT Analysis is one of the most effective analysis tools to analyze the internal capabilities of an organization and also the external threats and opportunities that a company needs to be aware of. So, let's get started without further ado.
Table of Contents
An objective SWOT Analysis of Oracle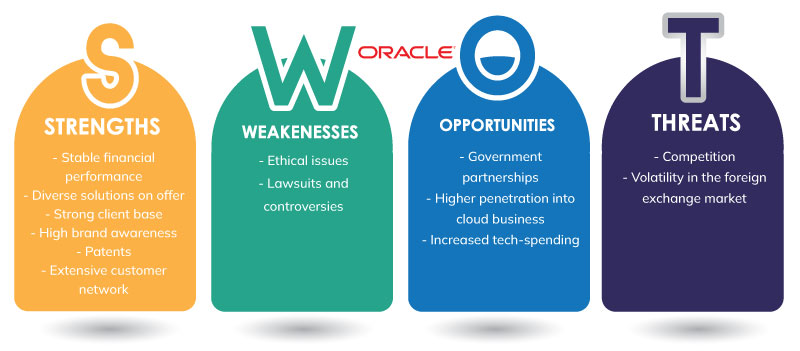 Oracle's strengths
Stable financial performance- Oracle has been performing consistently over the years and Oracle's revenues have witnessed a jump of 4% in 2021 compared to 2020 (Oracle, 2021). Further, its operating margin and earnings per share also increased by 9% and 48% respectively.
Diverse solutions on offer- Oracle deals in a wide variety of products that include software like Java, Linux, cloud infrastructure, enterprise applications like Ebusiness Suite, JD Edwards and Siebel, etc.
Strong client base- Oracle has a network of renowned clients that include Wells Fargo, PNC, Honeywell, Voya Financial, and Samsung Electronics along with 8000 other prestigious customers from all around the globe.
High brand awareness- Oracle has been in existence for a long and has been able to build a strong image because of its credibility, expertise, and on-time delivery of products.
Patents- Oracle's core strength also lies in the large number of patents it holds. As per Oracle's Corporate Information, the company has more than 18, 500 patents registered globally.
Extensive customer network- As per the information on the company's official website, Oracle caters to more than 430,000 customers in around 175 nations.
Strong human resources- Oracle has 133,000 employees as per the company website and out of these, 18000 are specialist consultants with multilingual skills. Besides, the company has 13000 customer support specialists and 41000 engineers and developers.
Oracle's weaknesses
Ethical issues- Oracle has been involved in unethical operations wherein the company actively campaigned for Donald Trump during the recent US federal election whereas its policies state that the company would not associate itself with political affairs.
Lawsuits and controversies- Oracle has been involved in various controversies, for example, recently it was sued by a company named Advance Lifts that accused Oracle of breaching the contract, and the NetSuite system that Oracle made for them lacked the features that were promised by Oracle (Claburn, 2021). These types of incidents can harm the reputation of the company. Further, the company has also been accused of not adhering to EU's data protection regulations and sharing the data of the customers with third parties without the customer's consent.
Oracle's opportunities
Government partnerships- Oracle can exploit the opportunity of partnering with various federal and state governments around the world and acquiring high valued contracts to formulate and maintain software for them.
Higher penetration into cloud business- At present, close to 5% of the revenues are generated through cloud infrastructure. The company can expand its operations by tying up with more tech-oriented companies in healthcare, education, and other sectors where large amounts of data are generated. This would lead to more revenues for Oracle in the future.
Increased tech-spending- The global tech-spending is rampantly increasing and businesses are now increasing their investments in big data, cloud computing, machine learning, automation, and other technological solutions for greater business efficiency and smooth change management process.
Oracle's threats
Competition- Oracle faces high competitors from IBM, Microsoft, SAP, TIBCO services, etc. which also have a huge market share and brand awareness.
Volatility in the foreign exchange market- US dollar is fluctuating a lot against many currencies because of the uncertainty from the coronavirus pandemic and weak economy. It is expected to decline further in the coming months. This could have a serious impact on the company as it is highly involved in the export of software services.
To conclude, Oracle is perfectly placed in the market with strong finances and lately, it has registered growth in revenues and earnings per share and it has built a strong image which is evident from the fact that it has various renowned brands as its customers. Oracle needs to take care of the laws and must try to abide by them whether related to employees, data security, or any other law. Oracle can increase its profitability by aligning with governments and procuring major contracts also the hardware business of the company is limited to software and it can enhance its market share for the hardware business through various strategies. Moreover, if you wish to analyze the external environment in the software industry with respect to Oracle, you should definitely read our well-crafted PESTLE Analysis of Oracle.
Recommended Readings
References
Lomas, N. (2020). Oracle and Salesforce hit with GDPR class action lawsuits over cookie tracking consent. Retrieved 11 April 2022, from https://techcrunch.com/2020/08/14/oracle-and-salesforce-hit-with-gdpr-class-action-lawsuits-over-cookie-tracking-consent/
Schleifer, T. (2020). Some Oracle employees plan to walk off the job to protest Larry Ellison's Trump fundraiser. Retrieved 11 April 2022, from https://www.vox.com/recode/2020/2/13/21136577/larry-ellison-fundraiser-donald-trump-oracle-employees