Audi Overview
When it comes to luxury car brands, Audi is one of the most talked-about car companies. Audi is originally a German automotive company but given its widespread popularity and global presence, that can surely be hard for people to guess.
With the market cap of Audi standing at a staggering 82.9 billion, is among the top 200 most valuable companies in the world. In fact, despite competing with the likes of BMW, Lexus, Volvo, and Mercedes Benz, Audi has maintained its legacy as one of the most premium select luxury car brands in the world.
This article presents a thoughtful and intriguing SWOT analysis of Audi to assess its internal resources and capabilities. Also, the analysis sheds light on the opportunities and threats that the company needs to be considerate of. In case you wish to learn about conducting a SWOT analysis in detail, you should definitely go through our meticulous Swot Analysis guide. So, let us get started without further ado.
Table of Contents
A well-researched SWOT Analysis of Audi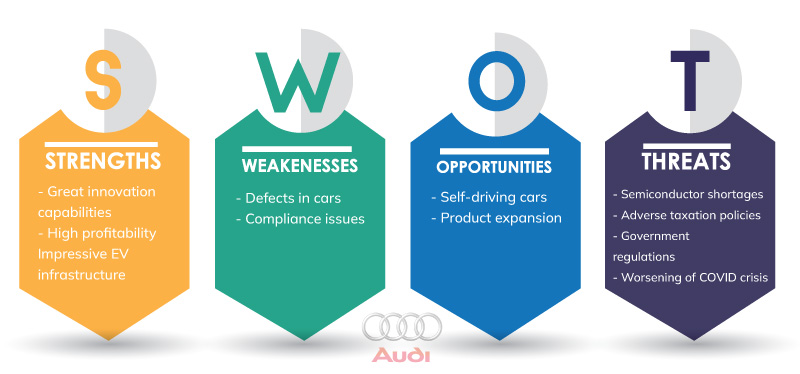 Audi's Strengths
Brand Image- Audi is a well-renowned luxury car brand in the world. The company is known for its unique car styles, innovative technology, well-crafted interiors, and enhanced performance. Further its trademark Quattro all-wheel drive is famous among people of all ages.
Innovation capabilities- Audi has a high budget for conducting research and product development. As per the company, it spent 3.5 billion euros on R&D in 2020 while it plans to spend 35 billion euros by 2025. It has even been awarded as the most innovative automaker and most innovative infotainment system in 2018. Various technologies used by Audi include Audi connect wherein the car can be converted into a WI-FI hotspot and its e-vehicle has an innovative lighting system wherein the lights get triggered when the traffic signal turns green. Furthermore, few models are embedded with 3D advanced sound systems containing 23 speakers and LED interior lights, giving the riders a lively feel (Audi, 2022).
High profitability- As per the annual report, the revenue of the company increased by more than 6% to reach 53.1 million euros at the end of FY2021 and the company had a huge cash flow reserve of 7.8 billion euros. The company expects its revenue to increase in 2022 to 62-65 billion euros.
Premium brand portfolio- Audi is owned by a worldwide renowned company named Volkswagen. Volkswagen also owns other famous brands like Porsche, Lamborghini, Ducati, Bentley, and Skoda. Association with a strong name can provide Audi with a competitive advantage of enhanced trust among the customers while purchasing the car.
Strong EV infrastructure- Audi is investing in a powerful electric infrastructure wherein it has plans to invest more than 100 million euros and is installing 4500 charging points in its factories (Audi, 2020). Additionally, the company is planning to launch 3 new premium EVs for which it is researching new charging technology that would enable the car to charge in under 30 minutes (Mascellino, 2021).
Audi's Weaknesses
Consistent defects in cars- The cars manufactured by Audi have been in news for the wrong reasons multiple times. The owners have faced various issues ranging from the blow of cylinders, leakage of oils, and defects in the electrical components.
Compliance issues- Volkswagen has involved in a Dieselgate Scandal earlier wherein the company installed devices in the vehicles that would not reveal the actual emission levels when tested by the authorities. Audi was also involved in this and its top employees have been found to be guilty of the scam. This can lead to a loss of trust among various stakeholders. The company should ensure transparency in its operations and must take steps in this regard.
Opportunities for Audi
Self-driving cars- Audi can introduce autonomous vehicles which would give it hold over more market share and make it more competitive in today's dynamic business environment. The company would be able to provide its customers with enhanced safety and comfort with the launch of self-driving vehicles.
Product expansion- Audi can expand into manufacturing of other vehicle segments like trucks, bikes, etc. This would enhance its competitive advantage and the company would be able to widen its target market.
Threats for Audi
Fierce Competition- Audi has intense competition from companies like BMW, Lexus, Mercedes Benz, and Jaguar among other luxury brands. BMW performed reasonably in 2021 with sales of more than 2.2 million vehicles in the whole year (BMW, 2021). Mercedes is also a very tough competitor and it sold just over 2 million vehicles in 2021 (Mercedes, 2021). Further, Mercedes controls 3% of the automotive market worldwide and is the fastest-growing brand in emerging markets like India where its sales grew by 42% in 2021 compared to 2020 (D'Souza, 2021). Jaguar is also one of the strong competitors and is known for its classy products with sales ranging near to 750,000 vehicles on an annual basis.
Semiconductor shortage- The supply chain network throughout the world is affected because of the lockdowns. This has resulted in less production of semiconductors. Further, Ukraine is the major supplier of the raw materials for semiconductor chips and the ongoing war with Russia has disrupted the businesses in Ukraine. These two factors combined had an impact on the production capacity of the company and Audi can have an uncertain future for a couple of more years.
Economic loss due to pandemic- The major sales network of Audi comprises the dealerships. Many parts of the world witnessed severe lockdowns because of which dealerships were not able to function normally and that led to losses in sales for the company. Further, there can be threats in the future as well if a new variant emerges as the businesses would need to shut down.
High EU taxes- Currently, 24 countries in European Union levy carbon taxes on the sale of emission-producing vehicles. Audi is highly impacted by the taxes in the EU as out of the total tax it pays throughout the world, 12.5% is just paid in the EU.
Frequent change in government regulations- Governments all around the world are focusing on climate change and as a result, various policies are being formulated on national and international levels. The frequent change in the policies can cause confusion and uncertainty which would have an impact on the normal operations of the company.
To conclude, Audi is placed strongly with a huge cash reserve that can be utilized in times of emergencies. Despite the difficult times, the company has been able to increase its profits. Audi is associated with a strong company named Volkswagen and many units delivered by Audi have faced defects in various parts and are involved in controversies which are not good considering the brand image of Audi. Audi still has not launched any autonomous vehicles and the current time is perfect to launch a new model. Further, it should find appropriate solutions for the shortage of semiconductors as it can lead to operational disruptions. The competition from BMW, Mercedes Benz, and other luxury brands can pose a severe threat if the company does not strategies effectively for the future. Besides, to understand the influence of external business factors on Audi, you should definitely evaluate the PESTLE Analysis of Audi.
Recommended Readings
References
BMW. (2022). Electro-offensive and number one in premium segment: BMW Group posts strong sales for 2021. www.press.bmwgroup.com/. Retrieved 31 March 2022, from https://www.press.bmwgroup.com/global/article/detail/T0364013EN/electro-offensive-and-number-one-in-premium-segment:-bmw-group-posts-strong-sales-for-2021?language=en
Mercedes Benz. (2022). Mercedes-Benz sees strong demand. High-end and electrified vehicle sales surge. group.mercedes-benz.com/. Retrieved 31 March 2022, from https://group.mercedes-benz.com/company/news/sales-2021.html
Volkswagen. (2022). 10 brands on the move. www.volkswagenag. Retrieved 31 March 2022, from https://www.volkswagenag.com/en/group.html#
Zerelles, B. (2020). Audi is creating 4,500 e-car charging points. /www.audi.com. Retrieved 31 March 2022, from https://www.audi.com/en/innovation/e-mobility/creating-charging-points.html