Adidas Overview
Adidas is a multinational and highly popular brand among all generations of people. Adidas offers an excellent and appealing range of sporting goods, footwear, and apparel to people all over the world. Although Adidas is a German brand, it becomes hard to tell sometimes given the enormous global presence the company enjoys. The market capitalization of Adidas stands at a whopping USD 43.24 billion making it one of the most valuable enterprises in the world.
This intelligible and engaging SWOT analysis of Adidas highlights the primary strengths and weaknesses of the company. Besides, the SWOT analysis also looks into the opportunities available for the company in the external environment and the threats it needs to negate. In fact, SWOT Analysis Model is an extensively used and effective strategic analysis tool that companies use to keep up with the internal and external critical success factors. So, let's get started with the SWOT analysis of Adidas without further delay.
Table of Contents
A meticulous SWOT analysis of Adidas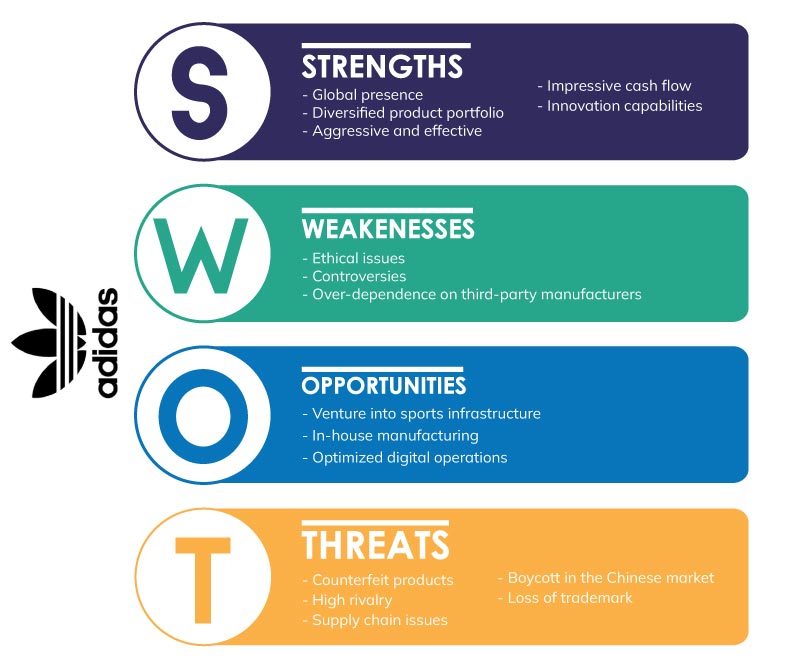 Adidas' Strengths
Global presence- Adidas has a strong presence in more than 160 countries and it has a network of 500+ factories in 49 countries that manufacture products on its behalf (Adidas, 2022).
Diversified product portfolio- Adidas deals in a variety of sportswear products including shoes, clothing, footwear, and various accessories like bags, hats, headphones, socks, sunglasses, water bottles, etc. The extensive range of products would provide the customers an option of shopping for all their needs in one place, therefore resulting in an increase in the revenue for the company. Further, the company has products for every customer segment wherein budgeted shoes are manufactured under the Adidas brand and the luxury footwear is designed under the brand name 'Yeezy'.
Aggressive and effective marketing- Adidas spent 541 million euros on marketing in 2021 (Adidas, 2021). The company uses unique marketing techniques to increase its sales. It has partnered with several high-profile athletes from different fields including Lionel Messi, Paul Pogba, Aaron Judge, and Carlos Correa among others. It also has partnered with musicians and sponsors various sports tournaments like FIFA Women's World Cup, the Rugby World Cup, the UEFA Champions League, and the Boston and Berlin Marathons. It also has a tie-up with various influencers for marketing its products on different social media platforms. Alongside, the company also advertises on TV, and on the internet and uses various strategies to engage with the customers on social media (Adidas, 2019).
Impressive cash flow- Adidas's revenue increased to 4.74 million euros in 2021 from 3.99 million euros. Further, the net income tripled in the last 1 year from 673,635 euros to 1,849,769 euros. Furthermore, the cash in hand also increased slightly from 1.25 million euros to 1.59 million euros (Adidas, 2021). This reflects strong financial capacity which can be utilized by the company for enhancing its business.
Innovation capabilities- Adidas spends heavily on research and development, in 2021 the expenditure was 130 million euros. The company has developed a new technology named Strung which is a new textile material. In Addition, the company uses 3D technology to design the soles. The company is also involved in robotic additive manufacturing for the production of shoes (Ravenscroft, 2020).
Adidas' Weaknesses
Ethical issues- Adidas has faced many ethical issues related to the exploitation of labor wherein it has been accused of employing child labor. Further, there have been issues in the supply chain as well wherein its suppliers in China have been involved in employing forced labor from the Xinjiang region (Mistreanu, 2020). The company needs to ensure business in its stores as well as in suppliers' facilities is conducted in an ethical way to enhance the trust among the customers. There is a difference in the pay as well with females being paid 92 pence for every 1 euro paid to male employees for the same position and work.
Controversies- Adidas has been involved in a legal battle related to patent infringement with Nike wherein Mike accused it of copying Nike's Primeknit shoes and it ultimately lost the case as well.
Over-dependence on third-party manufacturers- Most of Adidas's manufacturing is done by third-party contractors based in Asian countries. If the operations of these contractors get disrupted either because of closures due to pandemics or any other issue then it can result in an operational loss for Adidas as well.
Adidas' Opportunities
Venture into sports infrastructure- Adidas is the world's renowned brand in the sportswear segment. It can explore the opportunity of enhancing its business by establishing sports universities to train athletes.
In-house manufacturing- Most of the product manufacturing is outsourced to third parties in Asian countries that are at high risk of various violations related to labor and the environment (Pino, 2020). Adidas can overcome this by establishing its own manufacturing plants which would provide it with more control over the quality of the products.
Optimized digital operations- Adidas's share of digital sales in the total business amounts to just 20%. The company should enhance its digital presence by offering various incentives to the customers. This would also enhance customer satisfaction as they would be able to purchase every sports item just sitting at home. Given the innovation capabilities of the company, the company can undertake effective change management to make the most of the opportunities provided by the growing digital infrastructure.
Adidas' Threats
Counterfeit products- Adidas faces the challenge of eliminating the counterfeit products available in the market. As per the CEO, 10% of Adidas's products sold in the Asian market are fake (Ofiaza, 2018). The counterfeit products lead to a loss of revenue and for the company.
High rivalry- Adidas faces stiff competition from various companies that include Nike, Asics, Under Armour, Puma, Fila, and so on. Nike is the strongest competitor in both the footwear and apparel segment and it has close to 1050 stores worldwide which is less than the stores owned by Adidas, it operates more than 2100 stores. Further, Under Armour is currently the No.2 sports brand with sales of $1.2 billion in the apparel and footwear segment just ahead of Adidas and holds 14% of the American sports market. Fila is one of the fastest-growing sports brands and its brand value has increased by 68% to $2.7 billion (Mondalek, 2021).
Supply chain issues- Adidas is facing a shortage of containers for shipping the materials and also the company is having difficulty in finding workers due to COVID. This would impact the level of production (Toh, 2021).
Boycott in the Chinese market- Adidas is experiencing a negative trend of the boycott of its products due to the company's stand against the labor exploitation of the Uyghur Muslims in China. The boycott can result in a greater loss of revenue for the company as China is its second-largest market.
Loss of trademark- Adidas lost its trademark in the court of the European Union which means that the brand can now be imitated by other players. Imitation of its trademark can lead to reduced market share for the brand.
To recapitulate, Adidas has a high cash flow and it increased in 2021 as well to some extent despite worldwide restrictions on businesses due to COVID. Further, the company has a wide global presence with operations in more than 160 countries. The company uses various innovative technologies like 3D printing to manufacture its shoes. The company can use its expertise in sports and expand into other sports-related activities, for example establishing a sports academy to train the emerging athletes and there can be a possibility of disruption in the operations because of its dependability on third parties and Adidas can effectively tackle it by starting in house manufacturing to gain more control over its operations. Also, the company should try and avoid intervening into political issues like it did in the case of Uyghur Muslims in Xinjiang and had to face backlash from the Chinese customers.
Besides, to better understand the impact of external business factors on the company, you should go through our elaborate and precise PESTLE analysis of Adidas.
Recommended Readings
References
Adidas. (2019). ADIDAS BRAND STRATEGY. report.adidas-group.com. Retrieved 30 March 2022, from https://report.adidas-group.com/2019/en/group-management-report-our-company/corporate-strategy/adidas-brand-strategy.html
Adidas. (2021). 1 ANNUAL FINANCIAL STATEMENTS. www.adidas-group.com. Retrieved 30 March 2022, from https://www.adidas-group.com/media/filer_public/ef/4a/ef4ae188-fc65-4c3b-8f8a-66207245768c/adidas_ag_jahresabschluss_2021_en.pdf.
Mistreanu, S. (2020). Study Links Nike, Adidas And Apple To Forced Uighur Labor. www.forbes.com. Retrieved 30 March 2022, from https://www.forbes.com/sites/siminamistreanu/2020/03/02/study-links-nike-adidas-and-apple-to-forced-uighur-labor/?sh=73eddffb1003.
Pierson, B. (2020). https://www.reuters.com/article/ip-nike-idUSL1N2E22SN. /www.reuters.com. Retrieved 30 March 2022, from https://www.reuters.com/article/ip-nike-idUSL1N2E22SN
Ravenscroft, T. (2020). Adidas creates robotically woven Futurecraft Strung trainers from "new kind of textile". ww.dezeen.com. Retrieved 30 March 2022, from https://www.dezeen.com/2020/10/08/strung-uppers-adidas-robotically-woven-trainers/