Nordstrom Overview
Nordstrom is an American luxury retail store chain dealing in clothes, footwear, jewelry, and cosmetics from the top global brands. Further, Nordstrom has partnered with various other luxury brands like GUCCI, Bobby Brown, MAC, and so on to cater to the luxury apparel and fashion needs of all ages and genders Speaking of the company's finances, the company has a market capitalization of USD 3.6 billion as per Yahoo Finance.
This article presents a detailed SWOT analysis of Nordstrom taking into consideration the strengths and weaknesses of the company. Besides, with respect to the concurrent state of the external business environment, the article also highlights the opportunities and threats for Nordstrom which the company needs to be considerate of.
Furthermore, if you want to gain more insightful perspectives on conducting a SWOT Analysis, you should definitely go through our exclusive SWOT Analysis guide. As for now, let us get going with the SWOT Analysis of Nordstrom.
Table of Contents
An elucidated SWOT Analysis of Nordstrom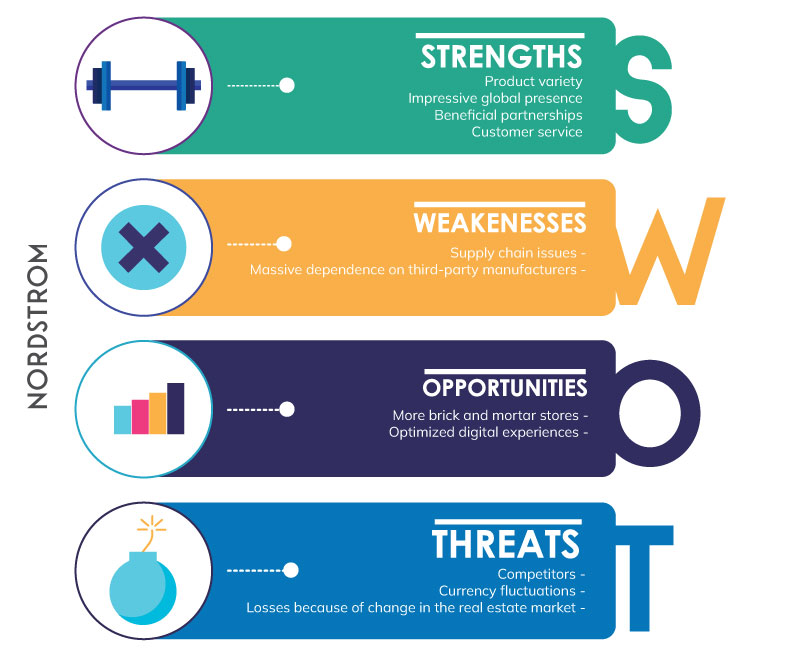 Nordstrom's Strengths
Product variety- Nordstrom deals in a variety of products including apparel, footwear, beauty products, home décor, and accessories like handbags, jewelry, watches, etc. The company's stores retail various other luxury brands like Bobbi Brown, Chanel, MAC, Tom Ford, GUCCI, and so on.
Impressive global presence- Nordstrom serves customers from 98 countries through its brick and mortar stores and international web shopping wherein the customers can purchase in 12 different currencies.
Beneficial partnerships- Nordstrom has collaborated with various high-profile brands such as TopShop, Allbirds, Greats, Reformation, Stella, Dot, and Glossierthat have a high digital presence.
Customer service- The company has excellent customer service standards wherein the customers can return their products through the mail and in stores within 45 days if they do not like the products and few of the stores provide the option of trying the clothes virtually and then based on their preference they can get their orders customized both in-store and online.
Nordstrom's Weaknesses
Supply chain issues- Nordstrom is facing supply issues because of the closure of factories in Asia where most of the manufacturing facilities are located. Further, the company is facing difficulties in procuring raw materials because of traffic congestion at ports (Reuters, 2021).
Massive dependence on third-party manufacturers- Most of the manufacturing by Nordstrom is outsourced to third parties in Brazil, China, Hong Kong, India, and Columbia among others, and disruption in their operations can impact Nord Storm's operations. Further, the change in custom policies, tariffs, or taxation can have a financial impact on the business (Nord Storm, 2021).
Nordstrom's Opportunities
More brick and mortar stores- Nordstrom has just 367 stores worldwide with most of them being in the US. The company should focus more on expanding the stores to various countries such as India, China, and other emerging nations where the consumption of luxury goods is on the rise. The luxury fashion market in India is expected to increase by 7.06% from 2022-to 2025. There is huge potential in the Chinese market as well where the luxury fashion market is currently worth more than $9.5 billion and is further expected to register annual growth of 5.47% from 2022-to 2025. This is an example of change management strategy that the company should be working on.
Optimized digital experiences- Nordstrom can acquire a higher number of customers by constantly improving the digital experience of its target market. These days, most customers interact with brands digitally and their digital experience is a key determinant in their purchasing decisions.
Nordstrom's Threats
Competitors- Nordstrom has many competitors in the market that include Gap Inc., Abercrombie, and Fitch Co, Bloomingdales Inc., and Neiman Marcus Group Inc. among others. Gap Inc. has a high concentration in the retail industry with more than 3100 brick and mortar stores along with an online presence and a variety of brands in different price segments such as Old Navy, Gap, Banana Republic, and Athleta. It generated sales of more than $4.5 billion in 2021. Animus Marcus is another high-end fashion retailer dealing in apparel, accessories, jewelry, beauty, and decorative home products. Its sales rose by 39% in Q42021 to $979 million.
Currency fluctuations- Nordstrom is engaged in shipping to around 98 countries and deals in various currencies. The sudden fluctuation in the currency can reduce their revenue and profit.
Losses because of change in the real estate market- Nordstrom leases most of its corporate offices and stores and the closure of stores because of the COVID-19 pandemic can cause financial loss. Further, the sudden change in rentals in the market can lead to an increase in expenditure (Nordstrom, 2021).
To recapitulate, it can be said that Nordstrom is a highly recognized luxury fashion retailer and has a wide range of products including apparel and other products related to beauty, accessories, etc. The company needs to overcome the supply chain issues in order to enhance productivity. The rising prices of real estate worldwide can lead to rising in expenditures as most of the stores are not owned and rather leased. Though the company has a significant online presence, it can widen its reach by opening more physical stores that are limited to US and Canada.
Moreover, if you wish to understand how the external industry environment influences Nordstrom, you can evaluate the same through our intelligible PESTLE Analysis of Nordstrom.
Recommended Readings
References
GAP Inc. (2022). GAP INC. EXPANDS GLOBAL PRESENCE THROUGH NEW FRANCHISE AGREEMENT TO SERVE CUSTOMERS IN ISRAEL. Retrieved 19 April 2022, from https://www.gapinc.com/en-us/articles/2009/02/gap-inc-expands-global-presence-through-new-franch#:~:text=were%20%2414.5%20billion.-,Gap%20Inc.,America%20and%20the%20Middle%20East
Nordstrom. (2021). A N N U A L R E P O R T 2021. Retrieved 19 April 2022, from https://investor.nordstrom.com/static-files/df1acde3-cde5-4939-a0d4-73ba707577e7
Reuters. (2021). Nordstrom warns of supply shortages as holiday season approaches, shares plunge. Retrieved 19 April 2022, from https://www.reuters.com/business/nordstrom-profit-misses-estimates-supply-chain-problems-shares-tumble-2021-11-23/#:~:text=The%20Seattle%2Dbased%20company%2C%20like,and%20result%20in%20product%20shortages.
Wahba, P. (2022). How Neiman Marcus CEO is riding the luxury pandemic boom to rebuild post-bankruptcy. Retrieved 19 April 2022, from https://fortune.com/2022/02/10/neiman-marcus-ceo-pandemic-luxury/#:~:text=The%20Dallas%20Morning%20News%20in,30%2C%202021