Taco Bell Overview
Founded by Glen Bell in 1962, Taco Bell is one of the key players in Australia's fast-food restaurant industry. Starting with just one hamburger stand, Taco Bell is currently operating 7791 restaurants in 31 countries worldwide.
Therefore, the below article would involve an effective analysis of the internal strengths and weaknesses of Taco Bell along with the different opportunities that are available for growth and threats that can potentially cause harm to the company.
SWOT Analysis is an effective tool for analyzing both the internal and external environment of the business. The analysis would also involve predicting the threats from the external forces and the strategies that the company can formulate to eliminate those threats. In case you wish to learn about conducting a SWOT analysis in detail, you should definitely go through our meticulous Swot Analysis guide.
An exhaustive SWOT analysis of Taco Bell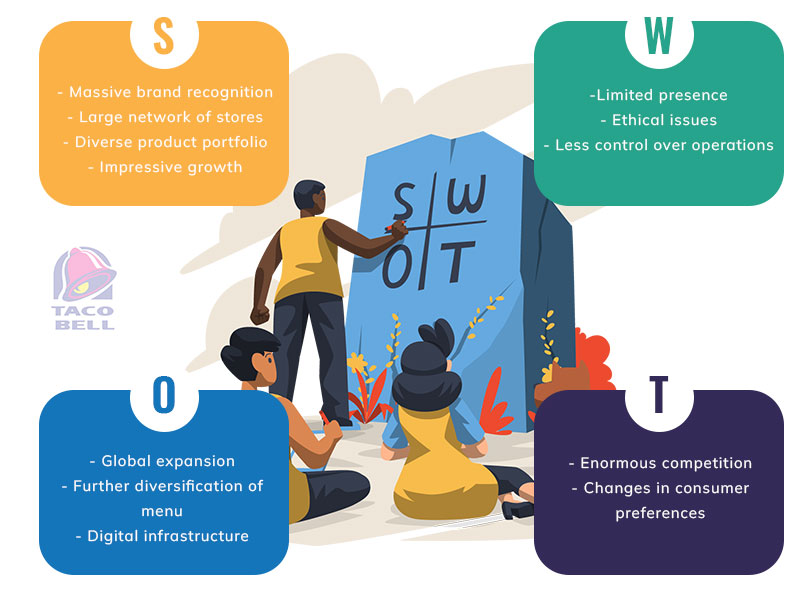 Taco Bell Strengths
Brand Recognition- Taco Bell is a renowned brand in the fast-food presence and has been serving the customers for about 60 years. Moreover, the brand is highly preferred among millennials and Generation Z people.
An extensive network of stores- Taco Bell has a huge store network of more than 7700 stores internationally that serve more than 42 million customers (Schlitz, 2022).
Product portfolio- Taco Bell serves various products to cater to most people's taste buds. These include Mexican specialties like tacos, nachos, and burritos along with other products like quesadillas, fries, and breakfast items. The company also has salad bowls on its menu for diet-conscious people and this enables the company to widen its customer base (Taco Bell, 2022).
Strong growth- The sales for the Q4 FY2021 witnessed a 5% growth compared to 2020 while the store count also increased by 3057 despite the closure of businesses due to COVID (Fantozzi, 2022).
Taco Bell Weaknesses
Limited presence outside the US- More than 5000 restaurants of 7700 are located just in the US, meaning that the major earnings of the company occur from just one country. This can prove to be disastrous for the company as a major economic downfall in the US can impact the overall operations of the company.
Ethical issues- The company has been involved in lots of controversies related to its products. One such instance was when Taco Bell had to face a lawsuit in which it was alleged that the seasoned beef that it serves in its stores contains more oats and other fillings than beef. Further, the company has also been accused of selling products that contain excessive amounts of chemicals which can lead to reproductive problems (Micheleson, 2021). This type of unethical behavior can lead to a loss of trust among the customers.
Less control over operations- Most of the stores of Taco Bell are operated by franchisees which limits the control of the company over the quality of the products.
Opportunities for Taco Bell
Product diversification- Taco Bell is majorly known for its Mexican dishes while other food items such as Indian and Chinese are also a lot popular among the foodies. According to the survey by YouGov, Indian food is considered to be the ninth most popular food in the world. Furthermore, Chinese cuisine is also liked worldwide by around 78% of people. The company can expand aggressively in a thriving business environment by understanding cultural dimensions better in the emerging markets.
Expansion outside the US- Taco Bell can expand its operations outside the US and can open more stores in India and China as the fast-food market in these countries is accelerating at a greater pace. In India, the fast-food market is predicted to witness a double-digit growth of 10.4$ from 2022-to 2035 and reach $95.75 billion while in China the market is worth a huge $162 billion. Taco Bell can take advantage of the opportunities and open stores aggressively.
Digital infrastructure- Currently, the sales through digital means account for 20% of the total sales. The company should expand its digital services and the techniques that it can implement including offers and special coupons for ordering through the app and website. It can also offer special discounts in stores if payments are made through the app.
Threats for Taco Bell
Emerging competition- Taco Bell has an intense competitive rivalry with many famous brands like Taco John's, Del Taco, and Moe's Southwest Grill among many others. Taco John's has close to 400 restaurants in 23 states while Del Tac is also the growing brand for Mexican food with more than 550 locations the company generated more than $500 million in revenue in 2021 whereas Taco Bell's another strong competitor Moe's Southwest Grill has an extensive presence with close to 700 restaurants and generates sales of close to $1 billion annually.
A shift in consumer preferences- Taco Bell serves food that is loaded with calories and is grilled or fried. This can be a threat for the company in present times as customers are shifting towards healthy and vegan food items.
Taco Bell has been in existence for a long time and the company has more than 7000 stores serving a wide variety of Mexican cuisines but it is at a disadvantage as most of the restaurants are located within the US with a very less international presence. The company needs to focus beyond the US if it wants to gain a competitive edge and it should be aware of the strong competitors. Moreover, the trend of shopping among the customers is changing and to sustain in the changing environment the company must focus more on the growth of a digital business. Also, you can read the PESTLE Analysis of Taco Bell to determine how the macroenvironment factors influence the company or the automotive industry.
Recommended Readings
SWOT Analysis of Chipotle Mexican Grill
References
Fantozzi, J. (2022). Yum Brands accelerated development in 2021 despite Q4 speedbumps. www.nrn.com. Retrieved 2 April 2022, from https://www.nrn.com/quick-service/yum-brands-accelerated-development-2021-despite-q4-speedbumps.
Michelson, A. (2021). Toxic chemicals linked to infertility found in Big Macs and Taco Bell burritos. www.insider.com. Retrieved 2 April 2022, from https://www.insider.com/big-macs-taco-bell-burritos-found-to-contain-harmful-chemicals-2021-10.
SCHLITZ, H. (2021). The 5 coolest Taco Bell locations in the world. /www.businessinsider.in. Retrieved 2 April 2022, from https://www.businessinsider.in/retail/news/the-5-coolest-taco-bell-locations-in-the-world/slidelist/87241506.cms.