British Airways Overview
British Airways is a globally renowned commercial airline company headquartered in London, United Kingdom. The company claims to have more than 100 years of experience in customer service and has a global workforce with more than 30000 individuals working for the company. Even though it is the flagship airline company in the UK, it is well known across all parts of the globe as one of the most popular airline brands. The company has a large and diversified fleet of aircraft ranging from Airbus A320 to Boeing 787. Further, an internal analysis of the company will give effective insights into the company's capabilities in terms of its competitiveness.
For that, SWOT analysis is an effective strategic analysis tool that is used to assess the internal capabilities and external threats that a company is exposed to. This article features a delineated SWOT analysis of British Airways analyzing the internal strengths and weaknesses of the company along with the key external opportunities or threats. If you wish to learn more about the SWOT analysis model, our detailed SWOT analysis guide will certainly be of great help. For now, let us proceed with an engaging SWOT analysis of British Airways.
An insightful SWOT analysis of British Airways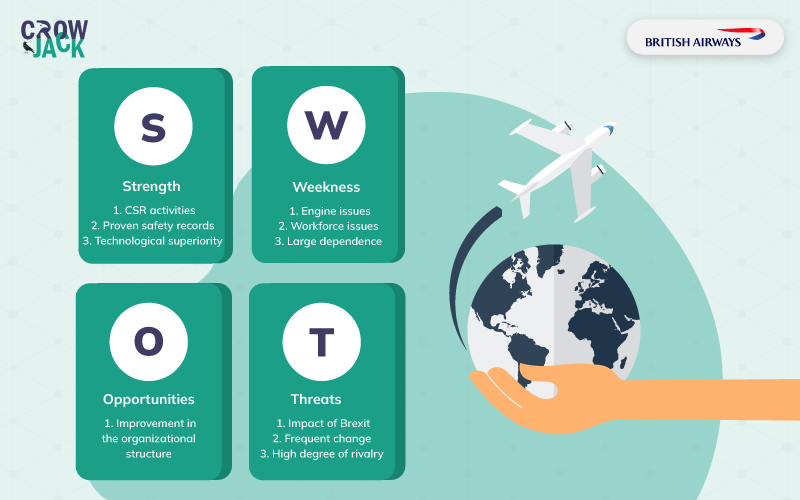 Strengths of British Airways
Sustainability & CSR activities- British Airways focuses highly on sustainability. It has adopted a forward approach wherein the company has launched a Better World Program. The initiatives under this program include investment in ZeroAvia, a hydrogen propulsion company that is involved in the development of 50+ seater aircraft capable of running on zero emissions hydrogen-electric power.

Further, the company has started sourcing sustainable aviation fuel from various suppliers and 35% of sustainable aviation fuel is used on flights that operate between England and Scotland. In addition, the program also focuses on promoting diversity and inclusion among the workforce along with focusing on their mental health. It has committed to improving its recruitment processes by conducting transparent and open interviews. To ensure that there is no bias in the interview, the company would have a panel that comprises interviewers from different backgrounds.

Further, the company has initiated a Reverse Mentoring Programme to promote diversity at senior levels in the organization and increase awareness and understanding of the day-to-day experience of being from an ethnic minority. The company has established a target to increase female representation at senior levels to 40% by 2025, along with targets to increase our ethnic diversity at senior levels to 12% by 2025 and 14% by 2030. Besides, the surplus food and blankets were donated to charity including a local wildlife rescue project.

Various strategies such as the use of bamboo swizzle sticks for the glass and cups and non-plastic amenity kids have led to savings of around 51.5 million tonnes of plastic. Alongside, the company was involved in sending aid during the tough time of COVID wherein two aid flights were sent to India with over 50 tonnes of urgent lifesaving oxygen cylinders, oxygen concentrators, respirators, and blood oxygen saturation monitors, along with care packages for families in need. To add on, British Airways supports various social organizations, and going by its motive of serving society, the company provides various articles to the organizations in need including blankets, amnesty kits, and t-shirts along with other stuff. These organizations included Surplus to Supper, London, Slough Run, Giving World, and Trussell Trust. The company's commitment to sustainability along with other CSR activities has enabled the company to create a distinguished brand image as a purpose-driven business.

Proven safety records- As per AirlineRatings.com British Airways is ranked among the top 20 safest airlines on Earth based on its previous incidents, the average age of its fleets, and audits from governments and the aviation industry's regulatory bodies and it is one of the two airlines in the list along with Virgin Airlines (Smith, 2018).

Technological superiority- British Airways is considered a leader in implementing new technologies. It has become the world's first airline to introduce high-tech remote-controlled devices to push back aircraft across its short-haul operation. Further, this year British Airways also launched self-boarding gates on its domestic flights, self-serve bag drop points at Gatwick and Heathrow, and a new streamlined connections area at one of the terminals.

In addition, the company is experimenting with a new intelligent queuing technology in collaboration with Qmatic to manage the flow of travelers at the airport wherein the customers would be allowed to virtually queue at check-in by pre-booking a slot time in advance of arriving at the airport. Also, the company is conducting trials with digital health passports such as Verifly on all flights to the US, Canada, and France as well as on all UK inbound international flights (Brandler, 2021)

Strong brand value- The current brand value of British Airways is around $3.7 billion which is considered to be the ninth most valued in terms of a global brand in the airline industry. It is one of the most preferred airline carriers operating in most of the largest economies of the world.

Extensive network- Further, it has also been awarded as the UK's most popular brand a few years ago (Smithers, 2015). This highlights the operational power that the company has built during its life cycle.

Strategic partnerships- British Airways is part of the alliance named Oneworld which contains other major airlines such as Alaska Airlines, American Airlines, Cathay Pacific, Finnair, Japan Airlines, Malaysia Airlines, Qantas, Qatar Airways, etc. Oneworld is a platform wherein frequent travelers with any of the airlines in the alliance would be provided with special benefits including rewards and free access to over 620 premium airport lounges worldwide for free.

Further, British Airways has partnered with American Airlines, Finnair, Iberia, and Aer Lingus across the Atlantic to enhance the traveling experience of the passengers. The customers can avail the benefit of a smooth connection for the onward flight through coordinated schedules in Chicago O'Hare, Dallas/Fort Worth, Dublin, London Heathrow, Los Angeles, Madrid Barajas, Miami, and New York JFK, hence they would not have to wait for transit. Further, any of the airlines' websites can be used for booking flights, online check-in, or availing the boarding pass.

To add on, similar partnerships prevail with the above-mentioned airlines along with Japan Airlines being added for travel between Europe, Japan, and Asia. The journey from the UK to Doha and China has also been made smoother through codeshare agreements with Qatar Airways and China Southern respectively. Alongside, the codeshare partners also include Bangkok Airways, Kenya Airways, Fiji Airways, Vistara, Logan air, etc.

Besides, the strategic partnerships with other stakeholders include Michelin-starred chef Tom Kerridge for providing a range of food options to passengers on short-haul flights and the company is the official airline partner of the England Rugby men's team, women's Red Roses team, and the 7's male and female teams.
Weaknesses of British Airways
Engine issues- British Airways uses engines made by Rolls Royce in its planes. British Airways is experiencing issues with the engines for the past many years wherein on many occasions the company was forced to ground its planes for continuously a year due to engine failure (Derrick, 2019).

Workforce issues- British Airways has been unable to satisfy its employees after facing losses during the COVID. As part of its restructuring plan, the company plans to lay off 12000 employees and renew the terms and conditions of employment with the rest of the employees through unions. However, this has not been acceptable to the employee union and the scuffle is continuing even now (BBC, 2020). Further, recently the employees were involved in a strike over the dispute related to increases in their pay for them (Sillars, 2022). Hence, it is important for the company to address workplace ethical issues and other factors that are causing large dissatisfaction and disengagement among employees.

Large dependence on domestic market- At present, the focus of British Airways is mostly on the local markets of the UK which can prove to be dangerous if the economy collapses or there is a change in travel patterns of the people. To ensure long-term sustainability, the company should diversify its operations and focus on global markets on a large scale.
Opportunities for British Airways
Improvement in the organizational structure- The current organizational structure is leading to lots of problems for the airline because the employees are not able to approach the management with their concerns and hence they are left to depend on the unions to carry forward their issues.

This can be resolved if the organization adopts a flat organizational structure wherein the levels of management would be reduced and there would be direct contact between the employees and senior management which would lead to more satisfaction among the employees as their engagement would increase.
Threats for British Airways
Impact of Brexit- Prior to Brexit, British Airways was considered a European Union airline and is part of the International Airlines Group. However, after Brexit, the company might not be able to enjoy the benefits of being associated with the group as the rules of the European Union state that any airline within the bloc should be owned and controlled by an EU-based company (Peters, 2022).

Further, Brexit has resulted in the increase in the restrictions for the EU workers to enter the UK and this has led to staff shortage in the company because of which it is having issues in operating many flights. To overcome such issues, the company will need an effective change management approach. The Bridges Change Management Model can be one of the best approaches for the company to manage the threats posed by Brexit.

Frequent change in government regulations- The regulations have been changed in the UK after the exit from the EU. The current slot rules state that the companies must use their slot threshold 70% of the time or else they would lose the slots. This has caused issues for British Airways as it does not have enough staff to operate the flights at maximum capacity.

Further, the compensation scheme for the passengers is being changed and the new proposal includes deciding the amount of compensation based on the length of flight delay and actual ticket price unlike now wherein the compensation is fixed. This can lead to an increase in the liabilities for the company if the proposal is passed.

High degree of rivalry- The competition in the airline industry is highly intense with several major players in the fray including Virgin Atlantic, Singapore Airlines, Cathay Pacific Airways, Lufthansa, Qantas, and many smaller airlines that have dominance over their local markets such as Indigo in India and Fly Dubai in the UAE. British Airways is the number one in the UK according to Statista with a 53% market share.

Further, the company services more than 170 destinations and has a fleet size of 280 that comprises all the strong aircraft including Boeing 777, 747, Airbus A321, etc. Further, Virgin Atlantic has the market advantage as it is owned by one of the renowned entrepreneurs Richard Branson.

The company has been able to maintain a consistent revenue in the last 2 years despite huge disruption in the airline business due to COVID, in 2019 as per its annual report, the total revenues were 968 million euros which remained stagnant in 2020 as well. Further, the company is growing which is evident from the fact that passenger capacity in the airline in 2021 increased by 9% compared to 2020. Also, its revenue from the cargo segment in 2021 was at a record high of 448 million euros, up more than 200% vs 2019 and 40% vs 2020 respectively.

In addition, Cathay Pacific is also the major player in the industry with $4.34 billion in revenue in 2021 as per its annual report which was however less as far as its popularity is concerned because of COVID. To add on, Cathay Pacific carried 717 thousand passengers, an average of 1,965 per day, 84.5% fewer than in 2020. The normalcy in the operations after the COVID would increase its competitiveness.
To conclude, it can be seen that the utilization of various technologies and focus on sustainability aspect can be a positive thing for British Airways as it would lead to efficiency in the operations along with gaining an edge over competitors and enhance the image among various stakeholders. The huge fleet of aircraft and partnerships with various companies can assist in expanding the range of the operations. However various employee-related concerns and concentration on one market can be a cause of worry. Besides, if you wish to analyze the company as per the external business environment, you can go through our coherent PESTLE Analysis of British Airways.
Recommended Readings
Southwest Airlines SWOT Analysis
References
BBC. (2020). British Airways' treatment of staff 'a disgrace', say MPs. www.bbc.com. Retrieved 13 July 2022, from https://www.bbc.com/news/business-53027776.
Brandler, H. (2021). British Airways trials digital queuing technology. www.businesstraveller.com. Retrieved 13 July 2022, from https://www.businesstraveller.com/business-travel/2021/05/12/british-airways-trials-digital-queuing-technology/.
DERRICK, E. (2019). Ongoing Trent 1000 Issues Cause British Airways To Cut Miami Capacity. simpleflying.com. Retrieved 13 July 2022, from https://simpleflying.com/british-airways-trent-1000-miami/#:~:text=British%20Airways%20has%20been%20experiencing,year%20due%20to%20engine%20failure.
PETERS, L. (2022). Could IAG Be Forced To Dump BA Because Of Brexit?. simpleflying.com. Retrieved 13 July 2022, from https://simpleflying.com/could-iag-be-forced-to-dump-ba-because-of-brexit/.
Sillars, J. (2022). British Airways workers at Heathrow vote to strike during school summer holidays. news.sky.co. Retrieved 13 July 2022, from https://news.sky.com/story/british-airways-workers-at-heathrow-vote-to-strike-during-school-summer-holidays-12639088.
Smith, O. (2018). The World's Safest – and Least Safe – Airlines. www.travelagentcentral.com. Retrieved 13 July 2022, from https://www.travelagentcentral.com/transportation/world-s-safest-and-least-safe-airlines.
Smithers, R. (2015). British Airways named UK's most popular brand. www.theguardian.com. Retrieved 13 July 2022, from https://www.theguardian.com/business/2015/mar/02/british-airways-named-uks-most-popular-brand.