Boeing's Overview
Boeing, headquartered in Virginia, US is one of the world's leading aerospace company and manufacturer of commercial and defense aircraft. With a market capitalization of USD 82.3 billion, Boeing is among the most successful companies in the world. Boeing is known for highly sophisticated amd advanced range of military aircraft including Globemaster III, F-15 fighter jets, Apache helicopters, P-8, Super Hornet and so on. Also, its commercial range of aircraft includes 767, 787, 777 and so on. In fact, Boeing is also the manufacturer of the highly popular Air Force 1 used by the American President.
In this meticulous article, we put forth a detailed SWOT analysis of Boeing delving deep into the internal capabilities of Boeing. Also, the article looks into the opportunities and threats available for the company in the external environment. Besides, if you wish to learn about SWOT analysis in detail, you can go through our extensive guide on SWOT Analysis. For now, let us get started with the SWOT Analysis of Boeing.
An All-inclusive and Astute SWOT Analysis of Boeing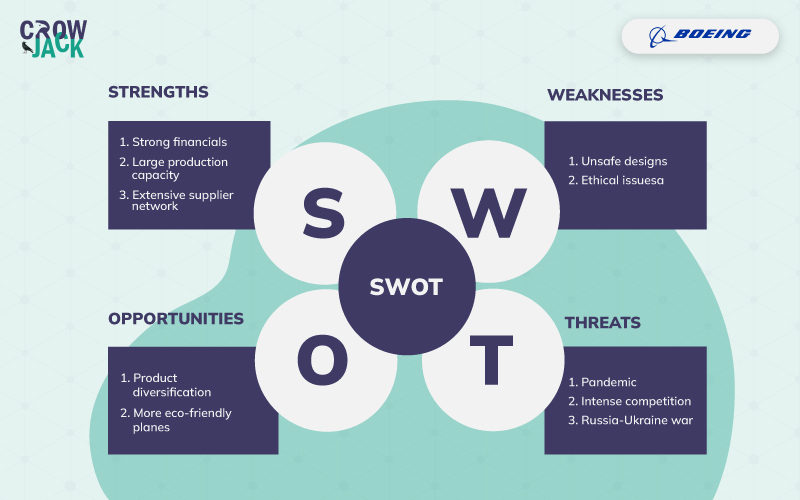 Strengths of Boeing
Strong financials- As per the annual report of the company, Boeing generated a revenue of more than $62 billion in 2021 (Salas, 2022). Further, it has a cash flow of $3.4 billion, signifying its ability to negate threats and tap into the opportunities. In addition, the company has a strong order base wherein it has still had orders worth $356 billion to be supplied and Boeing has generated more than 139% the return for the investors in the last 5 years even after suffering a business setback in the last couple of years due to COVID.

Large production capacity- Boeing has a huge production capacity of more than 600 planes. In 2020, it manufactured 380 commercial aircraft along with 229 military aircraft.

Extensive supplier network- Boeing has a vast network of more than 100 suppliers that include Pratt & Whitney, Honeywell, General Electric, and others
Weaknesses of Boeing
Unsafe designs- Boeing's Max 737 has been banned by many countries because of its unsafe designs as it resulted in frequent accidents.

Ethical issues- Boeing has been accused of a toxic work environment wherein the workers are forced to work overtime. Further, the company's management has been alleged to intentionally ignore the issues in Max 737 (Laris, 2019). The ethical issues of the company can turn out to be a major disadvantage for the company.
Opportunities for Boeing
Product diversification- Boeing can venture into the satellite technology business which would provide it with the opportunity to add more segments to its portfolio and can have a competitive edge over the competitors. For that, the company will need to work on effective change management mechanisms.

More eco-friendly planes- Boeing can explore the options of manufacturing planes that consume fewer fossil fuels and run on renewable sources of energy such as hydrogen.
Threats for Boeing
Pandemic- COVID has resulted in a decrease in air travel due to which the orders for new aircraft have declined.

Intense competition- Boeing faces intense competition from its rival Airbus. Over the last two years, Airbus has been able to deliver more orders than Boeing and its market share has also increased to more than 60%. Further, the competition is stiff because the contracts are worth millions and billions of dollars, and the loss of any client can pose a huge financial loss for the company

Russia-Ukraine war- The sanctions imposed on Russia because of the invasion of Ukraine can result in major financial losses as the company would not be able to deal with major airlines such as Aeroflot, Rossiya, and S7 airlines among others that have a combined fleet of more than 400 aircraft. Further, the company has an outstanding order of 42 planes for the Russian airlines that are yet to be delivered. The uncertainty because of sanctions can cause heavy financial losses to the company.
To encapsulate, it can be said that Boeing has a large amount of cash flow in its reserves which can help overcome the current uncertain business environment at present. However, the company must focus on the safety aspect of a few of its models like Max 747 and 737 which have been through multiple accidents and resulted in numerous fatalities. In case you wish to delve into how external influences affect Boeing, you can go through our delineated PESTLE Analysis of Boeing.
Recommended Readings
SWOT Analysis of Southwest Airlines
References
Laris, M. (2019). Boeing Employees Knew In 2016 Of Problems That Turned Deadly On 737 Max, Texts Show. Retrieved 18 April 2022, from https://www.ndtv.com/world-news/boeing-employees-knew-in-2016-of-problems-that-turned-deadly-on-737-max-texts-show-2119237/amp/1
Boeing. (2021). THE BOEING COMPANY 2021 ANNUAL REPORT. Retrieved 18 April 2022, from https://s2.q4cdn.com/661678649/files/doc_financials/2021/ar/The-Boeing-Company-2021-Annual-Report.pdf