Ryanair Overview
Ryanair is an airline meant for people looking to travel at affordable prices and the company serves customers across many markets. It has a large fleet of more than 400 planes that can act as a fundamental strength for the company. As per the annual report of the company, the company posted total revenue of 1636 million Euros.
Further, this article will present a meticulously conducted SWOT analysis of RyanAir wherein its strengths and weaknesses would be identified along with the opportunities available in the market that it can grab. The analysis would also contain a description of the threats that can be a challenge for the company to expand or sustain in the market. In case you wish to learn about conducting a SWOT analysis in detail, you should definitely go through our meticulous Swot Analysis guide.
Table of Contents
An elucidated SWOT Analysis of Ryanair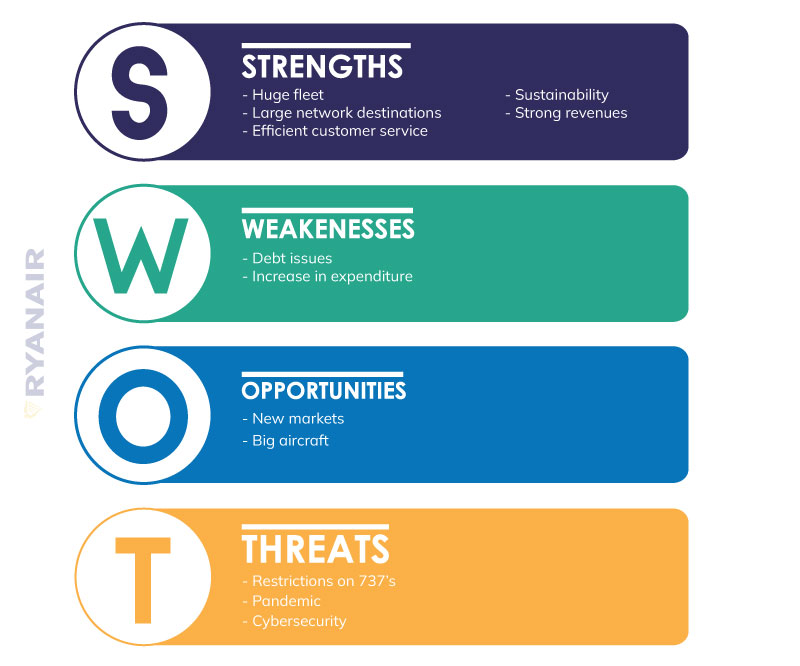 Ryanair's Strengths
Huge fleet- Ryan Air's fleet comprises 422 Boeing 737's, and 29 A320s and the delivery is pending for 210 planes. Such a huge fleet can be beneficial for the company is expanding its operations to more destinations.
Large network destinations- RyanAir travels to 37 countries on more than 1600 routes across Europe and North Africa. The company has more than 2000 daily flights and operates from around 225 airports.
Efficient customer service- The company has an effective customer service mechanism wherein the customers are asked to rate their flying experience within 24 hours of their journey. Further, the company has set up a customer panel to assist the company in making improvements in the service. In addition, the company commits to answering 95% of the queries raised by customers within a 24-hour time frame. In the future, the company plans to complete the process of offering refunds within 24 hours of a flight getting canceled and the company aims to enhance its customer verification process to assist the customers who have been defrauded by the agents.
Sustainability- The company is focusing on sustainable operations and going by this mission, it has plans to invest a whopping $22 billion in new technology aircraft that would consume 16% less fuel and 40% less noise compared to the planes currently in the fleet. Further, the company aims to have plastic-free operations in the next 4 years. In addition, the company is investing in various initiatives like reforestation programs and green technology.
Strong revenues- Ryan Air's revenues are increasing over the last few years, in 2017, the company generated a revenue of 6647 million euros which increased to 7151 million euros in 2018 and it further surged to 8494.8 million euros in 2020. However, the company faced a temporary decline in 2021 due to disruption of operations because of COVID.
Ryanair's weaknesses
Debt issues- The company's finances have been witnessing fluctuations in revenues. As per the annual report, the revenue has witnessed a strong downfall from 7697 million euros in 2019 to 1636 million euros. Further, the debt has increased by around 5 times in the last 2 years and from 450 million euros in 2019 to 2277 million euros in 2021.
Increase in expenditure- The company is unable to control the cost that it incurs per passenger. The cost has more than doubled in the five years. In 2017, the company incurred an expenditure of 42.62 euros which increased to 89.95 euros in 2021. This can affect the profitability of the company.
Ryanair's opportunities
New markets- RyanAir currently caters to a few markets in Europe and North Africa. It can enhance its operations by venturing into the Southeast Asian markets where the potential for aviation companies is huge. The markets like India and China are expected to witness strong growth with the Indian aviation industry predicted to become the world's largest by 2030. Likewise, the Chinese aviation market is expected to grow at a CAGR of 5.5% by 2040.
Big aircraft- The company can cater to more passenger traffic if it inducts bigger planes like Dreamliner.
Ryanair's threats
Restrictions on 737's- The company's major fleet comprises Boeing 737's which were recently in news of the crash in China (Liang, 2022). Already, the 747's were banned for almost two years and with the recent incident, even 737's can be banned which would ultimately lead to loss of operations.
Pandemic- The company is witnessing a decline in demand because of COVID from 2020 and the trend is continuing in 2022 as well. Further, because of the emergence of the COVID-19 pandemic, the company has had to incur an additional cost on regular cleaning and adopting extra procedures laid down by various governments. This can lead to revenue loss and an increase in operational expenses for the company.
Cybersecurity risks- RyanAir is exposed to cyber threats and on one occasion, the hackers stole a hefty amount of $5 million from the company's bank account (Kennedy, 2015). The company should protect itself from external cyber-attacks by deploying various technologies such as firewalls.
To encapsulate, Ryanair has a huge fleet of aircraft and strong financials and it can use these strengths to capture new markets. Besides, Ryanair is also known for its high efficiency in customer service. However, rising debt can be an issue for the airline. Also, in case the COVID-19 pandemic worsens and countries go toward lockdown norms again, the airline may have to face heavy losses. Also, you can read the PESTLE Analysis of Ryanair to determine how the macroenvironment factors influence the company or the automotive industry.
Recommended Readings
SWOT Analysis of Southwest Airlines
SWOT Analysis of British Airways
References
Kennedy, J. (2015). Ryanair breach: €4.6m siphoned from airline's bank accounts. www.siliconrepublic.com. Retrieved 6 April 2022, from https://www.siliconrepublic.com/enterprise/ryanair-breach-e4-6m-siphoned-from-airlines-bank-accounts.
Liang, A. (2022). Boeing jets under 'surveillance' after China crash. www.bbc.com. Retrieved 6 April 2022, from https://www.bbc.com/news/business-60830374.
RyanAir. (2021). ANNUAL REPORT 2021. nvestor.ryanair.com. Retrieved 6 April 2022, from https://investor.ryanair.com/wp-content/uploads/2021/08/FINAL_Ryanair-Holdings-plc-Annual-Report-FY21.pdf.