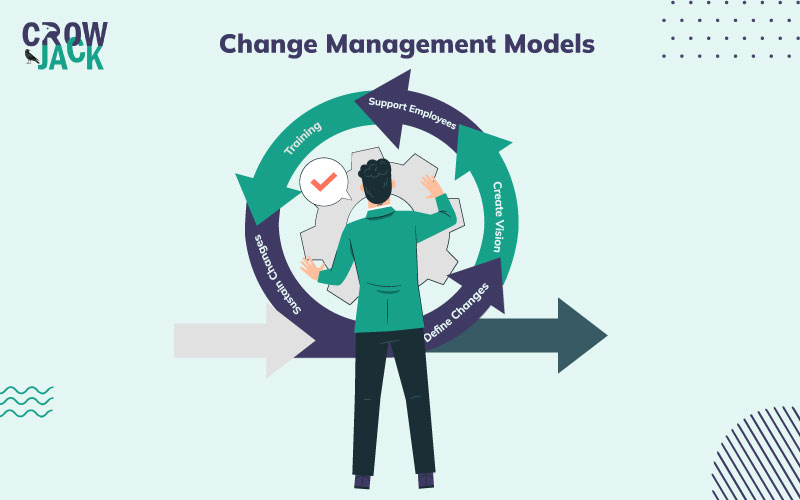 Organizational change management in contemporary times has become one of the key pillars of success enabling businesses to effectively adapt to changes that may be external or internal. What is more important to understand is that there is a broad spectrum of change management frameworks that organizations choose from given their relevance and utility in specific contexts. This article elaborates on the most important and widely applied change management models used in the corporate world. However, before that, it is essential to understand the basic definition and change management process.
To present an overview, organizational change management is the structured and logical approach that organizations apply to deal with transformations and transitions aligned with business functioning.
These changes can emerge in the form of leadership changes, shift in strategic goals, operational transformations, technological revamp, and so on. Further, these transformations have major impacts on the processes, systems, culture, and employees within an organization. Depending on the context of change management, different change management models are applied.
However, before we move to change models, it is essential to shed light on the different kinds of organizational changes that companies go through. Given below is a brief description of three major types of organizational changes.
Developmental Change: An organizational change aimed at optimizing the present state of processes or systems within an organization is categorized as a developmental change. For instance, the incorporation of AI solutions in recruiting will be a development change.
Transitional Change: A transitional change is the one that an organization incorporates to move to a new state from its current state in response to a problem. Mergers and acquisitions are the most common examples of transitional changes.
Transformational Change: A transformational change is a large scale change that aims at modifying the fundamental working style of an organization or the culture of the company altogether. The stakes are much higher when transformational changes are applied as they aim at broader business goals. To illustrate, if a conglomerate company is split into different entities, it will count as a transformational change.
Going forward, let us analyze the real need and purpose of effective change management that further explains the necessity of change management models.
When is change management needed?
Effective change management is desirable in different scenarios wherein an organization wants to incorporate changes that can assist in mitigating risks or grabbing new opportunities. Having said that, change management is essential to enhance organizational capabilities and to safeguard the organization against unprecedented risks. The following are some important phases during which change management becomes vitally important.
Changes in technological infrastructure: Efficient change management is desirable when new technologies are to be implemented in an organization.
Leadership transformation: Organizations need to manage change effectively when there is a change in the top-level management or the organizational structures within companies are revamped.
Takeovers and mergers: When a business acquires another enterprise or merges with it to formulate a common entity, efficacy in change management is needed at all levels.
Unprecedented situations: In times of crisis or unpredicted situations, the survival of business or business continuity becomes largely subject to the effectiveness of leaders to manage the change. How the outbreak of the COVID-19 pandemic forced business changes is a fine example.
Changes in production or cost-cutting: Driving greater efficiency in production or implementing cost-cutting strategies also requires smart change management.
Now that we have explained what change management is and why it is important to undertake effective change management, let us now put forth the most widely applied change management models in the business world.
What are change management models?
Change management models are the frameworks that are inclusive of specific methodologies and theories that need to be applied to get insights into organizational changes. Change management models complement strategic planning models. Further, based on these credible insights, organizations can plan, execute and manage changes in a systematic way. These models help organizations navigate transformations effectively such that they can deliver on the expected outcomes that an organization seeks from a change.
Having explained change management and the need for change management models, let us now look at each key change management model individually in terms of an in-depth analysis.
List of key change management models
Having explained change management and the need for change management models, let us now look at each key change management model individually in terms of an in-depth analysis.