Overview
For the very first time, the transactional leadership theory was discussed by Max Weber in 1947. Later, it was further consolidated and popularized by Bernard Bass in the year 1981 and from thereon it has emerged as a highly discussed leadership style.
To explain further, the transactional theory of leadership is based on the idea that managers can derive high productivity from employees by appealing to employees' self-interests. To explain, leaders deliver on the individual interests and ambitions of employees in exchange for the work they get done from them. This transaction that takes place between leaders and followers is why the leadership style is called transactional. In a more specific sense, delivering on employees' expectations and interests is synonymous with rewards and recognition that managers offer to employees in lieu of high productivity.
To delve deeper into the theory, let us shed light on its key features of the theory.
Key features of Transactional Leadership Theory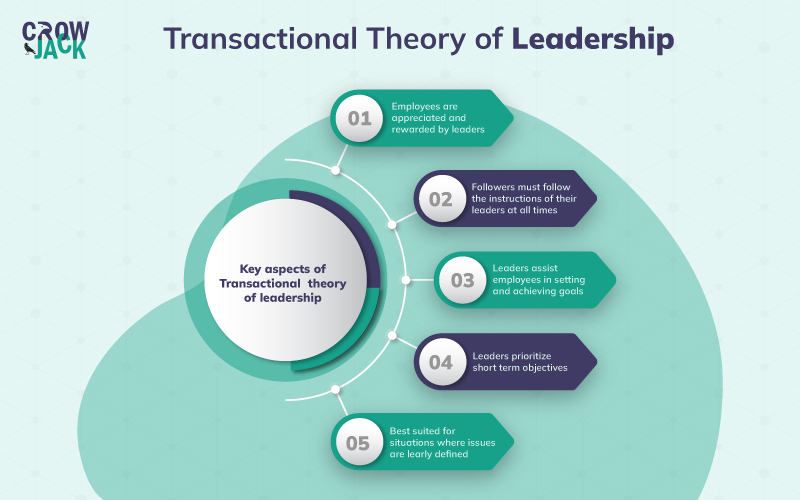 One of the most basic assumptions of the theory is that employees or followers feel highly motivated when they are rewarded and appreciated by their leaders. Further, it underlines the fact that employees find it hard to be self-motivated and leaders can manage motivation through systems of rewards or deterrence of punishments.

Another fundamental belief of the theory is that employees or subordinates are bound to follow their leaders and have to obey them at all times. Hence, transactional leadership lays great emphasis on organizational structures and the hierarchy of power. Employees have to respect the hierarchy at all times.

Transactional leaders lead through responsiveness and assist team members to achieve objectives and SMART goals through either rewards or penalties.

An imperative feature of the theory is that it is majorly relative to short-term plans and objectives for which leaders cultivate encouragement among followers. The transactional style of leadership works best when problems are clearly defined and not very complicated.
Relevance of the theory in the contemporary corporate world
The theory has extensive applicability in the current scenario and most managers subscribe to this leadership style in the modern workplace. It is interesting to note that as per Hubspot, 70 percent of employees state that they would work much harder when they receive proportionate rewards and recognition for their efforts. Hence, in such scenarios, the basic assumption of the theory that employees feel motivated by rewards holds true. Managers can drive high motivation among employees by offering incentives, rewards, and appreciation. Having said that, leaders can apply the transactional theory of leadership as an effective approach to optimized performance management.
To add, transactional leaders can be highly successful in taking effective decisions and enabling cost-cutting strategies within organizations. Every short-term objective of the organization can be enhanced by a transactional approach to leadership. The central idea is to identify the self-interests of employees that act as the biggest motivators for them and to deliver on them for getting the best out of each employee. Especially for small businesses, leaders can benefit a lot from the transactional leadership style. They can derive exceptional performance from a small workforce and lead their small business to be a multinational corporation quite swiftly.
A real-world example of transactional leadership
Bill Gates leadership style analysis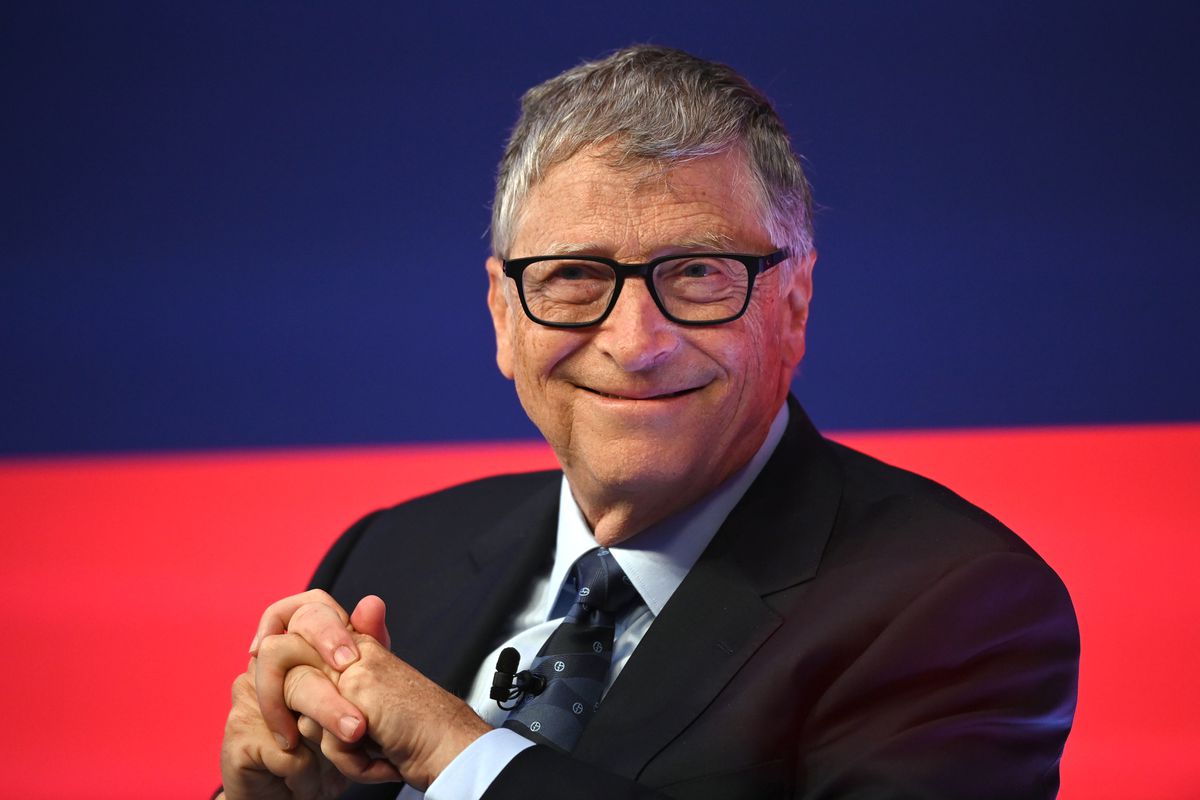 Today, almost all individuals, as well as organizations, are quite dependent on Microsoft's products and services. Even from a management perspective, the analysis of Microsoft offers great insights into management practices and leadership fundamentals. Since its inception in the year 1975, Microsoft has never looked back and has only advanced forward to become the second most valuable company worldwide. Today, Microsoft's market capitalization stands at a whopping 2.27 trillion US dollars. Whenever the success story of Microsoft will be discussed in the future, it will revolve around Bill Gates and his abilities as an exceptional leader.
Bill Gates did not just co-found Microsoft but with his transactional leadership abilities, he added great value to the organization in the course of 25 years of being the CEO of Microsoft until 2000. Even after that, till 2014, he remained the chairman of the board of directors of Microsoft. Under his astute leadership, Microsoft has grown by leaps and bounds and one key reason behind that is how he has managed employee motivation with such great distinction. Bill Gates has always cared for his employees and has strongly believed in celebrating the achievements of his people. He has always been streak smart to identify that caring for employees and offering appreciation to them can lead to great business benefits.
His relationship with his employees or followers has always been more transitory in nature than being emotionally overwhelming. In fact, with a robust system of performance-based rewards, Bill Gates has consistently driven a cultural transformation at Microsoft that has literally benefited the company to scale new heights. From the very beginning of the company's journey, Bill Gates had established strong systems within the organization.
These systems revolve around the idea of celebrating employees' contributions to company success and sharing regular feedback and instructions for great performance management. Besides, Bill Gates has always manifested remarkable situational awareness, consistency, risk-taking abilities, and continuous learning as his strong leadership characteristics. Besides, as a leader he has always been a critical thinker who knows pretty well how team motivation can be managed effectively. He is the one who has always been ready to take initiative and set benchmarks for others.
In fact, coming back to employee perks and rewards, Microsoft offers some of the most interesting rewards and perks to its employees. The perks include reimbursements for wellness and gym, pet insurance, free meals, free drinks, paternity leaves, and immigration assistance as well. Furthermore, Microsoft also offers an Employee Stock Purchase Program to its employees. Moreover, the company also extends student loan repayment programs to its employees.
Basically, Microsoft covers every aspect of employees' expectations and factors that inspire employees to do consistently well. Microsoft gets the best out of its employees by offering the best in class employee rewards and benefits. This success can undoubtedly be attributed to Bill Gates who will go down in history as one of the most sought after and influential business leaders. His leadership virtues will always be celebrated and he will be looked at as one of the most successful transactional leaders the world has ever seen. He has always strived for excellence and has promoted the same idea among his employees. He has been a highly responsive leader and has always had a knack for making well-informed business decisions including his decisions to first step down as the CEO in 2000 and the chairman of Microsoft in 2014. He has given his people all the opportunities in the world to grow even at the expense of his own designations within Microsoft and that transactional approach has sparked terrific success.