Overview
Diversity and inclusion are among the top corporate trends in contemporary times and in fact, these trends have gained great momentum in the last few years. Diversity has become an integral component of business growth and success that every employer needs to embrace in the contemporary world. Some of the obvious benefits of diversity in the workplace include better decision-making, a broader perspective of various situations, and higher productivity.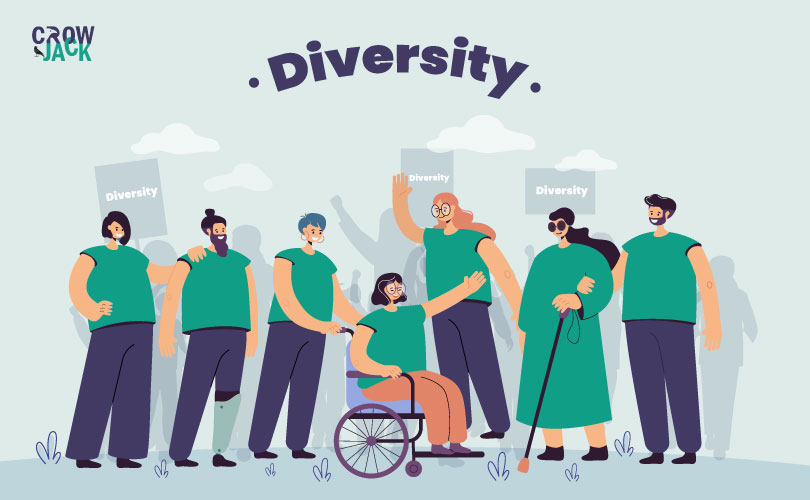 However, not all organizations are fine with the idea of cultivating and celebrating a diverse work culture that offers equal respect to individuals irrespective of their unique identity. This is where parallel to the thriving trend of diversity and inclusion, the resistance to it is becoming a major ethical issue.
To elucidate, the implementation of diversity implies the inclusion of people from different cultures, socioeconomic backgrounds, different perspectives, and mindsets. Furthermore, the idea of diversity in the workplace also spans different sexual orientations, generations, genders, experiences, and faith.
However, a severe imbalance of diversity still exists in various companies and organizations. To validate, as of 2018, women only accounted for 22.5 percent of the board seats at Fortune 500 companies and minorities represented only 16.1%. Add, these are just a few examples of diversification issues in the corporate world. Although companies are accepting diversity with open hands, the pace of acceptance is relatively slow. This lack of diversity in the workplace accounts for another major ethical issue in the workplace.
Moving ahead, the further section sheds light on various challenges companies face while embracing diversity in the workplace.
Table of Contents
Challenges to inclusion and diversity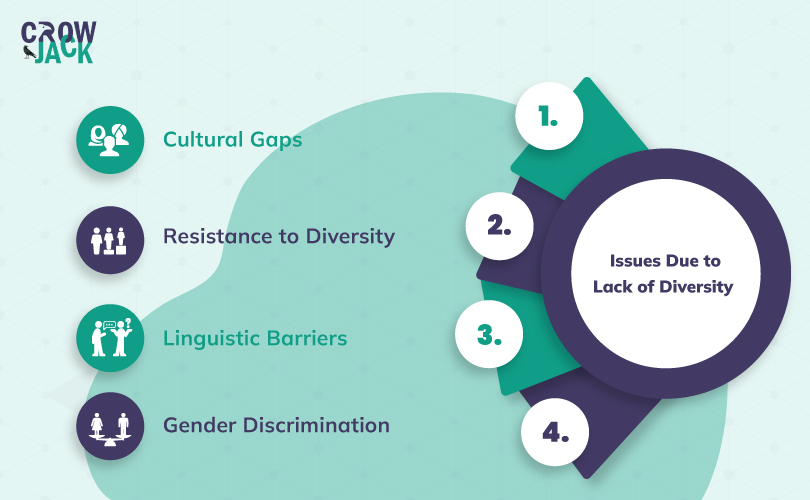 1. Cultural gaps
Every culture has different practices and beliefs, and sometimes while working on the inclusion of diversity in the workplace, these cultural differences become an integral issue.
2. Resistance to diversity
There are many employees who still find it difficult to accept and respect other people's cultures or lifestyle preferences. This lack of acceptance sometimes leads to intentional or unintentional discrimination in the workplace that can further affect the victim negatively.
3. Linguistic barriers
Language becomes one of the biggest barriers to ineffective communication in the workplace. Because everyone has their own level of understanding and adoption of the working culture, effective 7Cs of communication is crucial to maintaining a positive outlook of diversity in the workplace..
4. Gender discrimination
Discrimination based on gender has been a topic of discussion for a while now and gender neutrality has become a necessity in the contemporary business world to eliminate one of the biggest and oldest ethical issues of diversity.
Along with the government, it is also an obligation of the employers to make sure no their employees are open to accepting the culture of diversification in the workplace. Below mentioned are some of the methods to ensure ethical behavior in terms of diversity in the organization.
Measures to embrace diversity
1. Analyzing the state of diversity - The first step towards inclusion of diversity in the workplace is getting the state of diversity analyzed at the workplace. This analysis will identify the pitfalls and gaps that can assist an employer in further making an effective strategy to fill up those gaps and accept diverse cultures.
2. Establishing actionable corporate policies - Establish strict and immediate actionable policies that condemn any act of discrimination or workplace harassment based on religion, age, gender, or nationality. This will send a clear message to employees that the company has a zero-tolerance level when it comes to unethical practices related to diversity.
3. Training in diversity awareness - By educating employees and giving them training on awareness of diversity, companies can create a platform where everyone can respect other people's preferences and lifestyle choices.
4. Creating a culture of open reporting - establishing a healthy connection with the employees in which they can openly or anonymously come forward and share any issue or problem they are experiencing in the workplace that violates any of their rights or affects their health. Creating an open culture of reporting to the multiple people in the top management will assist in strengthening the employees' trust in the company.
For a better understanding of how lack of diversity can cause risk to a company's reputation, a detailed case study is elaborated beneath.
Real-life case study
Amazon accused of practicing Racism
It all started in 2019 when Chanin Kelly-Rae started working at Amazon as a global manager of diversity in the cloud computing division.
Kelly Rae, who was black, decided to leave one of the biggest multinational companies within one year because, during her tenure, she observed that black employees working within the company often experienced direct or indirect biases because of the community they represent. Kelly Rae believed that Amazon was not doing much in this space. She said in an interview that "Instead of taking a step forward, Amazon is taking a step backward". There were no strategic practices in place that allowed Amazon to work towards diversity and inclusion. Many current and former employees of Amazon were hesitant to speak about this matter, either due to their agreement with Amazon or because they were afraid of facing backlash from Amazon. Even the data from the Amazon Web Services division pointed towards biases against black employees as they received "least effective scores" more often than other white employees working there.
In response to this allegation, Amazon spokesperson Jaci Anderson stated that these allegations do not represent the truth and the facts and information is misinterpreted because Amazon has always been focused on creating a diverse environment where all the people are welcomed and feel respected.
However, when Recode contacted 4 of the black women working at the Amazon, they stated that they had to get mental health counseling mainly because of their experience of working at the company. Some were forced to leave the company while others were managing in the company by escaping toxic work culture or due to some situations.
Key takeaway - These allegations to the company affected the company's reputation adversely because the company is the 2nd largest employer in the private sector of the U.S. and everyone around notices how they treat their employees. Beyond that, it also affects the employer's brand of the company because their treatment of their employees will directly impact many people who want to work with the reputed organization. The company's unethical behavior of not embracing diversity can cost the company a huge loss in the future.
FAQs
Why is diversity an issue in the workplace?
Diversity is a problem in the workplace since it can result in prejudice, constrained viewpoints, and the exclusion of particular groups. This may lead to a toxic work environment, lower productivity, and less creativity. Contrarily, a varied staff can bring a variety of viewpoints and experiences, fostering greater innovation, better judgment, and enhanced organisational success.
How can I make a more diverse workplace?
Actively seeking out and employing people with diverse origins, cultures, and experiences is necessary to create a more diverse workplace. To do this and provide an even playing field for all applicants, recruiting and hiring procedures should be reviewed with utmost transparency and updated. Equal chances for career progression, training, and development should be offered to all employees.