Uber Overview
With a market capitalization of USD 62.6 billion, Uber is one of the most successful global companies and is often looked at as a leader in the ride-hailing industry. The company is also engaged in a food delivery network by the name of UberEats. The company operates in more than 80 countries and serves more than 3.9 million customers globally (Saxena, 2022). The company has an enormous 12.75% market share in global taxi service. Uber employs about 26,900 personnel and it generated a revenue of $5.78 billion in Q42021 which was an increase of 83% over Q42020 (Uber, 2021).
This article would effectively analyze the strengths and weaknesses of Uber along with the opportunities that the company can exploit. The analysis would also highlight the threats being faced by Uber. In case you wish to learn about conducting a SWOT analysis in detail, you should definitely go through our meticulous Swot Analysis guide. Having said that, let's get started without further ado!
Table of Contents
Comprehensive and preceptive SWOT analysis of Uber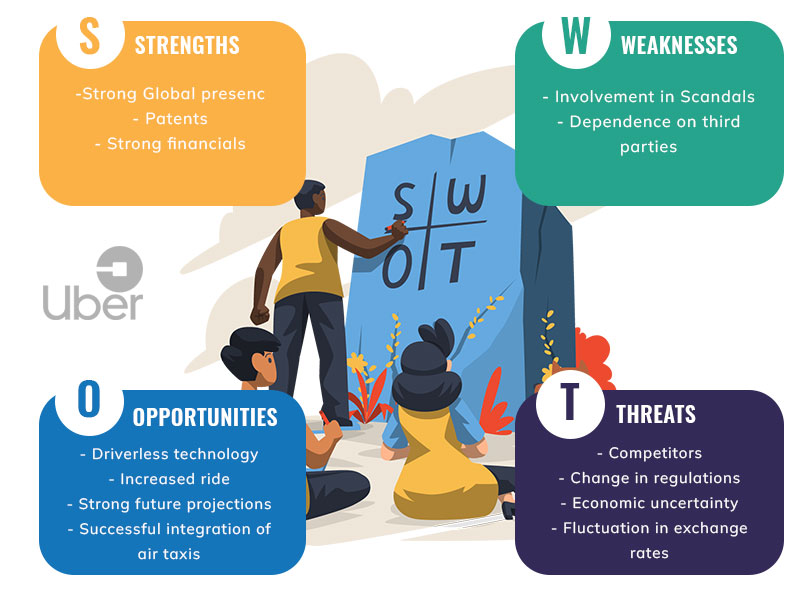 Uber's Strengths
Strong global presence- Uber is the largest ride-sharing platform in the world with a presence in over 70 countries. Such a huge presence can provide a competitive edge as it would be very difficult for the other companies to match the level of the operations because of the requirement of a huge amount of resources (Uber, 2022). Moreover, the company has recently acquired 14 companies in various fields related to food delivery, peer-to-peer car-sharing, and the vehicle for hire segment. These acquisitions would provide the company a stronghold in Pakistan, UAE, Australia, etc.
Patents- Uber has over 200 patents for various services that include point of interest-based pickup coordination system, user-specific landmarks for navigation systems, methods to enable user control of an autonomous vehicle, light electric vehicle defect management, a system for provisioning racks autonomously in data centers, and many other services.
Strong financials- According to the annual report, Uber earned a revenue of $17.45 billion in 2021, an increase of 57% over 2020. The gross spending on its platform also increased by 56% to 90,415 in 2021 from 57,897 in 2020. Its free cash flow has increased from $7.3 billion in 2020 to $7.8 in 2021. The increase in cash flow highlights more equity with the company which can be utilized to negate the threats arising from the external environment. The revenue from the freight sector rose exponentially in 2021, by 245% (Uber, 2021).
Uber's Weaknesses
Involvement in scandals- Uber has been unable to provide security to its customers and till now there have been over 100 lawsuits of sexual assault or abuse of passengers by the drivers (Taylor, 2017). This can harm the reputation of the company and result in loss of customers.
Dependence on third parties- Uber is highly dependent on third parties for most of its services including internet, GPS, payment services, and other infrastructure. The disruption in these services would make it difficult for the customers to access Uber's platform which may in turn result in the loss of customers (Uber, 2021).
Uber's Opportunities
Driverless technology- Uber can innovate with new technologies such as driverless taxis. This would enable the company to save on labor costs because of no requirement for drivers Expansion of delivery services- Uber's major source of earnings is its taxi business and the delivery service just contributes about $100 million in profits. The company can expand its food and grocery delivery business worldwide.
Increased ride- Sharing demand because of an increase in oil prices- The prices of crude oil have risen from $47.62 to $130 in the last 1 year because of disruption in supply from Russia, one of the major exporters of oil as a result of the Russia-Ukraine war, This would lead to a huge increase in the gasoline prices as well and because of that the customers would shift more to the ride-sharing platforms and hence Uber can tap on to this opportunity.
Strong future projections- The ride-sharing market in the US is expected to grow in double digits by 16.7% by 2030 to $344 billion. Uber can exploit this opportunity by increasing its fleet size to ensure more customers can avail of the service at a given period of time.
Successful integration of air taxis- Uber is currently experimenting with a new range of transportation known as air taxis wherein the cars would transport the people by air, saving a lot of time from traffic congestion. This can be a perfect opportunity for the company to exploit a completely new market and attract customers and emerge as a leader. Air taxis have immense potential to change the face of global transportation and Uber can emerge as a great initiator in this bid. In fact, as per Morgan Stanely Research, the market for flying cars is anticipated to reach USD 1.5 trillion by 2040, and this is where Uber has a great opportunity to tap.
Uber's Threats
Competitors- Uber faces intense competition from many companies. For example in the US and Canadian markets, Lyft is gaining in popularity, and in India, Ola is its biggest threat. Similarly, many other countries have the presence of various ride-sharing platforms that can be a threat to their market share. You can also read the SWOT Analysis of Lyft to determine its competitive position with respect to Uber.
Change in regulations- The recent change in regulations in many cities of the US and by the national government of the UK requiring the company to classify their gig workers as full-time employees can result in operational risk for the company. Changing regulations may force the company to undertake constant change management and adjustments.
Economic uncertainty- The pandemic has resulted in operational losses as last year the company's fare in the whole US was capped by the government because of a nationwide emergency. The company has also limited its operations by suspending its UberPool service (Uber, 2021).
Fluctuation in exchange rates- Uber deals in various countries and accepts different currencies but the reporting of results is just in USD. The fluctuation in currency rates can have an impact on the revenues, operating expenses, and other income which may ultimately affect their overall financial results (Uber, 2021).
Reduced travel frequency of commuters- The trend of working is shifting to remote working and in 2021 around 55% of workers worked from home globally. Further, 16% of companies prefer to just hire remote workers (Apollo Technical, 2022). This trend can reduce the need for mobility, and hence can pose a significant threat to the business of Uber.
To encapsulate, Uber serves a variety of global markets, it currently has operations in 70 countries. Further, the company also has the advantage of strong financials in the form of an increase in revenues and spending on the platform by the companies. The company is using its financial advantage to acquire companies in various international markets. A most successful recent acquisition is CarNextDoor in Australia as the company can now offer the riders the option of hiring cabs for an entire day. The company needs to vary in its driver's behavior and train them efficiently as they have been accused of mistreatment of the riders on various occasions.
Further, the company can look forward to implementing driverless technology, this would eliminate the need for drivers and hence the company can save on the costs. Further, the world is going through various challenges such as the war in Russia-Ukraine that has led to an increase in the crude prices and Uber can exploit this opportunity by deploying more cabs. Another global change relates to the emergence of a pandemic that has resulted in employees shifting to remote working culture. This trend can lead to less demand for cabs. Also, you can read the PESTLE Analysis of uber to determine how the macroenvironment factors influence the company or the automotive industry.
Recommended Readings
References
JUSTIA. (2022). Patents Assigned to Uber Technologies, Inc. Retrieved 11 April 2022, from https://patents.justia.com/assignee/uber-technologies-inc
TAYLOR, K. (2017). Uber is in hot water after a major cyberattack cover-up - here's the long list of scandals the company has weathered so far. Retrieved 11 April 2022, from https://www.businessinsider.in/tech/uber-is-in-hot-water-after-a-major-cyberattack-cover-up-heres-the-long-list-of-scandals-the-company-has-weathered-so-far/articleshow/61770326.cms#:~:text=April%202018%3A%20CNN%20reveals%20that,assault%20or%20abuse%20of%20passengers&text=On%20April%2030%2C%20CNN%20revealed,assault%20or%20abuse%20of%20passengers.
Uber. (2020). 2020 Annual Report. Retrieved 11 April 2022, from https://s23.q4cdn.com/407969754/files/doc_financials/2021/ar/FINAL-Typeset-Annual-Report.pdf