Citibank Overview
Citibank is among the top 5 banks in the US and has a significant international presence with operations in more than 160 countries and 200 million customers. The services provided by the bank include investment banking, advisory and transaction services, capital markets, risk management, and retail banking. The major competitors of the bank include Wells Fargo, Goldman Sachs, Bank of America, JPMorgan Chase & Co, and CIT Group.
This article presents an exclusive and detailed analysis of Citibank delving into the internal strengths and weaknesses of the company. Also, the article looks into the opportunities and threats available to Citibank in the external environment of the global banking industry. Besides, you can check out our detailed SWOT Analysis Guide to learn about the strategic model in detail.
A Scrupulous Elaboration of SWOT Analysis of Citibank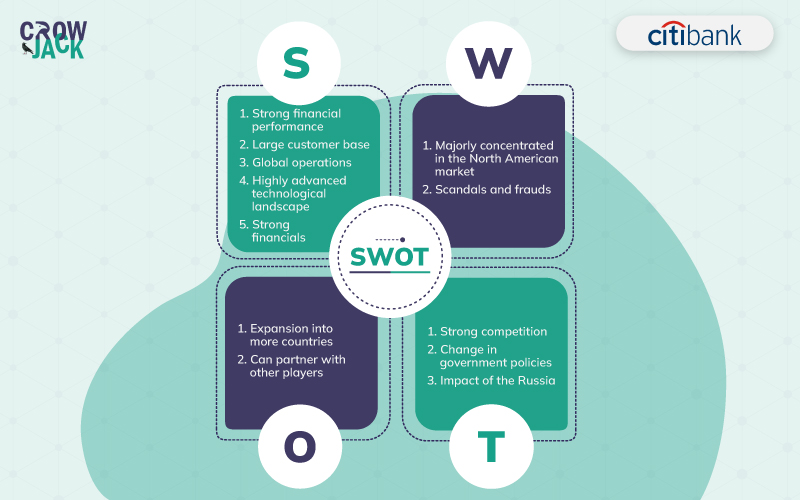 Strengths of Citibank
Weaknesses of Citibank
Opportunities for Citibank
Threats for Citibank
To encapsulate, Citibank has a large financial power that it can use to expand its operations in various emerging economies where it has little or no presence. Citibank has a strong competitive rivalry which can be mitigated by tying up with various Fintech startups which would enable the company to diversify its product segment and integrate more technology into business operations. Also, you can read the PESTLE Analysis of Citibank to determine how the macroenvironment factors influence the company or the automotive industry.
Recommended Readings
References
Bank of America. (2022). Bank of America. Retrieved 9 June 2022, from https://newsroom.bankofamerica.com/companyoverview#:~:text=The%20company%20provides%20unmatched%20convenience,54%20million%20verified%20digital%20users.
Flitter, E. (2021). Citigroup is fined $400 million over 'longstanding' internal problems.. www.nytimes.com. Retrieved 23 May 2022, from https://www.nytimes.com/2020/10/07/business/citigroup-fine-risk-management.html.
Rebello, J. (2021). RBI's Mastercard ban may hit Citibank India's retail business sale Read more at: https://economictimes.indiatimes.com/industry/banking/finance/banking/rbis-mastercard-ban-may-hit-citibank-indias-retail-biz-sale/articleshow/84533194.cms?utm_source=contentofinterest&utm_medium=text&utm_campaign=cppst. Retrieved 9 June 2022, from https://economictimes.indiatimes.com/industry/banking/finance/banking/rbis-mastercard-ban-may-hit-citibank-indias-retail-biz-sale/articleshow/84533194.cms
Samuely, A. Citibank commits to beacons after merchants give the technology a thumbs-up. Retrieved 9 June 2022, from https://www.retaildive.com/ex/mobilecommercedaily/citibank-commits-to-beacons-after-merchants-give-the-technology-a-thumbs-up