Introduction
The United States is one of the most preferred destinations for international students when it comes to pursuing Master of Science degrees. However, as we already know, for international students, the competition is massive and it is not that easy to get admission to MS programs abroad.
Table of Contents
Therefore, if you are looking to pursue your Master's from an accredited university in the US or other countries offering great opportunities, your application has to be highly impressive. For that, you will need to write an effective statement of purpose to come across as a strong candidate in front of the admissions committee. A Great guide on how to write sop can effectively assist you in creating an impressive statement of purpose for your dream universities and colleges.
This article provides you with a meticulously crafted sample SOP for MS admissions. This intelligible sample will provide you with great insights into how your MS SOP needs to be. So, let's get started.
Sample Statement of Purpose for MS Admissions
Scenario: A student having received a bachelor's degree in Computer Science and Engineering is applying for admission to Georgetown University for MS in project management. The student has been diligent in academics and also has strong personality attributes with impressive leadership qualities, analytical skills, and critical thinking.
SOP Sample for MS Admissions
Being from an army family, discipline is imbibed in my personality from the very beginning. Both my parents are army officers serving the nation with utmost sincerity. Also, my grandfather has served as one of the top army officers in the country during his tenure. Therefore, my upbringing has always been about learning how to remain organized and managed. From my early childhood days, I have perfected the art of time management, scheduling things effectively, and doing things with great conviction. These qualities that I have primarily learned from my family have always helped me to excel in every endeavor of life and I am amply proud of my family background.
Moving ahead, because I strongly believe that I have inculcated management skills and leadership qualities into my personality from a very young age, I am quite confident that I would do exceptionally well as a project manager. I have always been curious to know from my father and grandfather what it takes to manage troops from different cultural and social backgrounds to align them with the common goals of the regiments. Those answers have added great maturity to my perspectives in terms of managing and leading teams well to get the best out of them. Besides, even during my school and college years, I discovered while leading student projects that I have great innate skills when it comes to leadership and getting things done in a team environment. Eventually, my interest in working as a project manager kept increasing and during my college days, I had set my eyes on winning project manager roles at either Google or Microsoft.
Speaking of my academic background, my schooling has been from Army Public Schools in different cities of India as my parents were transferred regularly. In a positive sense, that helped me a great deal to learn about different cultures and develop brisk adaptability in unfamiliar situations. As a school student, I was always fascinated to learn about science and technology, computers, languages, and even mathematics. I was determined to take admission in one of the top colleges in India for B.Tech in CSE to pursue my keen interest in the field. I was sincere as well as fortunate enough to get admitted to IIT Delhi, one of the most eminent and prestigious engineering colleges in the country.
The institution offered a great extent of practical exposure and skill development in a way that I could enhance not only my knowledge but also my overall personality. Moreover, the institution offered the most advanced research facilities, international curriculums, and a highly experienced faculty. My professors and seniors always encouraged me to focus on practical learning than the end result. I graduated from the college in 2019 with high distinction and was privileged enough to get placed at McKinsey.
I worked at McKinsey till January 2022 as an analyst in the digital marketing department. The employment opportunity offered me unparalleled experiences in terms of working in real corporate environments, managing deadlines with efficiency, and working with diverse teams. In 2021, I was honored with the Employee of the Year Award for my conviction, diligence, and knack for innovation. This job experience strengthened my perspectives and I gained invaluable knowledge of the fascinating world of analytics that actually holds the key to the future. Moreover, I also acquired effective knowledge of digital marketing and how analytics can play such an imperative role in the field of marketing. My decision to quit the job was purely inspired by my dream of pursuing an MS in the US and eventually making it to the likes of Google or Microsoft. I will always have immense gratitude for McKinsey, my mentors, and supervisors in the company who ensured that I develop professionally on an everyday basis.
To reiterate my skills, my trait of resilience and being willing to take up challenges is what I would like to highlight as the most important thing about my personality. Besides, as I have already explained, I have strong leadership qualities that depend on communication and relationship-building skills. I have always believed that teams work on high trust that I have learned from the best leadership theories that define the most effective leadership styles. Moreover, I have good adaptability skills further backed by critical thinking and organizing skills. If I talk about time management skills, I follow the Pareto Principle for scheduling my daily tasks and I have really benefited from it to complete objectives on time. Lastly, I would also like to mention that I have an incredible temperament and patience. I can manage adverse team situations with patience while keeping team morale high. To add, I am confident in my emotional intelligence skills which have become essential in the modern world, especially for managers. Also, having worked at a great organization like McKinsey, I have already developed the prerequisite hard skills that are associated with the latest project management tools and other advanced tools that are redefining operations in contemporary organizations.
To continue further, I am highly convinced that Georgetown University, Washington will be the best-suited university to deliver on my expectations from this course. The university offers advanced learning methodologies and has a strong alumni network with distinguished personalities playing key roles in the United States and even internationally. Also, the university has a very appealing reputation of being one of the most progressive learning institutions not only in the US but also globally. The university will provide me with a diverse learning environment, highly advanced amenities, and a great campus life that is quite a unique proposition of the university. Being located in the capital city of Washington DC, I will be able to create strong connections and socialize with the brightest minds in the United States. I think for someone like me who has an incredible curiosity to learn from other people's perspectives, Washington will be the best place to pursue my Master's in. I will always be determined to take the legacy of the institution forward and also add value to the student community of the university with my versatile persona. I have always loved the idea of learning from a premier institution in a city like Washington and I will be grateful for this opportunity all my life.
Additional tips for writing an impressive SOP for MS admissions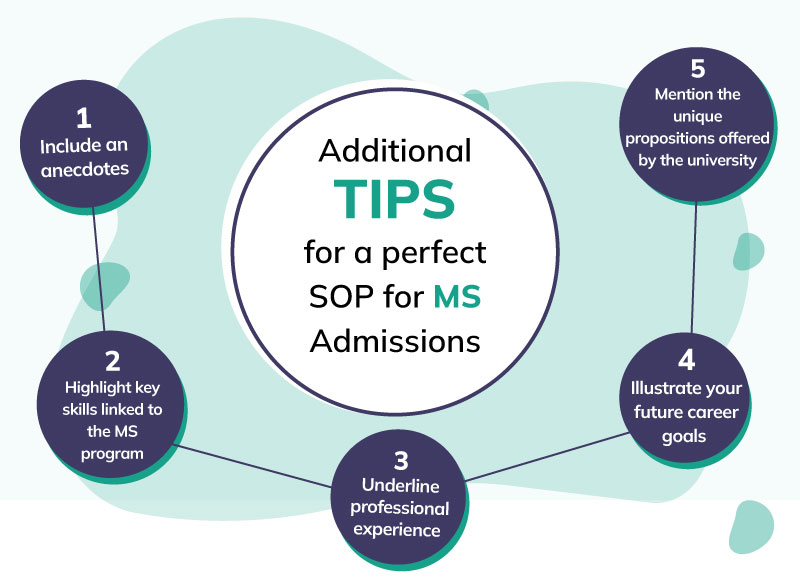 We are pretty sure that you are quite impressed with our sample SOP for MS admissions. You would have already gotten a fair idea of how a winning SOP needs to be for MS admissions. To assist you further, here are some bonus tips for MS SOPs.
Align your early age experiences or anecdotes with the specialization in MS that you are aiming for
Identify the key skills that are required to excel in your specialization and link them to your persona in a convincing and resolute manner. The admissions committee should be highly impressed that you have what it takes to excel in the field.
When it comes to your MS admissions SOP, any kind of internship experience or employment experience plays a major role. The effective elaboration of your valuable learning and experience in the real corporate world will add great value to your SOP.
In a careful and cautious manner, reiterate your fascination with the field time and again and relate it to your skills and experiences.
Lay great emphasis on talking about the university and the city where it is located. Engage the admissions committee by showing great appreciation for the university by mentioning the unique propositions that it offers.
Recommended Reading
FAQs
How long should an SOP be for MS admissions?
The length of an SOP varies, but it is typically around 500 to 1,000 words. Adherence to the specific word limit provided by the university is crucial.
What are the essential components to include in an SOP for MS admissions?
A Statement of purpose should include a brief introduction about the applicant, their academic background, professional experiences, career goals, and the reasons for choosing the particular MS program and university.
Is it necessary to follow a specific structure when writing the SOP for MS admissions?
While there is no strict structure, applicants should ensure their SOP has a clear introduction, body, and conclusion, and that it flows logically and cohesively.
Should an SOP for MS admissions have a formal tone or a more personal approach?
An SOP can have a balance of both formal and personal elements. It should maintain a professional tone while reflecting the applicant's personality and motivations.