Introduction
Education in the contemporary world has become a global phenomenon with students trespassing their geographical borders to acquire international education. If we talk about international student mobility, there are millions of international students pursuing degrees from eminent global universities. Are you aiming for your dream university too? For that, you would have to write a Statement of Purpose (SOP) for sure and you cannot really take any chances with it. Your SOP has to be perfect and incredibly appealing given the massive competition.
But what exactly is the Statement of Purpose and what does it take to write an extraordinary SOP to stand out from the competition? What does it take to make it to the top universities in the world? This complete guide on writing a Statement of Purpose will cater to all these doubts and definitely help you to make it to your dream college or university. So, let us first start with the basic definition of SOP.
What is a statement of purpose?
When you apply to a university abroad, you have to go through a closely monitored admission process that involves different parameters and screening stages. The admissions committee of the university you are applying to will have its own checklist of students' traits and experiences. For that, they will ask you to write a Statement of Purpose that will be a reflection of your academic journey and personal background. To elaborate, in your SOP, you will be talking about your journey as a student in terms of your career path, goals, skills, valuable experiences, and your inspirations behind applying for a particular course at a specific institution.
Also, an SOP in some cases is also referred to as the Letter of Intent or a Research Statement. The basic idea behind an SOP is to communicate to the admissions committee what your academic journey has been like and why you are a suitable candidate for the program. In fact, in terms of significance, it is one of the most imperative criteria in your application process. If your SOP is perfect and illustrates all your perspectives and experiences in a positive light, you are highly likely to secure your admission.
Going further, let us now delve into the process of framing an impressive and effective Statement of Purpose.
What is the usual word limit for an SOP?
A very common doubt that students have is about the word length of a Statement of Purpose. In the usual sense, an SOP is 800 to 1200 words long. You need to include the key details of your personality and academic experience in an essay corresponding to this word limit. However, specific universities and colleges may have different criteria when it comes to the word count for your SOP. You have to be sure that you check for any pre-defined specifications for SOP.
Next, students are also often unclear about what they need to include in their SOPs to create a strong and compelling impact on the admissions committee. The subsequent section provides elaborative details of the most crucial information that you ought to add to your SOP.
What to include in your statement of purpose?
The following are the key verticals of your personality and experience that you should be adding to your SOP.
An impressive account of personal background
Future goals and plans (short-term and long-term)
Academic interests and professional experience (majorly related to the selected course)
Co-curricular interests and related skills
Submitted papers or published work (in case applicable)
Appreciation for the university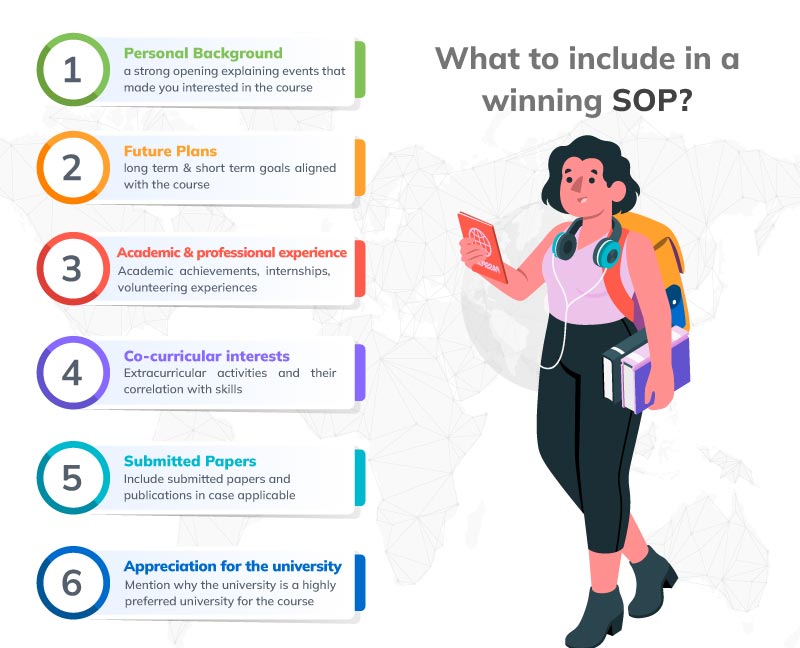 Given below is an elaboration of each of the above classifications of details
Personal background
Your SOP needs to be impressive from the word go and for that, to engage the admissions committee from the very beginning, you need a strong opening. This introduction should relate to an event in your personal life or your observation that compelled you to develop an early interest in the course you are applying for. You can also include a small anecdote to explain how you got interested in the course from a young age and how that shaped your perspectives further.
When you do that successfully, the admissions officers will be able to see a strong connection between your personality and the course. They will be able to correlate with your inclination to the field of study you are talking about.
Future Plans
Moving ahead, you need to explain your future plans in your SOP in a concise and effective way. To add, your future plans should clearly differentiate between your short-term and long-term goals. It will be in the best interest of your SOP to explain your goals in a way that they are aligned with the course you are applying for.
Besides, you should also explain how your desired course will help you in achieving your future goals. You can talk about how you will steer your career further, your ideal job, or even your entrepreneurial ambitions. In terms of short-term goals, you can highlight the milestones you have set for your future goals.
Academic and professional journey
Going ahead, you need to present a strong account of how your academic experiences have been thus far. So, if you are applying for a graduate school, you will be adding details about your schooling and high school education, enlisting all the academic achievements. In case you are applying for postgraduate programs, you also need to mention details linked to your graduation.
In this section of the SOP, you should also mention all your academic interests based on which you are applying for the course and how you have worked on these academic interests from an early stage.
Moreover, you also need to highlight your internship experience or any other work experience that you have gained along with your studies or during the gap years. The idea is to convince the admissions committee that you already hold a decent experience that can help you to excel in the course. It will create a worthwhile impression on admissions officers and add great value to your application.
For instance, let's say you are applying for a course in mass communication and journalism. For that, if you have internship experience in content writing, that would be a great advantage for you.
It is also essential that you include your co-curricular interests and skills such that your SOP offers a complete insight into your personality. You should talk about how your co-curricular interests and exposure have helped you to develop some highly significant skills. Further, you can link how your acquired skills will act as a perfect foundation for the course and assist you to establish a successful career in the same field.
By mentioning your co-curricular and personal interests, you can present your personality as being versatile and equipped with different skills and competencies. As you already know, there is high demand for diverse soft skills and hard skills in contemporary times and their significance will only get better with time.
Having said that, people in the admissions committee will rather differentiate between applications largely on the basis of skills and traits. You need to ensure you talk about your skills impressively and in a way that they correlate to the course and your future goals.
Submitted papers and publications
In case there is any publication in your name or if you have submitted any research papers, you should definitely mention that. Doing so will add greater credibility to your experience and your skills as well. If you have a published paper or article in your name, that would surely be eye-catching and will give you an edge over others.
You can also talk about the various dissertations and projects you have worked on during your graduation if you are applying for postgraduate programs.
Your inclination toward the university
Last but definitely not least, you need to include in your Statement of Purpose the unique value the university offers. In simple words, you need to express your desire to study at the university you are applying to in terms of its unique features, modern infrastructure, distinguished faculty, and global recognition.
You need to emphasize how the university offers the best education in the selected course and how the university will add great value to your career ambitions. Furthermore, you can also talk about how you will add value to the student community at the university and add a much greater legacy to the institution.
We are sure that now you have an absolutely clear idea of what your SOP should look like and what all it ought to include. Still, to guide you further, let us look at some additional tips for writing an SOP.
Additional tips for writing an impressive statement of purpose
Plan your SOP effectively
In the usual sense, an SOP includes 3 to 4 paragraphs. Before you begin writing your SOP, you should clearly plan how you are going to go about different sections of the SOP and what all information you need to include. You can prepare a rough flow chart or list down all the details you think are relevant to be added to the SOP. Further, you can shortlist these details by re-examining them.
Create a draft
Before you write your final SOP, it would make great sense to first write a draft. By doing so, you can evaluate your SOP before finalizing it. You can proofread your draft a few times and try to identify the gaps in it. It would be great to put yourself in the shoes of an admissions officer and then examine your SOP if it looks impressive enough. What is going to help you with this draft is a great sense of self-awareness. The more you know about yourself the more you will be able to express.
Ask for review
You can ask your friends or your teachers to review your SOP and share their feedback with you. In case you get constructive feedback and good recommendations from them, you should definitely add that to your draft. It is always a great idea to seek review from someone who is neutral and is not going to be biased either towards you or against you.
By following the above strategies and tips, you can literally impress even the most selective admissions officers at the most reputed universities. All it takes to ace a Statement of Purpose is a planned and effective approach based on key considerations presented above.
Before we conclude, let us look at an SOP example that we have crafted for your reference. This SOP example is for applying to a graduate course. So, let us get going.
How to write SOP for graduate school (Example)
Scenario: Statement of Purpose for applying to Monash University, Australia for admission in Masters in Business Administration.
My exposure to the corporate world started at a very young age as both my parents have spent decades working at the top corporate positions for the leading business firms in India. Currently, my father works as the Chief Marketing Officer of a top firm while my mother is on the board of directors of a leading financial services firm. From my childhood itself, I have seen my parents navigate corporate challenges and crisis situations to come out with effective solutions like true leaders do. Observing all this, I have always had a fascination for the business world and I have acquired strong leadership skills, situational awareness, and extraordinary communication skills from my parents. As I see it, all these skills will help me in making my mark in the business world.
Further, my future ambitions revolve around the idea of working at one of the top MNCs in Australia as a leading consultant. Australia has always fascinated me given the vibrant and dynamic culture that the country has to offer. Also, as I see it, Australia offers ample growth opportunities and I would want to make the most of them. To achieve this long-term goal, my immediate goal is to pursue an MBA from Australia and to be more specific, to pursue it from Monash University.
Speaking of my academic background, I have done my schooling at Delhi Public School, Delhi and then I was fortunate enough to make it to Hansraj College, Delhi University. I did my Bachelors in Commerce from Hansraj College, one of the leading institutions in India renowned for its great infrastructure, excellent faculty, and progressive education. The college exposed me to in-depth knowledge of business administration and commerce. Given my keen interest in the business world from a young age itself, I made the most of every opportunity to learn about the new dimensions related to this field of study, and eventually, I graduated with high distinction. Also, the kind of constructive environment that the Delhi University offers has helped me to develop a versatile, confident and intellectual personality.
I have always had a great interest in studying economics, business administration, and management subjects in my undergraduate course. Also, I got the great opportunity to intern with a budding startup as the business development manager for the course of 3 months. This internship helped me gain insightful and practical knowledge of how businesses operate in the real world and how they navigate competition. Also, I have done volunteer work with a few NGOs in planning their events, social media marketing, fundraising, and leading teams. I feel these experiences will be parts of a great foundation for me on which I can excel in my MBA and build my career as a consultant.
Further, if I talk about my co-curricular interests, from school days itself, I have been keenly interested in debating, public speaking, creative writing, and sports as well. I have represented my school and college in a host of national and international debating competitions that have added great confidence and have further helped me consolidate my communication skills. Also, having played cricket and volleyball for more than 10 years has made me mentally stronger and has helped to realize the value of teamwork and how one needs to hold a team together. I am pretty confident of my leadership skills, critical thinking skills, creativity, and knack for doing things outside of my comfort zone. Also, I have great empathy and emotional intelligence which I feel are the cornerstone of the contemporary world. I strongly believe that all these skills will push me to do great in my MBA and pursuing this course in Australia will help me further build on these skills.
I completely understand that a wide range of global universities and colleges offer the same course to international students. However, my elder sister is an alumnus of Monash University and from her experience, I very well know that this university has the best faculty, best infrastructure, and advanced teaching methodologies that focus more on the practical aspect of learning and development. My sister is now working as a brand management consultant in Sydney after she graduated from Monash University in 2018. Also, I feel that the kind of environment and warmth that this university offers to Indian students is extraordinary and unparalleled. Besides, with my versatile personality, I am sure I can add new dimensions to the student community of the university and easily fit into leadership roles at the student level. As I see it, I cannot think of a better university for this highly prestigious course. I am really excited and looking forward to bringing a much greater legacy to this university with my diligence, skills, and zeal to achieve my goals.
Conclusion
A Statement of Purpose is a complete reflection of your personality, academic journey, and experience. The sole purpose of an SOP is to explain to the admissions committee why you are the best-suited candidate for the course you are applying to and of course, doing that is no cakewalk. For writing an impactful SOP, you need a great approach and a set of strategies that culminate together to help you achieve your objective. The above strategies will never disappoint you when it comes to writing an exemplary SOP.
Recommended Readings
FAQs
How do I strike a balance between showcasing achievements and not sounding boastful?
Focus on presenting your accomplishments humbly, with an emphasis on your growth and learning experiences rather than just listing achievements.