Introduction
It is a well-known fact that MBA is one of the most preferred courses by international students. This explains why there is massive competition when it comes to securing admission in an MBA program at globally acclaimed universities. Having said that, your chances of making it to one of the top universities offering MBA courses largely depend on your statement of purpose.
All that you need is a great knowledge of how to write an SOP that can impress even the most selective universities. We bring you a perfect and effective sample of how a statement of purpose should be for securing admission in an MBA program at an accredited university. So, let us check out what a great sample SOP for MBA admission looks like.
Statement of Purpose Sample for MBA Admissions
Scenario: A student from India is applying for the full-time MBA Finance Program at the University of South Australia, Adelaide. The student is a graduate in commerce and has great knowledge of finance and accounting. Besides, the student has strong interpersonal skills with impressive leadership capabilities.
SOP Sample For MBA Admissions
Since my childhood or the early years of my schooling to be precise, I have always had a strong knack for mathematics and everything that revolved around mathematics. I clearly remember when my third-grade teacher told my parents that their child is a prodigy when it comes to mathematics and sets a fine example for the entire class on how one must excel in mathematics. While I have seen most people of my friends fear mathematics, I have always felt fascinated by numbers and all the functions that are applied to them. By the time I advanced to high school, I was pretty sure that I was going to build a highly successful career in finance. Given the kind of intelligible agility that I have had with mathematics, I am sure that I can achieve profound success in the field of finance.
If I talk about my ultimate career objective, I wish to work as one of the most renowned and celebrated financial consultants working in Australia. I have been to Australia a few times to visit my close relatives and I have always felt mesmerized by the thriving infrastructure of the country. Besides, I also found the culture in Australia to be very welcoming and inclusive of various socio-cultural backgrounds. To add, I have felt very impressed by the progressive mindsets in the Australian civil societies. Coming back to my ultimate career ambition, I must first complete an MBA with a specialization in finance from one of the top Australian universities. Thereafter, it will be essential for me to spend a few years working in one of the top finance or business firms in Australia.
Speaking of my academic journey, I did my schooling in Mumbai, often referred to as the financial capital of India which has one of the best education systems in the country. I did my schooling at the Convent of Jesus and Mary, Mumbai, and had always played a leading role in academic endeavors as well as co-curricular activities. The school offered me ample opportunities to develop versatile skills and core competencies even beyond mathematics. Thereafter, I pursued my Bachelors in Commerce from the eminent St. Xavier's College in Mumbai. The college further gave me perfect exposure to practical skill-building, advanced knowledge in business and finance in addition to various co-curricular activities.
Also, during my undergraduate course, I volunteered with a student NGO committed to providing opportunities in education to underprivileged children in and around Mumbai. Not only did I teach English to those kids but also managed the finances of the NGO. I feel that exposure not only taught me a lot more empathy but also helped to get first-hand experience of managing the finances of a real organization. I feel this small stint of such advanced practical learning has optimized my finance skills in an incredible and incremental way. Further, if I talk about my extracurricular interests, I have always had a great interest in oration and public speaking. I have won various declamation competitions representing my school as well as college at the national and international levels. Besides, I have had a great interest in sports, gaming, painting, and traveling. Why I am mentioning these interests, in particular, is because I owe a lot of skills and traits in my personality to these personal interests. While sports have helped me to acquire mental toughness and crisis handling skills, traveling has helped me to adjust to different cultures and cooperate with all kinds of people. Besides, in painting, I have found a way to express myself and also a way to manage my stress in an effective way. Also, painting has helped me to incorporate different perspectives into my personality. I am always open to learning new things and aligning these learnings with my future plans.
To conclude the description of my skills, I also feel that emotional intelligence, leadership, resilience, and adaptability come naturally to me and I have always been appreciated by my teachers, friends, and family for these qualities. I have complete faith in my abilities as a leader who can guide others in the right direction with compassion and effective communication. Also, I feel that I can be a good mentor to others when it comes to sharing knowledge in finance, accounts, business administration, and communication skills. I have no doubts that with these skills I have a great chance of excelling in an MBA program as the program requires students to be great leaders, innovators, adaptable, resilient, and progressive. I have always believed in being an initiator rather than being an imitator and I feel with that confidence, I can effectively deal with all sorts of challenges and crises. Also, I am sure that acquiring this degree from a top Australian University will help me to further capitalize on these potentials and give my career a perfect head start such that I can succeed in my long-term career goals.
At last, I would like to lay emphasis on why I am keen on pursuing this course from the University of South Australia. The university has one of the best infrastructures for the course and has a strong network of alumni who are in leading positions today at the top MNCs in Australia. Also, the university is welcoming to international students and has a diverse student population. I am sure I will be able to draw great value from the inclusive and inspiring environment that the university offers. Also, Adelaide is a leading city in Australia and I am looking forward to some great internship opportunities that the city has to offer as a part of the MBA curriculum. Not to forget, the university has a highly experienced and supportive faculty that is always ready to go out of the way to offer effective guidance to students. I do not see any other institute being better suited to my expectations from my MBA Finance program and my career ambitions thereafter.
Quick tips for writing a statement of purpose for an MBA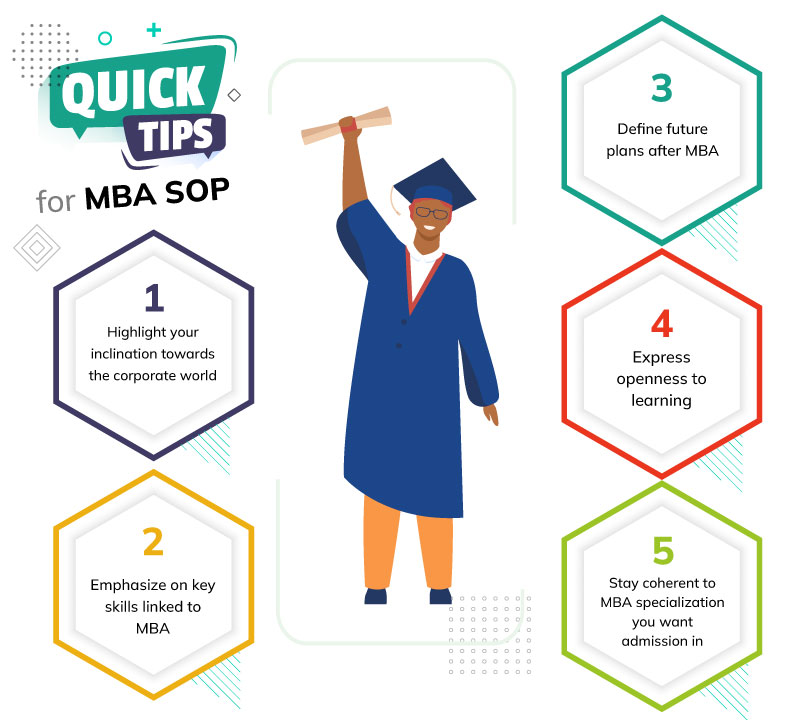 Highlight your interest in the business world, corporate culture, and business leadership from the very beginning.
Lay emphasis on skills like resilience, adaptability, critical thinking, creative intellect, problem-solving, situational awareness, and other key skills linked to MBA.
Clearly define your future plans in alignment with how you see your future in the country you are applying to. Mention why you would love to work in that country and what makes that country a great choice for you.
Explain how you are open to learning in a continuous way so that you can keep enhancing your capabilities to evolve as a better administrator.
Stay coherent to the specialization in MBA that you are applying for as that will keep the admissions officers engaged and will offer them great clarity.
Recommended Readings
FAQs
Is it advisable to get the SOP reviewed by others?
Yes, getting the SOP reviewed by trusted mentors, professors, or friends can be beneficial. They can provide valuable feedback and suggestions for improvement, ensuring that the SOP is polished and error-free.
Should an applicant customize their SOP for each MBA program?
Yes, it is advisable to customize the SOP for each MBA program. Highlighting specific aspects of the program that appeal to the applicant and align with their career goals shows genuine interest and increases the chances of being admitted.