Overview
Effective leadership across all disciplines is closely related to traits that make great leaders stand out from the rest. But do you think these traits are innate to leaders or can be developed over time with a growth mindset? The Trait Theory of Leadership proposed for the first time by Thomas Carlyle in the mid-1800s asserts that excellent leadership is closely linked to inherent traits. In fact, this theory is deeply connected to the Great Man Leadership Theory.
In simpler terms, the trait theory of leadership proposes that leaders are born with innate leadership qualities or traits that set them apart from the rest. Further, individuals can keep building on these traits and add to their leadership efficiency.But here it is important to shed some light on the different categories of leadership traits.
Primarily, there are four major classifications of leadership traits listed below.
1. Personality traits
Personality attributes are salient to leadership traits as strong personalities further inspire strong leadership qualities. When individuals have charismatic personalities driven by high motivation, they emerge as strong leaders. Similarly, a wide range of other personality traits also contributes to leadership abilities.
2. Demographics traits
It is an undeniable fact that traits are also influenced by cultural dimensions that can be viewed in the terms of geographical demographics. For instance, people in the United States are more influenced by individualism while people in India are more into collectivism. Having said that, leadership traits can be highly influenced by geographical demographics. Besides, gender demographics also play a key role as men and women are usually seen to have varied traits with respect to leadership.
3. Task competency
Every leader has his or her own way of approaching tasks and completing them. While some people approach tasks in an incremental way, others aim for the overall outcome. Similarly, while some people approach tasks with emotional stability, others may feel anxious or emotionally confused. Subject to different traits, different leaders approach tasks differently.
4. Interpersonal skills
Interpersonal skills or traits define leaders' abilities to interact with other people whether they are their colleagues, employees, stakeholders, and so on. In today's world, interpersonal skills have incredible value and for leaders, it has become almost indispensable to possess appealing and exemplary social skills. The greater the interpersonal skills the better the effectiveness as a leader.
The basic idea of understanding these classifications is to put forth the idea that different leaders have different leadership traits and they can largely vary from one individual to another. Not all leaders have all the leadership characteristics but what is more important is how much are leaders willing to learn and capitalize on their innate qualities. Listed below are some examples of fine leadership traits.
Examples of fine leadership traits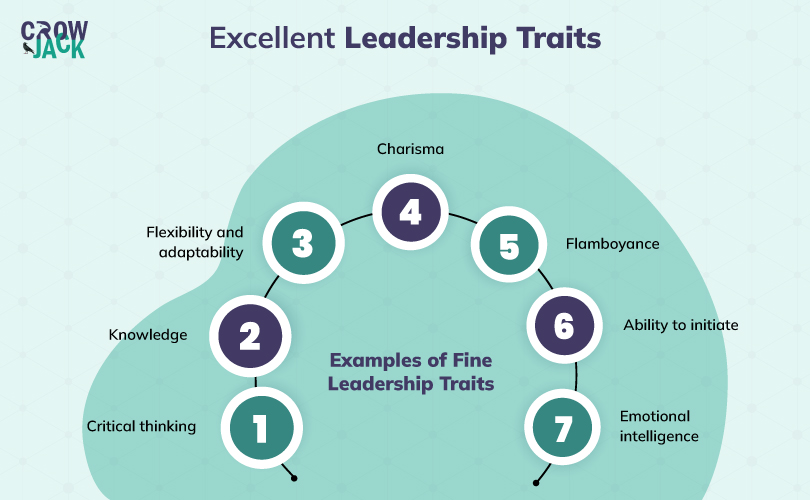 In fact, the theory also highlights the key traits that are viewed as the core competencies of strong leaders. These traits are listed below.
1. Critical thinking skills
Effective leaders have the ability to analyze all facts and details before making decisions or coming to any conclusions. Critical thinking also implies that leaders take others' perspectives into consideration and make collective decisions. Having said that, critical thinking can be a great foundation for rational decision-making.
2. Knowledge
Knowledge is a key trait when it comes to leadership. If we are looking at it in the context of business leadership, great leaders possess excellent knowledge of business management, financial management, and strategic planning.
3. Flexibility and adaptability
The best leaders are resilient to challenges and respond with great flexibility and adaptability. They adapt to new scenarios and ways briskly and set fine examples for their team in terms of adaptability.
4. Charisma
Natural or inherent leaders have charismatic personalities and they conduct themselves in an inspiring form. They are highly motivated and inspire motivation among others too. To add, this natural charisma helps leaders to constantly improve their communication skills and master the art of strategic communication.
5. Flamboyance
True leaders are confident about their skills and their abilities to deal with unprecedented challenges. This flamboyance reflects in their risk-taking abilities, interpersonal skills, and their overall personalities.
6. Ability to initiate
Great leaders have the unique trait of being initiators rather than being imitators. Leaders lead by example and take initiatives to bring new ideas, innovations, and prospects to the forefront. This ability to initiate is what makes great leaders excellent organizational change management process.
7. Emotional intelligence
It is usually the natural ability of efficient leaders to manage and control their emotions in a positive way to drive positive outcomes. Also, emotional intelligence is about understanding others' emotions, showing empathy to others, and driving their emotions toward positive outcomes.
Key features of the Trait Theory of Leadership
The Trait Theory of Leadership is inspired by the 'Great Man Theory of Leadership' proposed in the 19th century by Thomas Carlyle.

The theory emphasizes that the leadership traits of organizational leaders serve as a perfect template for people in the organization. People in the organization must look up to the traits of their leaders and, having said that, try to learn from them. In other words, traits of excellent leadership need to pass on from the leaders to the followers.

The theory promotes the central idea that people can enhance their leadership capabilities when they already have some natural and innate leadership qualities.

As per the theory, effectiveness in leadership is evaluated in terms of certain inherent traits of leadership that include knowledge, motivation, and confidence among the other traits listed above. Having said that, the theory is applied to assess the leadership potentials of individuals based on their natural leadership abilities. In fact, in modern times, the importance of EQ in the workplace is constantly increasing and it is becoming an essential human trait.
A natural leader understands that intrinsic motivation is equally important to nurture the strengths of subordinates and inspire them to work better. To induce leadership qualities in an individual, theories like Maslow's hierarchy of needs will help to pave a path for realizing one's own inherent calibre that would help to become a better leader.
Relevance of the theory in the contemporary corporate world
As it is quite evident that the success of business organizations is largely dependent on how effective their leadership is. Besides, it is also essential for organizations to identify potential leaders that can take executive positions in the near future.
Any business organization wants people with great leadership skills at different levels of the organizational structure ranging from project managers to chief executive officers. This theory offers great insight into the identification of leadership prospects within organizations. To explain, based on how this theory highlights some key leadership traits, the top management can assess individuals in coherence with these traits. By doing so, they can recognize the best leadership prospects who have some natural leadership qualities and can further build on them to emerge as highly effective and impactful leaders. Also, it can be seen in the contemporary world that leaders with a few traits are less effective than leaders with a host of fine leading capabilities. With the trait theory of leadership, organizations can lead to the holistic upbringing of leaders.
A real-world example of trait leadership
Tim Cook leadership style analysis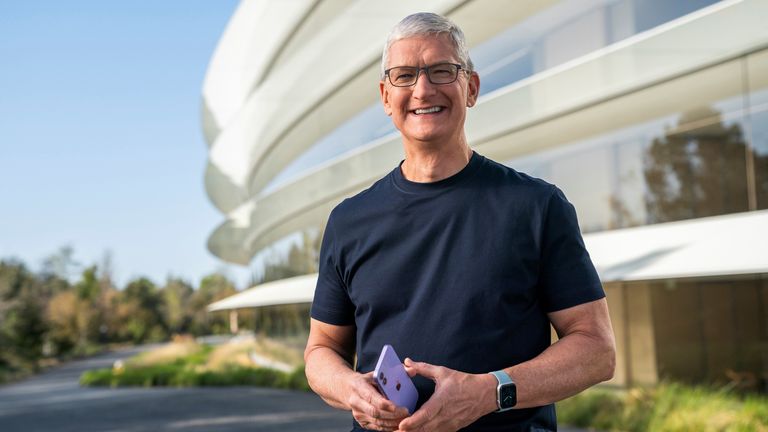 As we all know very well, in 2011, Apple went through a massive transformation when Tim Cook took over as the CEO of the company. When Apple wanted to look for a successor to Steve Jobs, Tim Cook seemed a pretty obvious choice to the company given his strong leadership traits like trustworthiness, intelligence, people skills, and other inherent qualities of leadership. Ever since Tim Cook took over as the CEO, he has advanced the company to new heights and has set a new benchmark of leadership qualities for the world. It is absolutely interesting to note that after taking over as the CEO in 2011, Tim Cook has done the unthinkable for Apple. To explain, as per Statista, between 2011 and 2021, the market capitalization of Apple went from about USD 350 billion to USD 2.5 trillion which is extraordinarily impressive. The company believed in Tim Cook's inherent abilities as a leader along with his vast experience and it turned out to be a historic decision. With his charisma, vision, and other inherent qualities, Tim Cook has led Apple to achieve exponential and unrealistic growth.
But how exactly did Tim Cook make this turnaround possible? What are his most unique traits that have helped Apple Advance to such heights? Here, we must deliberate on the leadership style of Tim Cook.
To begin with, Tim Cook has inherent risk-taking abilities and he backed them to launch premium products in emerging markets like India. Asian countries were not always the ideal markets for premium segment products like iPhones. But he took the risk and today, India is one of the largest markets for Apple and has added substantially to the company's growth. To add, another great trait of Tim Cook is that he leads from the front and leads by example, be it about being inclusive, humble, or innovative. His aura as a charismatic leader keeps employees pushing hard to get the best out of themselves and do something extraordinary. Besides, another highlighting trait of Tim Cook is his immense self-confidence and self-belief. He backs himself for whatever he does and that has helped Apple to explore and exploit opportunities outside of its comfort zone.
The company went about diversifying its product portfolio, launching a wide range of products, and entering the wearable technology market and software services. Besides, Apple went about creating a strong presence in most countries of the world riding on Tim Cook's belief that this was possible and worth the effort. Apple has consistently understood different markets and consumer expectations to deliver the highest proposition to customers. To add, with his fine leadership, Tim Cook has guided the company toward sustainability to meet the expectations of consumers who are now showing a much greater inclination to sustainability.
All of this has been possible largely because of Tim Cook's leadership qualities and his knack for passing on his traits to people at all levels of the company. The company continues to draw incredible value from his leadership traits and competencies and is constantly tapping new markets with excellent products. For that, Tim Cook encourages regular strategic analysis by conducting the PESTLE Analysis of Apple and applying other analysis models.