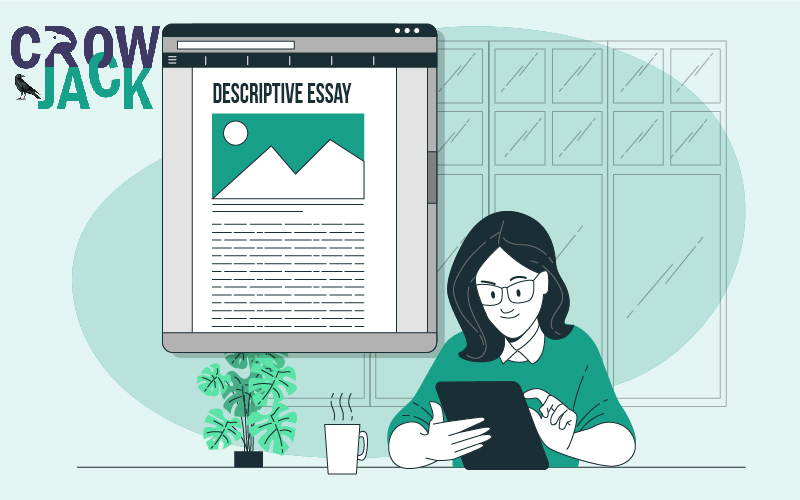 Overview
Expressing or describing different things, places, or emotions can be one of the easiest or toughest tasks one might have to do. This is the reason why some students love descriptive essays and some find them quite complex. For example, if you have to describe something you have experienced yourself it somehow becomes easier for you to explain it to other people as well. However, if you get an assessment where you have described using your imagination, that's where your task gets tricky. This is where this all-inclusive guide to writing a descriptive essay will help you. But before getting into that, it is essential to know what a descriptive essay is.
What is a descriptive essay?
A descriptive essay is a form in which students are often assigned the assessment of describing various imaginative, personal, or conceptual topics. This form of academic writing is comparatively more creative than all other types of essays. The reason is that this type of essay offers a wide range of artistic freedom to the writers to describe different topics effectively. For a better understanding, let's have a look at different types of descriptive essay topics that can be chosen for writing essay assessments.
Descriptive essay topics
Imaginative descriptive essay
In imaginative descriptive essay writing, you often encounter topics that tap into your imagination and allow you to showcase your creativity. Some example topics for imaginative descriptive essays are
Describe what it would be like if you got to become the prime minister of your country for 1 day.
Describe what it would be like to go to the moon.
Personal descriptive essay
In a personal descriptive essay, you will get certain topics that will be based on your personal experience. Some interesting topics for a personal descriptive essay are
Describe the most memorable trip with your family.
Describe your favourite family member.
Conceptual descriptive essay
Conceptual descriptive essays are when you are asked to write about feelings rather than asking you to describe experiences or imaginative concepts. While writing conceptual descriptive essays, you have the whole canvas and it is up to your imagination and thoughts on how you are going to describe the concept in your words. Some of the conceptual descriptive essay topics are
Describe your definition of a happy life.
Describe the relationship between happiness and productivity.
What is the structure of a descriptive essay?
Similar to every other types of essays in academic writing, the structure of the descriptive essay is also divided into three parts
Introduction
Body paragraph
Conclusion
However, an essential consideration here is that although the structure or elements of descriptive essays are the same as other types of essays, every element of the essay has its own importance. Below is a detailed elaboration of all elements of a descriptive essay that will contribute to creating an impressive essay.
Introduction of a descriptive essay
The introduction of every form of academic writing is its make-or-break point through which users will decide whether they are engaged in the essay and find it interesting. The introduction of your essay should clearly introduce your readers to the subject you are describing. Whether it is a person, place, or even if it is a conceptual topic, your readers should clearly get an idea of the subject you will be talking about throughout the essay. As the introduction is the make-or-break point of your essay, it is important to take care of the important elements of the introduction. If you want to learn about how to write an essay introduction in detail, you can go through our introduction guide.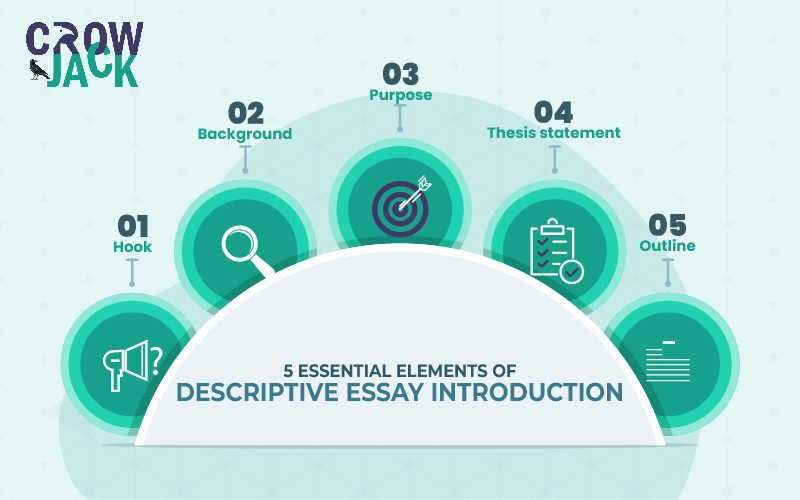 For your better understanding of the introduction, we have provided an in-depth example of the descriptive essay covering a sample of all its elements.
Example essay prompt: Describe your favourite person in the family.
What is the hook of a descriptive essay?
A hook is an impressive statement related to the subject that grabs the attention of your readers and compels them to read your essay till the end. A hook in an essay introduction can be a piece of statistical information, claim, or quotation that directly points toward the subject you choose to describe. The hook in the context of our example essay prompt will be;
Topic: Describe your favourite person in the family
Example hook
As Anne Geddes quotes, "Any man can be a father, but it takes someone special to be a dad."
What is the background information of a descriptive essay?
In your introduction paragraph, after you have effectively hooked your reader through an impressive hook, it is time to provide some background information on the subject. This background information will help readers in understanding the context of the essay. Background information helps writers in creating the significance of the subject irrespective of the fact that a subject is a place, person, or something more abstract. The background information in the context of our example essay prompt will be;
Topic: Describe your favorite person in the family
Sample background information
Irrespective of the fact that there are often some arguments or disagreements, in the end, family is what stands till the end. Even all the animals around the globe have a familial bond that keeps them together. This highlights the importance of family for the survival of living beings. Out of every family member, my father is my favorite person in the family. He is the cornerstone that is holding our whole family together. Like every father, he has always been there for his children and did everything possible to fulfill our needs and wishes.
What is the thesis statement and purpose of a descriptive essay?
When it comes to writing a thesis statement for a descriptive essay, it should be concise, simple, and straightforward. It should clearly let your readers know about the main subject that you are going to discuss in your essay. That is the reason the thesis statement of the descriptive essay can also be interchangeable with the purpose of the descriptive essay. Both elements of the descriptive focus on shedding light on the central idea of the essay and making readers familiar with the subject you will be discussing. If you want to learn more about how to write a thesis statement, you can go through our thesis statement guide.
Topic: Describe your favourite person in the family
Thesis statement/purpose
I have always been close to my father since my childhood and that is the reason, he has always been my favourite family member. I have always been his admirer and always tried to walk on his morals and values. His high values and morals are one major reason that he is my favourite family member.
What is the outline of a descriptive essay?
The outline to the reader is just like a roadmap to a traveller. This implies that the outline of your descriptive essay should be concise enough that your readers get a clear idea of what elements they will discover in the whole essay. For example, as we describe a person, we can outline the essay where we will describe the physical appearance of a person first. Then we can go on to his/her other characteristics such as personality traits or special qualities of a person. You have to remember that in a descriptive essay, your outline should be simple and concise.
Topic: Describe your favourite person in the family
Outline of the essay
This essay will first focus on the physical appearance of my father and later on the major personality traits that make him my favourite will be described in an essay.
Now that you have effectively understood all the elements that very well explain how to write an introduction, now it's time to move ahead to the second main aspect of the essay i.e. body paragraphs. So, in the next sections, you will discover the correct way of writing the body paragraphs of an introduction.
Body paragraph of a descriptive essay
When it comes to writing the body paragraphs of a descriptive essay, you should always ensure that you go in-depth while providing detailed information about the person you are describing. However, while going in-depth also, you should take care that you never overwhelm your audience with too much information in a single paragraph. There is no hard and fast rule to follow while writing the body paragraphs of a descriptive essay. But, it often starts with a topic sentence that gives the reader a clear idea of what will be discussed in the whole body paragraph. This is the reason, the topic sentence of your body paragraph should be simple and concise, and on point. Next comes the elaboration of the topic sentence which explains the readers the context of the topic sentence. Once you have explained or described the body paragraph effectively, lastly comes the transition sentence that forms the cohesion between your current paragraph and the next paragraph.
Topic: Describe your favorite person in the family
Body paragraph of the essay
As good and kind-hearted as my father is from the inside, he is handsome on the outside as well.
Talking about his physical appearance, he is a tall, good build handsome man who found his way of excitement in his early fifties. He is my role model because irrespective of every other quality that he has instilled in me, he taught me how to be kind. This quality of kindness has always helped me understand other peoples emotions and be a better companion or better version of myself at different stages of life.
However, when the time has been tough with me, he has been tougher to make me learn things.
After describing your main subject in two to three paragraphs similar to the above-given paragraphs, you can write your descriptive essay effectively. However, after the body paragraphs, our job is not done because we are still left with concluding our descriptive essay which is very important. Hence, the next section will talk about writing a conclusion of a descriptive essay.
Conclusion of a descriptive essay
The last nail of finishing the descriptive essay is by giving a final shape to the whole essay by writing an impressive conclusion and making an everlasting impression on your readers. However, while writing the conclusion of a descriptive essay, you need to make sure that you conclude what is said above instead of giving any type of new information to the readers. This can be done very easily, you simply have to restate your thesis statement focusing on the importance of your subject. Lastly, you can conclude your essay by leaving the audience stunned. This can be done by again writing a beautiful quote ending on a positive note.
Topic: Describe your favorite person in the family
Conclusion of the essay
In a nutshell, as said in the very beginning that everyone can be a father but it takes courage to be a dad. Based on this, I can surely say that my father is the best dad in the world and surely a great human being that is surely a role model in my life. This role model is surely the torch bearer that has indeed lightened my way to achieving clear visions and effective goals in my life.
With this, we believe you are all set to write a descriptive essay like a professional. So, now you no longer need to stress about writing a descriptive essay because you have gotten all the necessary knowledge that was required and now it's your time to nail your descriptive essay.