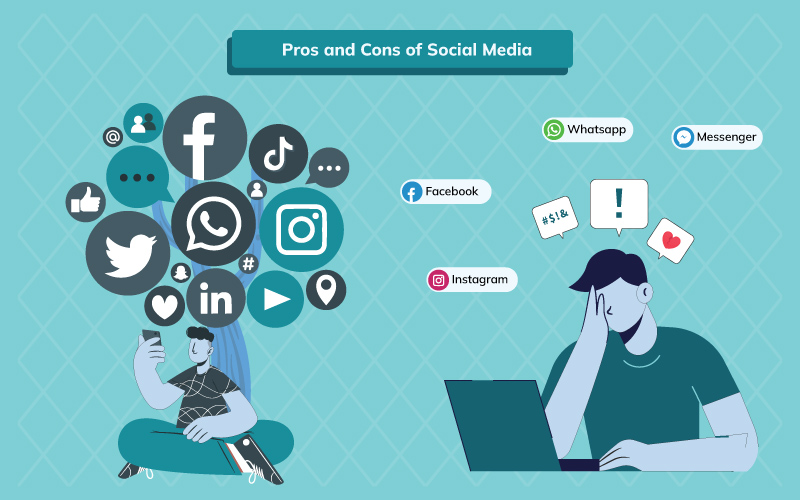 Overview
40 years ago, the idea of virtually socializing with friends via smartphones would have seemed hard to believe. But today, social media has become an indispensable part of our lives. We are especially talking about teenagers, who could not even imagine going out for a luxurious dinner or clubbing, and not posting updates on their social media accounts.
Table of Contents
The very first social media site came into existence in 1997 by the name SixDegrees.com. The social site could allow an individual to set up a profile, create connections, and interact via messaging. The same era witnessed the birth of a few other social media sites like Myspace, Facemash, Twitter, and Facebook. From then onwards the trend of social media skyrocketed in a way that it never turned back.
Rise of social media
Sixdegrees.com started with the unique idea of allowing people to virtually connect with each other and share their daily updates with each other. Although it started with great hype, due to a lack of people connected to the Internet, networks were limited. However, after the widespread use of the internet, social media also spread like wildfire.
And today, as per statistics, there are more than 4.70 billion users of social media currently around the globe which accounts for almost 60% of the world's population. It would be no surprise if this percentage further grows in the future as the world continues to be obsessed with social media. Today, even three- to four-year-old kids have a social media account, and that sets a new narrative in the ways of the world.
Today, social media is a one-stop solution for everything. Right from entertaining people, educating the audience, connecting friends, and businesses selling their products and services, social media got it all covered. In fact, today even marketing has become quite synonymous with social media marketing, isn't it?
Besides, it is interesting to note that the average time spent on social media is 2h 29m daily. In fact, if we talk about millennials, Gen Z or even young kids these days, their daily social media usage may even be in excess of five to six hours. Clearly, the younger generation perceives life as being quite unimaginable without Instagram, Facebook and Snapchat.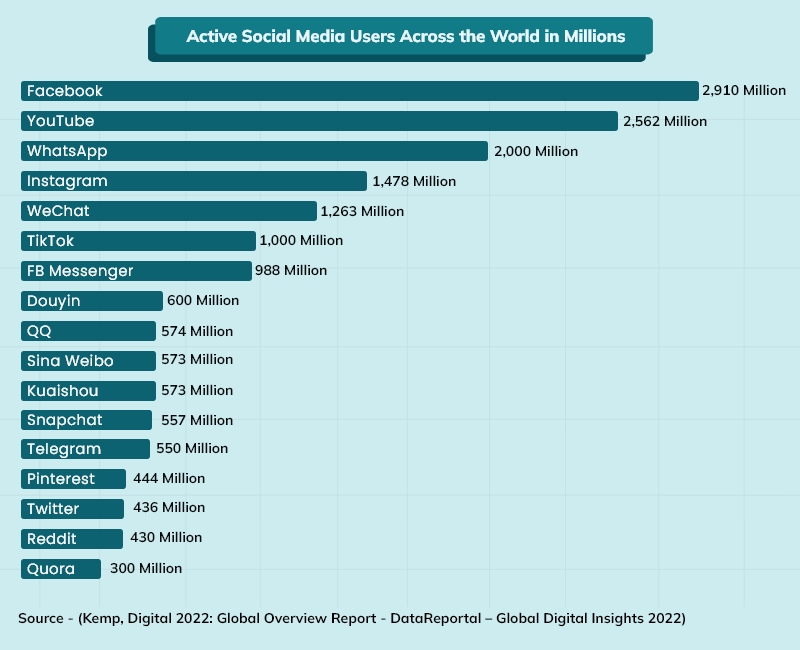 But it is the ultimate rule of the world, that every story has the other side as well. If social media has helped many of us in connecting with our loved ones, it is also true that social media may be the greatest source of negativity or distraction in our lives. With a large influx of fake news on social media along with bullying and trolling, social media seems like a villain at times.
Hence, it is really essential to look at both sides of social media before declaring it a boon or bane for the globe. That being said, this social media essay will effectively highlight the major pros and cons of social media. Alongside this, a sample essay that will describe the role of social media in providing credible information is also provided by the end of the essay. In fact, as a student, you may be asked to write an argumentative essay on social media as a part of your academic assignments.
Given the significance of this topic in contemporary times, it does make an important topic for academic essays. The sample essay included herein can be a perfect template for writing great argumentative essays on social media. So, let us dive right into the essay without further delay starting with the merits of social media.
Advantages of social media
We would all agree with the fact that social media has changed our lives for the better. There are some incredible and unbelievable advantages of social media that have added great value to our lives.
In fact, during the unprecedented times of COVID-19, social media played a vital role in amplifying the stress calls, sharing quick information and keeping people updated. People could get most of the information they sought on social media. Social media platforms like Twitter, Instagram and Facebook aided the global response to COVID-19 in quite a responsible way.
The advantages of social media are in abundance if social media is used for the right purposes and responsibly. We have arranged the pros of social media into different categories for greater clarity and better understanding. So, let us get going!
Social media as a tool for business growth
Businesses have been in a constant run in order to stand out in a highly competitive market of every industry. Besides, Jeff Bezos correctly quoted the present situation of the business world stating, "It's hard to find businesses that do not sell online". And for selling online, there is no medium as affordable and as easily accessible as social media.
Social media is widely used by entrepreneurs, merchants, and business owners and its usage has drastically increased since the 2020 pandemic. Today, many entrepreneurs and marketers leverage social media for different reasons ranging from social media marketing to hiring. Some of the business benefits of social media are listed below.
Business & product marketing: Social media is currently the top marketing channel. Even 73% of digital marketers stress that their social media marketing efforts are beneficial for their businesses. Social media marketing has helped many businesses in establishing their identities and forming better customer relationships. Along with this, it also effectively delivers a business message to its target audience.
Talent search: In contemporary times, social media is also one of the top sources of talent acquisition. It acts as a connecting bridge between employers and job seekers. Many employers post vacancies on several sites like LinkedIn and Indeed. The best part is that It helps businesses in finding perfect candidates for their businesses that will assist companies in successfully attaining their hiring objectives.
Social media can bring a lot of benefits that can assist in enhancing the growth of businesses. Social media has now become a way for businesses to meet their business objectives with greater assurance. The only need is to understand the benefits of social media usage on businesses' performance in the long run (Hanafizadeh et al. , 2021).
Social media as a platform for education & information
With the help of the internet and social media, the world has become a global village. Besides, in this global village, social media is a primary source of information and news about the latest happenings. A study by the Pew Research Center in 2019 found that more than 54% of American adults used social media to get news and latest information.
Thanks to social media, today, people sitting in the US can access news updates from Australia within minutes via social media. This is the kind of power that social media has in the modern day context as a source of information.
To continue, social media is currently a top preferred destination to learn about products, brands, services, and organizations. Today, 79% of shoppers say that they trust online reviews. Additionally, the same stats also validate that more than 54% of consumers read online reviews before making a purchase.
Other than that, rather than chasing companies, many job seekers turn to social media sites like Indeed, CareerBuilder, LinkedIn, and Glassdoor. They do so to find information about employment vacancies in the top companies.
The latest statistics indicate that 86% of job seekers use social media during their job hunt and about 73% of them between 18 and 35 years find a job using a social media platform.
Social media as a platform for budding artists
I am sure you follow some highly talented artists on social media and appreciate their art. In a literal sense social media has inspired passionate artists to follow their heart. We see a lot of young and talented artists leave unconventional careers and bank on social media to find recognition for their talent.
It is amusing to know, there are somewhere between 3.2 million and 37.8 million influencers that are successfully earning through social media platforms like Instagram, Facebook. Clearly, social media has offered a platform for many budding artists to showcase their talents. To reiterate, social media platforms like Instagram are giving budding artists the confidence to pursue their artistic dreams.
Today, young artists have confidence that they can earn greater recognition on social media. More importantly, social media is also helping influencers and artists earn money with platforms' monetizing features.
Social media as a catalyst for globalization
As discussed above, the world is becoming a global village, and the only reason this has been possible is because of the emergence of different technologies and social media is one of them. In fact, social media became a catalyst for globalization.
To elaborate, social media has allowed people to connect from all around the globe. This easy-to-access connectivity has enabled many people to exchange their cultures and learn and adapt to the uniqueness of other cultures.
For example, an American today can easily connect with yoga instructors in India through social media to learn about Yoga which has been a widely popular form of spiritual discipline in India. This way, social media has allowed people to not only exchange information, thoughts, or ideas but also adapt to different cultures.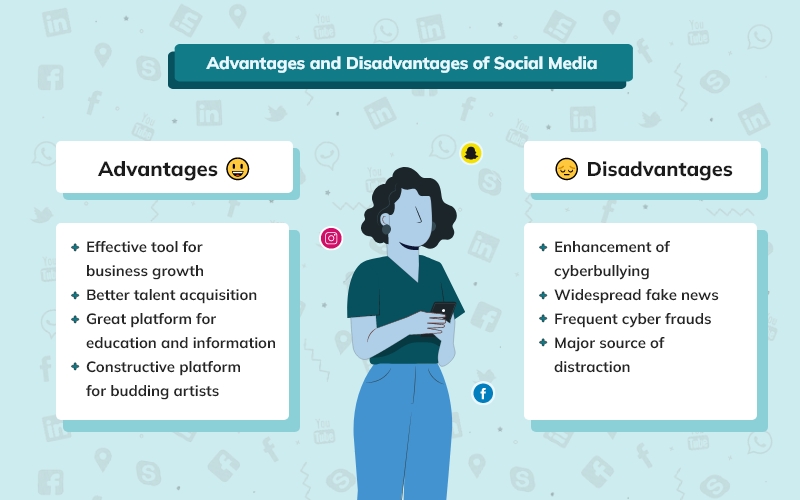 Disadvantages of social media
Now that you have been quite familiar with the advantages of social media, it is essential to flip to the other side of the coin as well. Hence, the below given are the demerits of social media.
Enhancement of cyberbullying
Cyberbullying, child abuse and related aspects are among the major drawbacks of social media usage worldwide. It is when one uses a social media platform to send threatening or harassing messages or videos to another.
Cyberbullying or cyber harassment has increased in the modern era, especially among teenagers. It can impact sleeping habits and researchers think that it may be connected to suicide among youths.
Widespread fake new
Many studies have pointed to the prevalence of misinformation and disinformation worldwide and 50% of Americans stress that fake news has become a big problem. Apart from that, viral information many times causes defamation to brands and businesses. One of the recent happenings was when Elon Musk pulled out of the Twitter deal, citing fake accounts as one of the major reasons.
Frequent cyber frauds
Apart from that, many studies point to Facebook as a top source of illegal businesses and fake accounts. Facebook currently employs thousands of personnel across to combat misinformation and fake accounts however, many criminals end up setting up new accounts. Besides, millions of social media companies like Meta are primary targets for hackers when it comes to accessing private information. With that, millions are exposed to cyber crimes whenever they log into their social media accounts (Drahošová & Balco, 2017).
Increase in mental health issues
Many social media users are victims of hateful comments that leave them anxious, stressed, and depressed. Celebrities and public figures suffer mostly since their lives are like open books.
To substantiate, one study linked social media use to mental health decline. To be specific, stats show that Facebook access led to a 7% in depression among college students worldwide.
Major source of distraction
Millions around the world fail to accomplish tasks timely or get quality sleep due to the excessive duration they spend on social media. Many individuals and professionals usually get distracted from the intended tasks which even results in inefficiency (Koessmeier & Büttner, 2021).
Social media essay: Sample Essay
Having looked at the different dimensions of social media including the latest statistics, now let's take a look at what your social media sample essay can look like. You can draw a leaf from the provided social media sample essay and craft one with any additional relevant information to render your essay powerful and fact-filled.
Besides, if you want to read essays on other topics, you can visit our sample essays section and go through some meticulously researched essays.
Role of social media as a credible source of information and news in contemporary times
Introduction
The dynamics of the contemporary world are constantly changing and people are openly accepting the trend of social media and are making it an integral part of their lives. With 10.1% of YOU (Year on year) growth, social media users globally grew from 4.2 billion in January 2021 to 4.62 billion in January 2022 (Chaffey, 2022). People across the globe are using social media for multiple reasons. Other than all the benefits that social media brings along, one benefit is that it can be seen as a credible source of information and news in the modern world. As social media is an affordable and widely accessible medium, people are using it to access information and get the latest information in real time. Even the news generators like politicians and political activists often use social media over mainstream media to get a noteworthy share of news attention on social media networks like Twitter (Andı, 2022). This essay will first highlight the role of social media in getting credible sources of information. Secondly, the essay will also present how social media plays a crucial role in providing instant information in real time.
Body paragraph
Many people are now using social media to raise their voices in terms of different noble causes. Social media is currently an active source of information seeking wherein users are tactful in determining the facts. There are multiple applications that can assist users in determining and preventing malicious spam, and statistical analysis of language to detect spam on trending topics (Sanlad,2020). On the other hand, widespread fake news is also much prevalent on social media platforms. People are using social media platforms to create differences in different communities and cause disputes among them. The main role of fake news is to plant a seed in the head of its target audience and create mistrust and exacerbate the existing different social and cultural dynamics by utilizing the different regional, political, and religious current events. It has various impacts on individuals and society.
However, digital literacy and the closeness of the source can enhance people's trust in the information received. For example, people tend to easily trust information from their close ones, and relatives. Other than that, if the information comes from people that have a big influence on the related community can also prove the credibility of the news. A person's popularity can be measured by the number of followers and engagement on social media. Hence, modern news social media users are digitally literate to understand the fact that whether the information is coming from a credible source or not. Hence, social media remains a credible source of information for many users (Nathalia and Kristiana, 2019).
Social media also played a major role in being a mediator of providing instant information to its users. The pace of delivering information in social media is so high that it often happens that social media circulated new information hours before mainstream media gets their hand on the same piece of information. For example, when the pandemic hit the globe, recent updates on medicines or fatalities were circulated on social media a long time before the traditional media streamed the same information. Researches show that the spread of the virus in Italy became apparent significantly earlier on social media than in mainstream media. Similarly, looming stock market crashes or hot topics like BlackMonday were trending on Twitter long before being reported in traditional outlets (Das & Ahmed, 2020). In the meantime, social media has also been one of the biggest distractions in people's lives. This has not only impacted the concentration power of the people but is also impacting the productivity of the users severely. The Internet and smartphones have allowed people to stay permanently online and permanently connected. As a result, users are constantly distracted from their other work. Earlier studies have clearly shown that multitasking has consistently been associated with poor performance and negative effects due to constant distraction(Koessmeier & Büttner, 2021). However, in spite of being a distraction, social media has been a great way for users to explore different career opportunities or create a career on social media itself like many influencers or content creators did. Other than that, social media platforms such as LinkedIn, Reddit, Pinterest, Facebook, and Instagram have played a major role in helping people find and connect with their dream employers. Survey also depicts that 91% of employers use social media for recruiting (CareerArc, 2021). This validates that it depends on the intent of the user to use social media as a distractor or as a place for grabbing the latest opportunities and information.
Conclusion
To conclude, the rapid and constant growth of social media can not be denied in the future as well. The need for people is to effectively understand the merits and demerits of social media meticulously and utilize it for their betterment. Social media has now become a major contributor to providing the latest information to users and people are also relying on social media for getting information and staying connected and updated on the latest information around the world.
Now that you have read this sample essay, you have a clear idea of how to write an essay that gets you great grades. We are sure that you would now be able to excel in all your academic essays.
Recommended Readings
A Culmination of Guides on Academic Essays with Samples
An All-Inclusive Guide: How to Write an Impressive Essay
References
Chaffey, D., 2022. Global social media statistics research summary 2022 [June 2022]. [online] Smart Insights. Available at: https://www.smartinsights.com/social-media-marketing/social-media-strategy/new-global-social-media-research/#:~:text=The%20number%20of%20social%20media,of%20global%20social%20media%20usage. [Accessed 29 September 2022].
Andı, D., 2022. How and why do consumers access news on social media?. [online] Reuters Institute for the Study of Journalism. Available at: https://reutersinstitute.politics.ox.ac.uk/digital-news-report/2021/how-and-why-do-consumers-access-news-social-media [Accessed 29 September 2022].
Nathalia, T. and Kristiana, Y., 2019. The Source Credibility in Social Media. Proceedings of the Proceedings of the 1st International Conference on Economics, Management, Accounting and Business, ICEMAB 2018, 8-9 October 2018, Medan, North Sumatra, Indonesia,
Hanafizadeh, P., Shafia, S., & Bohlin, E. (2021). Exploring the consequence of social media usage on firm performance. Digital Business, 1(2), 100013. https://doi.org/10.1016/j.digbus.2021.100013
Koessmeier, C., & Büttner, O. (2021). Why Are We Distracted by Social Media? Distraction Situations and Strategies, Reasons for Distraction, and Individual Differences. Frontiers In Psychology, 12. https://doi.org/10.3389/fpsyg.2021.711416
Drahošová, M., & Balco, P. (2017). The analysis of advantages and disadvantages of use of social media in European Union. Procedia Computer Science, 109, 1005-1009. https://doi.org/10.1016/j.procs.2017.05.446
Louie Sanlad (2020), Roles of Social Media on Information Sites, Munich, GRIN Verlag, https://www.grin.com/document/516534
Das, R., & Ahmed, W. (2020, June 11). Despite concerns, COVID-19 shows how social media has become an essential tool in the democratization of knowledge. Impact of Social Sciences. Retrieved October 26, 2022, from https://blogs.lse.ac.uk/impactofsocialsciences/2020/06/05/despite-concerns-covid-19-shows-how-social-media-has-become-an-essential-tool-in-the-democratisation-of-knowledge/
Koessmeier, C., & Büttner, O. B. (2021). Why are we distracted by social media? distraction situations and strategies, reasons for distraction, and individual differences. Frontiers in Psychology, 12. https://doi.org/10.3389/fpsyg.2021.711416
CareerArc. (2021, December 14). Recruiting in the new age: Social Media and recruitment statistics -. CareerArc social recruiting. Retrieved October 26, 2022, from https://www.careerarc.com/blog/social-media-and-recruitment-statistics-for-today/