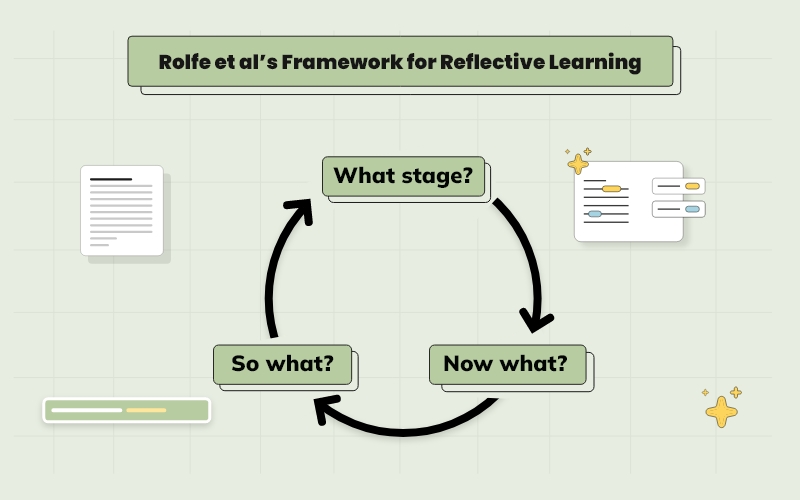 Overview
Professor Gary Rolfe and colleagues gave a self-reflective model in the book 'Framework for Reflective Practice' in 2001. It is one of the simplest reflection models that helps to answer three simple questions i.e. What? So what? Now what? Now, you must be thinking that Rolfe et al's framework is quite similar to Driscoll's model of reflection. Then, what is the difference? The difference lies in questions considered in reflecting on using each model. Rolfe et al's framework encompasses three phases which include descriptive, knowledge-building, and action-oriented.
Table of Contents
Three stages of Rolfe framework for reflection
Stage 1: What?
The first stage of Rolfe et al's Framework is a descriptive phase that focuses on analyzing a situation. This stage of the model helps readers in explaining the context of the situation to the readers. This stage can be explained by determining the following
What happened?
At this stage, you will explain the context of the situation to the reader by giving them factual information about the incident you reflect upon.
What did you feel?
In this, you are supposed to highlight the overall feelings you felt throughout the situation.
What did you and the others do?While answering this question, you will highlight your and others' contribution to the situation.
What were the expected outcomes?
In this, you will focus on the outcomes that you are expecting from the incident you are reflecting upon.
What were the results?
After explaining your expectations from the outcome, you will present the actual results of the actions you took in the situation.
What were the good and bad aspects related to the experience?
While answering this question, you will highlight both the positive and the negative impacts or sides of the experience you are reflecting on.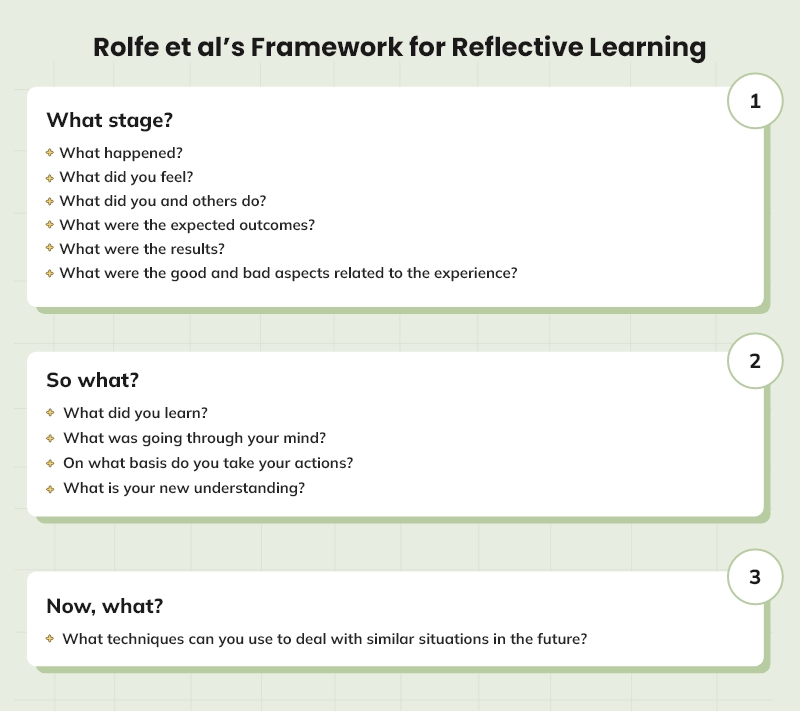 Stage 2: So what?
The second stage includes an analysis phase that focuses on determining the impacts or learnings of the actions. This section can be defined by the following questions.
What did you learn?
In this, you will highlight your learnings throughout the situation you are reflecting on.
What was going through your mind?
While answering this, you will highlight the thoughts that were going through your mind during the occurrence of an event.
On what basis did you take your actions?
On what basis did you take your actions?
What is your new understanding?
In this, you will highlight the new learnings you gained from the situation and ways in which you perceived these learnings.
Stage 3: Now what?
This is the last stage of this reflective model which determines actions that can be taken to improve future outcomes. This stage includes consideration of skills that need to be developed to improve future actions. Also, in this stage, the individual can answer
What techniques can you use to deal with similar situations in the future?
In this, you will highlight the ways in which you deal with situations like these in the future.
This model is specifically developed for reflective writing in nursing and health care as this model helps learners and practitioners in nursing and healthcare settings to improve the quality of care (Rolfe et al's, 2001). Now, let us take a situation of medication error to report and reflect on the learnings gained from this situation using Rolfe et al's Framework.
Rolfe reflective model real example
Case assessment - This reflective example will highlight the experience of a medical practitioner giving medication to a patient suffering from depression and migraine. This reflective example will focus on the challenges faced by the nurse during diagnosing a patient in the hospital.
Stage 1: What?
On 01-11-2021, one patient with depression and migraine pain visited a hospital. When the patient came to me, I prescribed fluoxetine medicine for relieving depression and sumatriptan to relieve a migraine. However, after 3-4 hours of it, my senior doctor came round and asked me which medicine I had prescribed. Then, a doctor guided me that prescribing both medications altogether can affect serotonin which then can lead to various life-threatening situations such as confusion, increased body temperature, and rapid heart rate.I actually expected that giving him the fluoxetine medicine would help me in relieving the pain of migraine. In horror, we filled up an incident form but the patient didn't suffer any ill effects from fluoxetine and sumatriptan. I was very threatened when I realized the life-threatening effects of giving both medications altogether. While we filled out the incident form, we also informed family members about this incident which resulted in some disputes as well (Gibbon, 2002). I became very nervous but my senior doctor handled the situation very effectively by reassuring family members about the whole situation. Also, my senior doctor undertook various actions to avoid further complications. I was actually relieved that my senior did not file an official complaint regarding this and helped me a lot in handling the situation very well.
Stage 2: So what?
The whole situation helped me to identify the importance of the right drugs for the right patients. I learned the importance of remaining careful with drugs and their dosage. Moreover, I identified that proper communication with senior doctors in advance could have helped to prevent this event from taking place. Further, I also recalled various legislations such as the Health and Social Care Act 2008, Human Medicines Regulations 2012, and NMC Standards for medicines management (2010), to determine the importance of patient safety and prevention of medication errors. I felt the best way to solve this problem would be contacting my senior and I knew that he would definitely be able to solve my problem. That was the reason I felt relieved when I found that a patient survived an overdose due to the strong knowledge and health management skills of my senior doctor. Through this whole situation, I got to know the right suitable drugs for depression and migraine which will definitely help me in the later years of life.
Stage 2: So what?
After engaging in a medication error, I decided that I will be very careful with drug prescriptions to ensure that the right drugs are prescribed. Also, I found that I could have reviewed drugs in reference books while prescribing to prevent medication errors. In addition to this, I will also engage in proper communication with my supervisors or senior nursing staff to further ensure the delivery of high-quality health care services.
References
Rolfe et al's (2001) Reflective writing: Rolfe, LibGuides. Available at: https://libguides.hull.ac.uk/reflectivewriting/rolfe (Accessed: November 23, 2022).
Gibbon, B. (2002) "Critical reflection for nursing and the helping professions. A user's guide critical reflection for Nursing and the helping professions. A user's guide," Nursing Standard, 16(20), pp. 29–29. Available at: https://doi.org/10.7748/ns2002.01.16.20.29.b305.