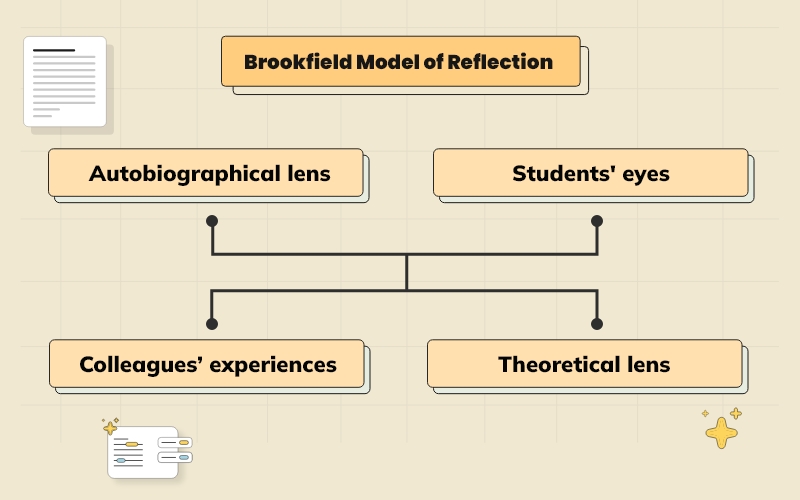 Overview
Till now, we have discussed various models of reflection used mainly in nursing. But, do you know that there is one model out of all the reflection models specifically developed to promote reflection in the field of teaching? It is brookfield reflective model that was given by Brookfield in 2005. This model of reflection identified two main purposes of reflection which include determining the impact of power in an educational setting and the second is to question the assumption and practices that make the lives of individuals look easier. Once individuals have experienced situations, individuals may aim to learn from them through reflection on experience and learnings gained from such situations.
Table of Contents
Four different Brookfield lenses
For this purpose, teachers can use the brookfield reflective model as this model aims to look at situations from four different lenses which are discussed as follows:
Lens 1: Autobiographical lens
In an autobiographical lens, a teacher may consider a situation about past experiences and current feelings and reactions regarding it.
Lens 2: Students' eyes
Focusing only on self-reflection is not enough to learn. Individuals need to focus on the experiences of others to determine exactly what happened. Students' views can also be considered by a teacher while reflecting on a past situation. This can include engaging students in reflective practice to properly reflect on past situations, identify feelings as well as experiences of other individuals and learn from such situations. This can include in-class evaluations, letters, questionnaires, focus groups, formal evaluations, etc. (Ndebele, 2014).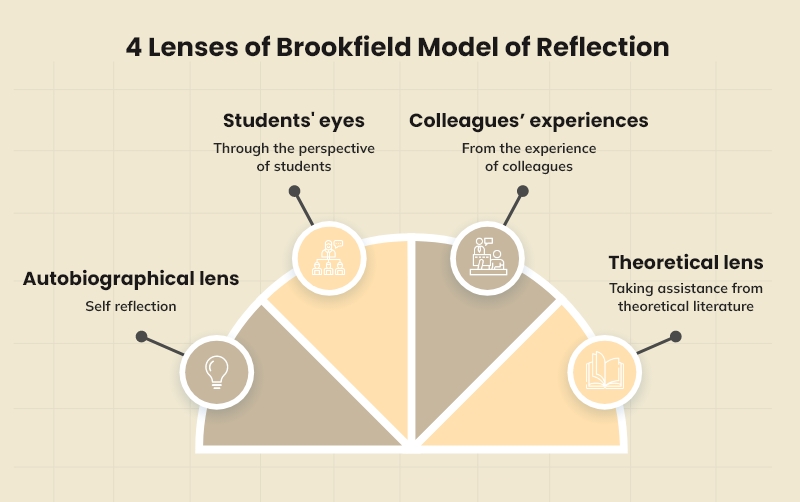 Lens 3: Colleagues' experiences
Teachers can also consider their colleagues' views to gain new insight into what happened and what can be done to improve their teaching practices.
Lens 4: Theoretical lens
The fourth lens is the theoretical lens which includes a need to consult the literature to gain a better understanding. This stage helps to consider the theoretical context to further improve the quality of teaching.
This model of reflection is used in a classroom setting to improve professional development. The use of the Brookfield model also helps to promote continuous learning and development which is also important in the education environment (Bulpitt & Martin, 2005). In addition to this, the use of this model can also help to focus not only on teaching but on assessing the effect of teaching on student learning, considering new methods for improving teaching, etc. Thus, this model can help to promote students' learning process.
Now, let us take an example of teaching to reflect on the teaching experience using the brookfield reflective model.
brookfield reflective model example
Case assessment - This reflective example highlights the teachers' experience of adopting virtual learning tools in an online environment. This reflection will highlight the teacher using different lenses to reflect on her teaching through online learning.
Lens 1
The outbreak of COVID-19 resulted in increased use of online learning systems with the closure of schools and the need to maintain social distancing. During this time, I adopted visual learning tools where initially, I found that online learning creates problems in facilitating interaction among students but as time passed, I found that online learning is a more comfortable and effective mode of learning which helps to facilitate faster learning among students (Li & Lalani, 2021). I also found that online learning helps to promote technical skills among students which also is crucial in current times. However, during online learning, I failed to consider the barriers that students face in online learning which resulted in a decline in their grades.
Lens 2
After I found that students' grades have declined in online learning, I emailed a questionnaire to students to take their feedback on online learning where I got to know that some students believe that online learning approaches are not very productive as students are required to engage in self-learning in online classes and there is lack of interaction and discussion among students.
Lens 3
I also contacted my peers to consider their perspectives and opinions regarding online classes where peers guided me that kinesthetic learning is one of the important styles of learning where the individual learns by doing. Lapeer commented that I failed to consider students' perspectives and needs in learning which is leading to declining in the overall grades of students. In addition to this, I also got to know from a peer review that a kinesthetic learning style can help to promote overall learning among students by engaging them in practical activities.
Lens 4
After reviewing the effectiveness of online learning, I found that future lenses in online classes can be delivered by adopting a kinesthetic style of learning. I also believe that focusing on personal experiences can help to improve the overall learning of students (Bay, 2021). In addition, I also found that various visual tools can also be used to promote communication and interaction among students.
FAQs
How does the Brookfield model promote open discussion and feedback?
The Brookfield model promotes feedback and open discussion by highlighting many viewpoints. People can learn more about their beliefs and behaviours by looking at experiences from many perspectives. This self-reflection process fosters a knowledge of many opinions and fosters an atmosphere that is receptive to open discussion and helpful criticism. Individuals can challenge their presumptions and learn from others by having open discussions with peers and stakeholders, which promotes continual improvement and a more inclusive learning environment.
Can those who are not in the teaching profession use the Brookfield model?
Yes, people who are not in the teaching profession can use the Brookfield approach. The model's ideas of critical self-reflection, different viewpoints, and transformative learning are applicable to a variety of circumstances even though it was primarily established for educators. The Brookfield model can help professionals in industries like healthcare, business, social work, and leadership better their practises, increase self-awareness, and boost decision-making. Anyone looking to develop both personally and professionally can use it as a useful framework for serious, unbiased reflection on their experiences and presumptions.
Does the Brookfield model of reflection have any drawbacks or restrictions?
Although popular and well-regarded, the Brookfield reflective model has its detractors and restrictions. One important issue is its complexity, which can be difficult for people who are unfamiliar with the model. Even though the four lenses technique is comprehensive, its implementation may benefit from a deeper knowledge. Another criticism of the model's cultural context is that it does not properly take into account people's varied cultural origins, thereby missing significant cultural influences on reflection. Last but not least, some detractors contend that using the model in real-world circumstances, particularly in hectic professional settings, can be time-consuming and may impede its useful implementation.
References
Bulpitt, H., & Martin, P. (2005). Learning about reflection from the student. Active Learning In Higher Education, 6(3), 207-217. https://doi.org/10.1177/1469787405057751
Li, C., & Lalani, F. (2021). The COVID-19 pandemic has changed education forever. This is how. World Economic Forum. Retrieved 2 November 2021, from https://www.weforum.org/agenda/2020/04/coronavirus-education-global-covid19-online-digital-learning/.
Bay. (2021). 4 Types of Learning Styles: How Do Students Learn Best? | BAU. Bay Atlantic University - Washington, D.C. Retrieved 2 November 2021, from https://bau.edu/News/types-of-learning-styles/.
Ndebele, C. (2014). Using Evaluation as Action Research: Reflections on Teaching Practice Using Brookfield's Four Lenses Model. The Anthropologist, 17(2), 533-541. https://doi.org/10.1080/09720073.2014.11891462