Uno Overview
Uno is one of the leading emerging players in the fintech inustry. Its main forte is the provision of home loans throughout Australia but it is one step ahead of the traditional players and performs all its opertions in a digital manner.
This article presents a detailed SWOT analysis of a small buiness by taking Uno as a suitable example for small business SWOT analysis. Uno is a digital lending company for the home loans based in Australia w erein its strengths and weaknesses would be identified along with the opportunities available in the market that it can grab.
The analysis would also contain a description of the threatsthat can be a challenge for the company to expand or sustain in the market. Besides, if you wish to learn about SWOT analysis in detail, you can through our meticulous SWOT analysis guide.
Meticulously conducted SWOT analysis of Uno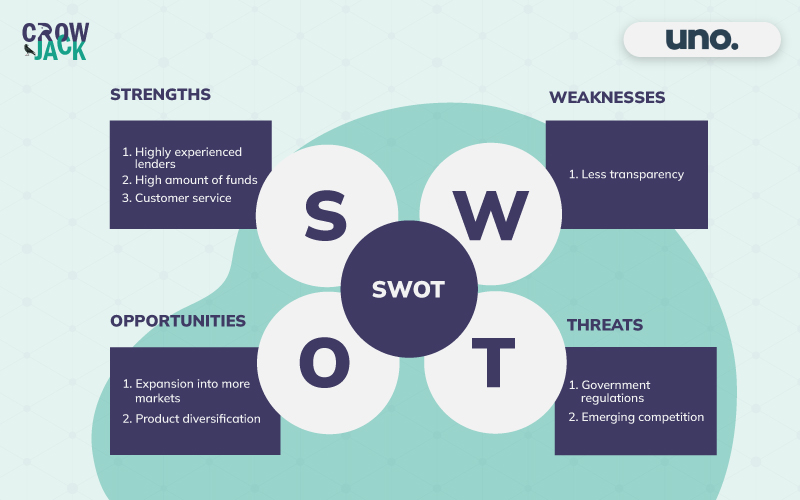 Strengths of Uno
Highly experienced lenders- Uno has partnered with 20 leading players in the financial industry for providing credit services. These include Adelaide Bank. ANZ Bank, Bank of Melbourne, BankSA, BlueStone, and the Commonwealth Bank among others.

High amount of funds- Uno has been able to raise $36.86 million in a short span of its existence. The high liquidity can provide it with the advantage of expanding its footprints and tapping on the available opportunities with ease.

Customer service- Uno Sends personalized emails and SMS to the customers to offer them products according to their requirements and the company has been successful in this tactic as well as it has been able to convert 47% of customers (Braze, 2022). Further, Uno has a team of great managers that assist the customers in every front.
While most of the companies are limited to just selling their products but UNO goes a further mile and even after the customer has purchased a home through them, the managers periodically review the customer's loan score to guide them if they can save any amount by refinancing or switching the lenders.
Weaknesses of Uno
Less transparency- Uno does not publish details about various crucial aspects like employee engagement and sustainability. This is necessary to gain trust among the consumers and inform all stakeholders about the operations of the company.
Opportunities for Uno
Expansion into more markets- Uno is currently serving the market of Australia whereas the fintech industry is growing worldwide because of an increase In the business investments moreover, the COVID has disturbed the credit history of many credit takers because of which they might find it difficult to avail loan from the banks and this is a perfect chance for the fintech companies to widen their customer base. For expansion, the company needs to rely on effective change management process.

Product diversification- Currently, Uno is in the business of providing home loans and it has got lots of scope to enter into other product segments like offering personal loans, business loans, and insurance products to enhance their target market and this would also enable the company to increase its profitability. For that, the company needs a well-laid down product development strategy.
Threats for Uno
Government regulations- The regulations for the fintech industry are continuously evolving in many countries like Australia wherein the government is in the process of bringing new laws for the financial companies that disperse loans through digital means and also India has now made it mandatory for the fintech companies to ally with a company that possesses with a banking or NBFC license if they want to continue lending loans and further the Reserve Bank of India is in the process of establishing an independent regulatory body for the digital lending companies.

Emerging competition- Uno faces multiple threats in the form of experienced physical banks that are in the same business function and the emerging companies that offer digital home loans like Athena Home Loans, Nano Digital Home Loans, and others.
To conclude, it can be said that Uno has access to large funds and highly established lenders which can help the company in attracting high-profile customers. However, the competition in the home loan segment is tough and Uno can tackle this by diversifying its portfolio and venturing into other segments like personal loans, insurance services, etc.
References
Venkatesh, L. (2021). Explained: Why regulations on fintech cos is advantageous to banks. www.cnbctv18.com. Retrieved 10 June 2022, from https://www.cnbctv18.com/finance/explained-why-regulations-on-fintech-cos-is-advantageous-to-banks-11549682.htm.