IKEA Overview
IKEA is a globally acclaimed brand that offers kitchen appliances, furniture, and home accessories. Although the brand was initially founded in Sweden in the year 1943, the company is now headquartered in Delft, Netherlands.
IKEA's vision is to create a better everyday life for people and to succeed in this vision, the company is constantly looking to upscale its efficiency and expand its product offerings. IKEA has its global operations spread in more than 60 countries and has stories in excess of 450 with most of them being located in Europe.
This article offers an insightful SWOT analysis of IKEA that takes into consideration all the latest developments with respect to the company and the external business environment. In case you wish to learn about conducting a SWOT analysis in detail, you should definitely go through our meticulous Swot Analysis guide.
Table of Contents
An explicit SWOT Analysis of IKEA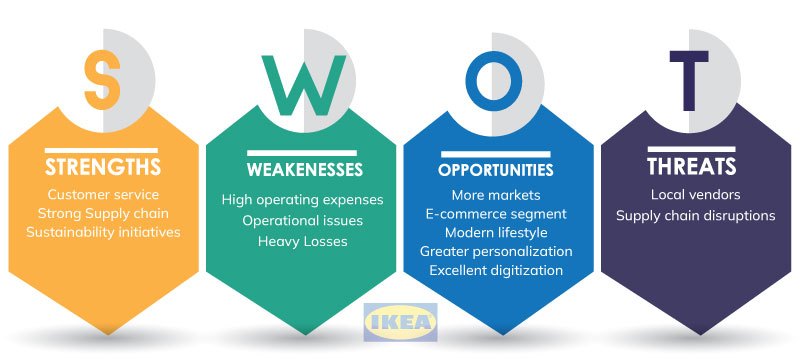 IKEA's Strengths
Customer service- IKEA has great customer service wherein they are provided with the chance to return the product if the customer is not satisfied within 90 days. To add on, the premium customers who have access to the IKEA family card are offered the whole one year as a time period for returning the products. Further, the company's stores also host a coffee store, a grocery store, and kids playing area at many locations to enhance the customers' experience and provide them with all the things under one roof. Further, the shopping experience is streamlined by letting customers design their own kitchens virtually to assist them in knowing what products suit the most. There are multiple delivery systems wherein the customers can order items online and then pick them up at a satellite store and the other mode involves ordering in-store and getting the products delivered at home (Mehra, 2022).
Strong Supply chain- The company maintains efficiency in the manufacturing process by using fewer materials for the production of an article. This enables the company to save on costs and maximize profits. Further, the company uses the strategy of signing long-term contracts and buying in bulk which enables the company to purchase raw materials at a low cost. Furthermore, while transporting the products are sold in pieces and not assembled, this ensures that products cover less space and more products can be shipped at once.
Sustainability initiatives- The company has launched SOLHETTA LED bulbs that are 35% more efficient than other LED bulbs. Further, the company makes high use of renewable materials and in 2021, the operations included around 56% use of renewable materials while 17.3% of the material used was recyclable. The company has designed a sofa cover made from recycled denim. Its sustainability approach could help the company unlock new opportunities in terms of customer acquisition and retention.
IKEA's weaknesses
High operating expenses- As per the annual report, IKEA's operational expenses have increased from 21,389 million euros in 2020 to 23,759 million euros in 2021 primarily due to an increase in the cost of raw materials and consumables. Alongside, the expenditure related to pension has increased almost 5x from 21 million euros to 100 million euros. Other expenses related to salary and wages and the cost of outsourced work have also witnessed a surge.
Operational issues- IKEA lacks efficiency in its operations and on multiple occasions there have been delays in the delivery of orders, sometimes even up to 6 months. These types of incidents can result in harm to the reputation of the company (Schraer, 2020).
Heavy Losses- IKEA has witnessed massive losses in markets like India. To substantiate, as per Business Standard, IKEA India reported a loss of 720 crores in the fiscal year 2020. Such losses hint at the inability of the brand to acquire greater market shares in emerging markets.
IKEA's opportunities
More markets- IKEA currently serves limited countries and it can expand its business to new countries. Furthermore, the nations such as India where it is already present can be a perfect opportunity for expansion as the sale of properties is on the rise.
E-commerce segment- The sales through online channels just constitute 26% of the total business. The company can exploit the opportunity and increase digital sales by offering special discounts on online purchase and also the company provides assured delivery times.
Modern lifestyle- With globalization on the rise, people are now embracing modern lifestyles and have a greater preference for buying from brands. Hence, in emerging markets like China, India, Brazil, and so on, IKEA can tap this opportunity for greater customer acquisition.
Greater personalization- With its products and designs, IKEA can offer a much greater personalization to customers to attract them. It can deliver on the exact customer expectations by giving them greater options to get customized furniture.
Excellent digitization- IKEA can further optimize the digital experiences of its potential customers and customers by integrating technologies like augmented reality and virtual reality into its e-commerce offerings.
IKEA's threats
Local vendors- In many low-income countries like India, Pakistan, and others, the local vendors are popular and offer cheaper alternatives to the furniture and other household supplies offered by IKEA. These local vendors can eat up a lot of the market share of IKEA and hence, can be a threat to the existence of the company in these markets.
Supply chain disruptions- IKEA is facing supply chain issues because of COVID wherein the company is having problems in sourcing the goods. Further, the company is facing operational disruptions because of Brexit as the flow of labor and demand for goods from the UK has decreased relatively.
To conclude, IKEA can benefit hugely from the fact that it has high standards of customer service wherein the customers are offered different personalized shopping and return options and the company's operations are more efficient as compared to the others in the industry because of its stronghold over the supply chain. The company's major weakness that it needs to focus on is the high operating expenses, it should derive innovative strategies to lower the expenses as more expenses can eat up the part of the profits. Also, IKEA needs to strengthen its delivery channel and formulate strategies to be more impactful in the emerging markets like India where it is continuously running into losses. To add on, the company has great opportunity to increase its presence by enhancing its digital business wherein the company can offer specialized discounts to the customers for purchase through website or app. Also, you can read the PESTLE analysis of IKEA to determine how the macroenvironment factors influence the company or the automotive industry.
Recommended Readings
References
IKEA. (2022). 90 day return policy. www.ikea.ee. Retrieved 7 April 2022, from https://www.siliconrepublic.com/enterprise/ikea-breach-e4-6m-siphoned-from-airlines-bank-accounts.
Mehra, S. (2022). What IKEA Gets Right About Customer Experience. fonolo.com. Retrieved 7 April 2022, from https://www.bbc.com/news/business-60830374.
Schraer, N. (2020). Ikea shoppers furious after waiting 'up to three months' for deliveries with 'no help' from customer services. www.moneysavingexpert.com. Retrieved 7 April 2022, from https://investor.ikea.com/wp-content/uploads/2021/08/FINAL_ikea-Holdings-plc-Annual-Report-FY21.pdf.