Overview
Facts, Feelings, Findings, and Future are the 4 F's which when combined by DR. Roger Greenaway made the reflection model of 4 Fs of active reviewing. Dr. Roger, with expertise in the education sector developed this model to assist individuals in critically examining the situation and learning from them for future situations.
There are multiple questions that can assist you in forming the reflective analysis using the 4 Fs of active reviewing. Below are the questions for each case.
The Four Fs of active reviewing
Stage 1: Facts
In this section, you will underline the obvious incidents that happened during the experience you want to reflect upon. This section will look at the situations objectively in an account of what exactly happened. A few assisting questions that can assist you in framing are
What happened? Where and when happened?
In this, you will explain the factual information related to place and time and all the pieces of information that contributed to the occurrence of the event.
What was expected and what actually happened?
Through this question, you will highlight your expectations and the reality of the event.
Which factors influenced your behavior and attitude?
In this section, you will highlight your behavioral traits and attitude that contributed to the event in one way or another and were affected by multiple factors involved.
What was the most remarkable part?
In this section, you will highlight the parts of the event that were best according to your opinion.
Stage 2: Feelings
Second F will focus on feelings that an individual experiences during. Effective understanding of your feelings during the incident will assist you in getting a better picture of finding the main reasons behind things that happened in the way they did. However, you have to make sure that you do not mistake your feelings for judgment. This could result in a biased reflective analysis. Below are some assisting questions that can help you in evaluating your feelings.
At what points did you feel most involved?
In this, you will highlight the incident from the experience were felt most included in the group. In most cases, this will be a positive feeling.
Which moments made you feel excluded?
Through this question, you will highlight the moments you felt excluded. In most cases, this will be a negative experience.
How exactly did you feel throughout?
In this you will highlight the feelings you felt throughout the experience by clearly highlighting if it was a happy or a sad experience.
What were the best and worst parts of the experience you felt?
While answering this question, you will highlight the good and bad parts of the experience that made you feel the way you felt.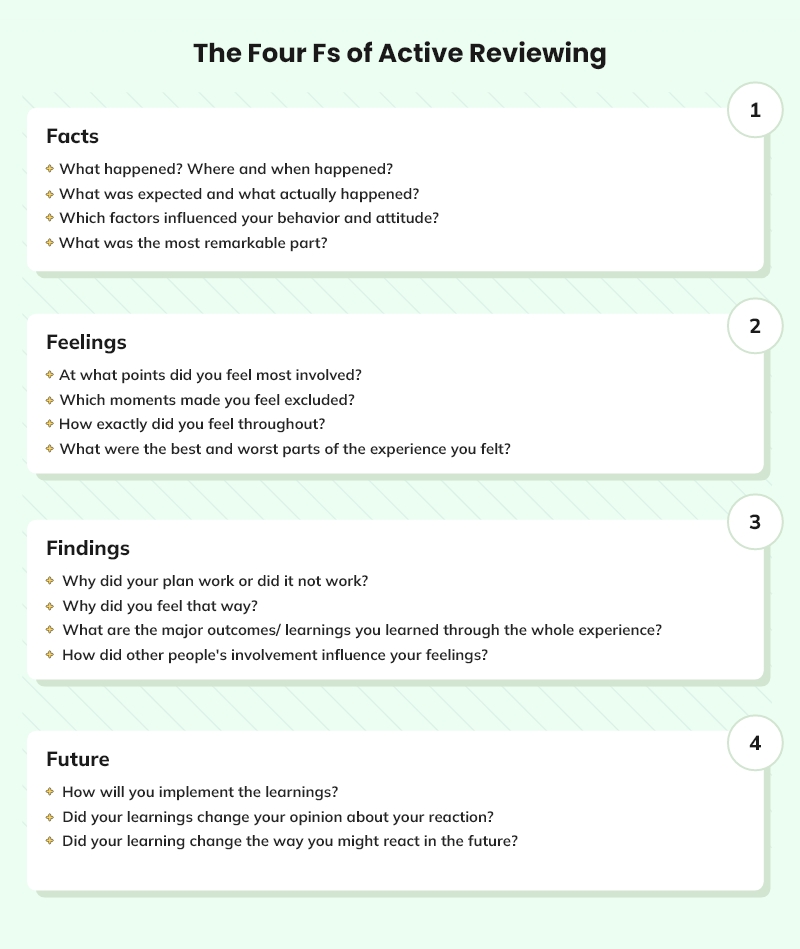 Stage 3: Findings
The third F is about findings. At this stage, you start actually investigating and introspecting the whole experience to draw out the main findings. In this section, you basically start questioning the whys and hows of the sections discussed above.
Why did your plan work or did it not work?
While answering this question, you will focus on the things that did work and did not work out as you thought.
Why did you feel that way?
In this, the feelings that you highlighted in the above section, you will present the reason behind feeling this way.
What are the major outcomes/ learnings you learned through the whole experience?
In this question, you will focus on your major learning that you learned through the whole experience.
How did other people's involvement influence your feelings?
While answering this question, you will answer the impact of other people's involvement on your feelings.
Stage 4: Future
The last and the most important F will assist you in evaluating all your learnings. Further, all these driven learnings will assist you in creating an action plan for the implementation of all learnings in the future. Some assisting questions that can assist you in drawing out this section are
How will you implement the learnings?
Through this question, you will highlight the ways in which you implement the learnings gained from the whole experience.
Did your learnings change your opinion about your reaction?
In this, you will justify whether your reaction was valid or not by taking your new learning into consideration.
Did your learning change the way you might react in the future?
In this, you will highlight the change you intend to make in your reaction based on your learnings.
To continue, after effectively understanding the four Fs of the active reviewing reflection model, the next section will shed light on an example of nursing experience using the above-explained reflection model.
The Four Fs of active reviewing framework example in nursing
Case assessment - This reflective example will highlight the experience of a nurse during her placement in the nursing ward of a hospital. The reflection will highlight the experience of a nurse handling old age people for the first time after staying with kids from the beginning.
Stage 1: Facts
It has been a few months since I joined a nursing home after getting placed through my college. After observing for a few months, my supervisor put me in charge of taking care of the old age ward. It was my very first experience with aged people. I thought it would not be that tough to handle the ward because earlier I spent a few months with children. So, I thought handling old age people would be easy for me because they are not notorious as kids. But during my week, I faced quite difficult situations at times. To continue, as the week passed, I realized that handling old age people was actually a complex task because they require constant supervision in all the tasks such as bathing, cleaning, and eating. Older people have unmet care needs related to their physical and psychological health, social life, as well as the environment in which they live and interact (Abdi, Spann, Borilovic, de Witte & Hawley, 2019). This made me a little anxious and I got confused and started behaving restlessly. The most remarkable thing that happened to me in the past week was every time I entered the ward, everyone would welcome me with open arms and a big smile on their faces.
Stage 2: Feelings
Throughout the experience, I felt really positive and happy. At the beginning, I was pretty confident that I would be able to handle everything very well. But as time passed and I understood the roles and responsibilities of taking care of elderly people, I realized that elderly people require an equal amount of care and attention as children. Moreover, when I realized the responsibilities, I became a little nervous and the feelings were a little overwhelmed. Due to my anxiousness and nervousness, I felt a little excluded from them at times. However, once I got familiar with the roles, I gained my confidence back and things went quite normally. I felt most included when everybody welcomed me with big smiles on their faces at the beginning of the day. The best part of the experience was although I had no experience with elderly people, I did not give up and decided to finish my job. This made me more confident and kept me motivated throughout the task. Self-confidence is one of the biggest influential factors and regulators of behavior in people's everyday lives (Druckman & Bjork, 1994). The worst part of this experience is that I took presumed that handling older people will be easier which made me feel overwhelmed when I was not able to handle them properly.
Stage 3: Findings
Through this whole experience I learned that every phase of life requires equal care and attention. Additionally, I learned that it is never good to work on preconceived notions especially when it comes to working. As this was the first time that I was dealing with old people, that was the reason I was a little nervous at first when I was not able to manage things. It became a little challenging because my plan was that I would deal in the same manner I dealt with the children's department. However, the plan failed and I realized that I need a completely fresh approach to dealing with old age people. The major role was played by the seniors in getting my confidence back and taking care of them efficiently because they constantly supported and motivated me. Besides, I realized that if I keep confidence in myself and start fresh, eventually I will be able to perform as per the expectations of my supervisors. This really made me proud of myself and extremely empowered that I could handle stressful situations like this.
Stage 4: Future
Based on all my learnings and my whole experience, I found that if similar situations occur in the future and I am asked to take care of a completely new ward, I would not go in there with preconceived notions. After my learnings, I realized that I need to be a little more tolerant and positive about things rather than feeling overwhelmed from time to time. Based on this learning, I would definitely try to calm myself in the future before panicking and reacting to situations unknowingly.
FAQs
Limitations of Four Fs of Active Reviewing?
The limitations of the Four Fs of Active Reviewing may include potential oversimplification of the learning process, overlooking the importance of broader contextual factors, and lacking specific guidance on applying the model effectively in different educational settings. Additionally, some learners may find it challenging to articulate their feelings or might not fully engage with the process, limiting its overall impact on their learning experiences.
Can the "Four Fs of Active Reviewing" be adapted for group reflection?
Yes, the model can be used in group work, facilitating meaningful discussions and shared learning among participants.
References
Druckman, D. and Bjork, R.A. (1994) Learning, remembering, believing: Enhancing human performance. Washington, D.C: National Academy Press.
Abdi, S., Spann, A., Borilovic, J., de Witte, L., & Hawley, M. (2019). Understanding the care and support needs of older people: a scoping review and categorisation using the WHO international classification of functioning, disability and health framework (ICF). BMC Geriatrics, 19(1). doi: 10.1186/s12877-019-1189-9